This tutorial demonstrates a user-friendly method to make full-featured iPhone backup and restore on your computer without iTunes. Backups include app documents, preferences, contacts, calendars, messages, and more. The method involves using CopyTrans Shelbee which is compatible with all iOS devices including the iPhone Xs and all iOS versions including iOS 12.
Backup your iPhone to computer without iTunes video:
The article below also explains how to backup and restore iPhone step by step
Choose the section you need:
How to backup iPhone without iTunes
Download CopyTrans Shelbee from the following page:Download CopyTrans Shelbee

Install the program. If you need help installing CopyTrans Shelbee, please refer to the Installation guide.

Run the program and connect the iPhone or iPad to your PC. Click the "Backup" button.

Next, click "Full backup".

Select the PC location where to backup the iPhone by clicking the green pencil button on the right. By default this is the same location where iTunes keeps iPhone backups on your computer.

Where are iPhone backups stored? By default, iTunes saves your backups in C:\Users\*your user name*\AppData\Roaming\Apple Computer\MobileSync\Backup

If you want to backup your apps as well, make sure that the "Save your apps" checkbox is checked. CopyTrans Shelbee will backup your apps in a form of .ipa files.

NOTE:  Please make sure that you have a stable and reliable internet connection for a faster back up.

NOTE1: Your apps will be backed up provided that they are present on the App Store.

If your backup is not encrypted, we recommend that you encrypt it with a password, so the things like Wi-Fi passwords and app login data are transferred over if you ever restore from that backup.

Next, log in to iTunes Store with your Apple ID. If some of the apps can't be restored from the backup, CopyTrans Shelbee will download them from the iTunes Store directly.

Now please wait until the backup is complete. CopyTrans Shelbee backs up iPhone settings, contacts, calendars, messages, apps, app documents, and photos/videos in the Camera Roll. Encrypted backups also contain passwords for email accounts, Wi-Fi and websites.

NOTE : backup includes all data contained in regular iOS backups and more.

After the backup completes successfully, you can enable backup notifications to never miss the time for the next backup.

The iOS backup is saved at the PC location of your choice.
What iPhone data is not included in the backup:
– Photos and videos outside the Camera Roll
– Playlists, music, podcasts and other multimedia from the iPhone Music app
– Apps: starting with iOS 9, app backup is no longer possible due to Apple restrictions. App data is still included in the backup. For more details refer to What you need to know about iOS 9 and the backup of iPhone apps.
How to make a latest-changes backup
A latest-changes iPhone backup is faster and takes less PC space than a full backup. The latest-changes backups are always based on a previous backup. It means that you don't need to wait the full backup complete every time, you just save some new changes that happened on your phone. This tutorial demonstrates how to use the Latest changes backup feature in CopyTrans Shelbee.
Why make a latest-changes backup?
Let's say you already made a full backup of your iPhone at least once with CopyTrans Shelbee.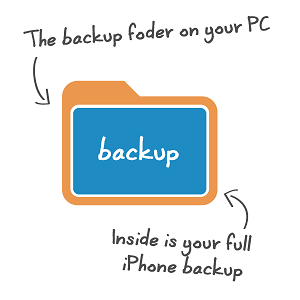 At a later time, you make a second full iPhone backup. This new backup will replace the old one.
If you don't want to replace the old backup, an option would be to save the new backup to another folder on your PC.
And now you have two full backups that are almost identical. Most of the backed up content is redundant and takes up space on the PC unnecessarily.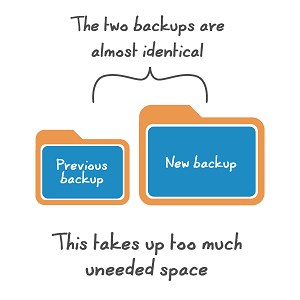 This is where a Latest changes backup comes in handy. When making a Latest changes backup, CopyTrans Shelbee automatically compares the content of the previous backup with the new one content. Since most of the content is already saved, CopyTrans Shelbee backs up only the latest changes.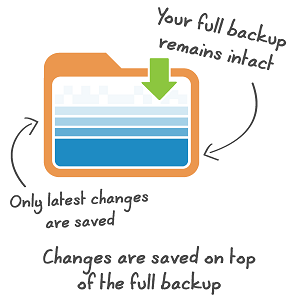 Latest changes backups take less time to complete and save PC space.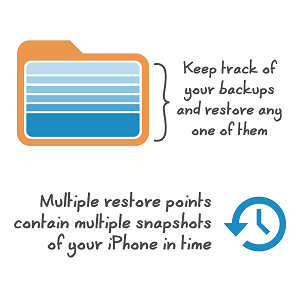 When restoring, you only need to select a single backup from the point in time of your choice. That's all!
Let's make a latest-changes backup!
First, make sure you already made a full iPhone backup at least once with CopyTrans Shelbee.

To begin the Latest changes backup, run CopyTrans Shelbee, connect your iPhone and select "Backup".

Click "Latest changes".

Now it's time to choose the previous backup on which to base the latest-changes backup. To do so, click the pencil symbol on the right.

On the newly-opened window select the latest backup entry of your device then click on the "Start" button.

NOTE: You can alternatively base the latest-changes backup on any of your previous full or incremental backup entries appearing in the list.

Your latest-changes backup is in progress.

Your backup successfully created!
CopyTrans Shelbee allows you to make multiple incremental backups of your iPhone. This means that unlike iTunes, you can back up the latest iPhone changes without overwriting content from previous backups. Also, unless you need them, you don't need to keep previous backup entries in order to restore the latest-changes backup you just made.
How to restore iPhone without iTunes
To restore the iPhone from backup to the same or to a new iPhone, iPad or iPod Touch, run CopyTrans Shelbee and connect the iOS device.
Click "Full restore".

Click the green pencil button on the right to select the backup to restore.

From the newly-opened window select backup entry that you wish to restore from. If you made multiple backups, you will see the backup entries listed.

Now please log in to iTunes Store with your Apple ID if you wish to restore your apps automatically.

Wait until the restore process completes.

That's it. You restored your iPhone from backup without iTunes!
Restore selected items from iPhone backup
With CopyTrans Shelbee you can also choose which data you want to restore. Here's how to restore selected data to iPhone:
Open CopyTrans Shelbee and connect your iPhone. Click "Custom Restore".

Click the green pencil to select which backup you want to restore your data from.

After you've chosen the right backup, click "Next".

Wait until the loading process finishes.

Select the data you wish to restore. For example, you can restore photos from iPhone backup. Just select "Photos", then click "Next".
You can also restore iPhone contacts from a backup. The process is the same: select "Contacts", click "Next". You can select as many items as you want. Restore calendars, WhatsApp, Notes – all at the same time!


Please note that the data you selected will be overwritten. For example, if you want to restore contacts from backup, the contacts on the device you are restoring to will be overwritten with the ones in the backup.

Click "Next".

CopyTrans Shelbee will ask you to choose where you want to save the backup of your device in case something goes wrong during Custom restore. Select the destination and click "Start".


Wait until the restore process finishes.

That's it! Your device will now restart.