Manage iPhone contacts from your PC
Transfer iPhone photos to your PC and back
Download or delete iCloud photos
Back up your iPhone without iTunes
Transfer iPhone music to PC & iTunes
Back up and restore iTunes library
Simple apps for a better iPhone + Windows experience
---
CopyTrans Contacts
Manages your iPhone contacts, messages, calendars, and notes
CopyTrans Contacts lets you edit, transfer, and backup sensible iPhone data such as contacts, calendars, text messages, WhatsApp chat history, and more. Escape from iCloud or embrace the new way of managing different cloud services from your PC.
---
CopyTrans Photo
Transfers photos and videos from PC to iPhone and back
CopyTrans Photo brings an easy two-way transfer of iPhone and iPad pictures and videos to your computer. Simply drag and drop the shots from and to your iPad and PC or create and fill new iPhone albums with photos and videos.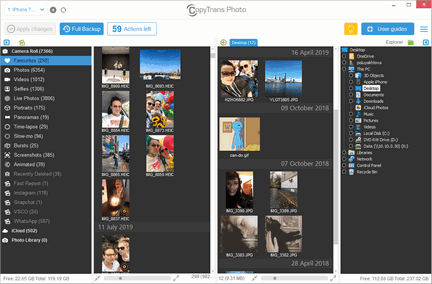 ---
CopyTrans Cloudly
Downloads, deletes, and rescues all your photos from iCloud
CopyTrans Cloudly is a triumph to the iCloud Photo Library management. Downloads and deletes all content from the iCloud Photo Library in one click, unlike the inconvenient existing solutions. As a bonus it can retrieve deleted iCloud photos that are still stored on the Apple servers.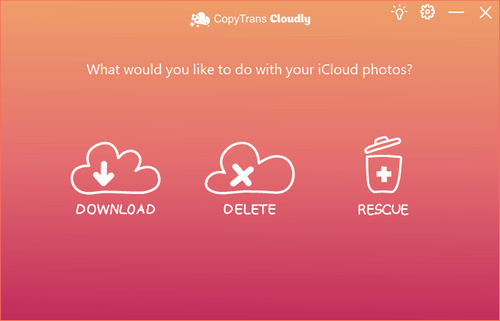 ---
CopyTrans Shelbee
Back up and restore iPhone without iTunes
Custom restore is the new CopyTrans Shelbee feature: it lets you restore only the data you need. Choose which data you want to restore to your new iPhone: you can restore only photos, contacts, calendars, notes, settings, Camera Roll photos and videos, app data, SMS, iMessages, WhatsApp, Viber, Line conversations, and much more.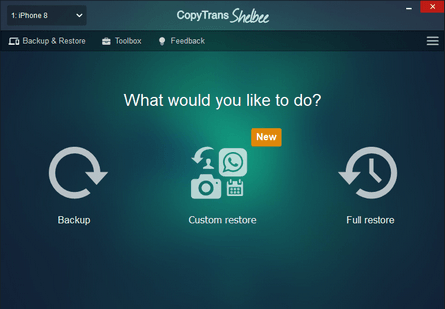 ---
CopyTrans
Transfers songs from iPod, iPad & iPhone to PC or iTunes
CopyTrans is a one-click solution to fill your iTunes library with your iPhone, iPad or iPod music, videos, playlists, and more. Back up your iPhone content to your computer or an external drive, customize your backup folder structure and select the tracks to back up.
---
CopyTrans TuneSwift
Transfers and saves iTunes libraries
CopyTrans TuneSwift is a small and powerful tool for backing up and transferring your entire iTunes library. Free up disc space and move your iTunes library to a new drive, migrate your iTunes library from an old PC to a new PC, or save full and incremental copies of your iTunes library.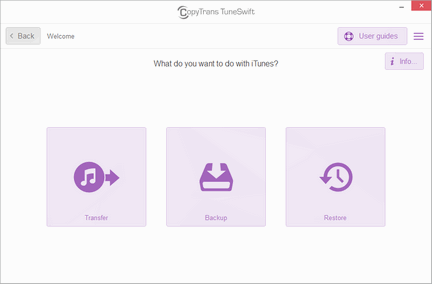 ---
See what people are saying about CopyTrans 6 Pack
This is by far the best app for iphone management! I used a paid one (Sync... coof coof), and doesn't touch the toes of CopyTrans! Congratulations
Tutto bene programma validissimo per non dover sincronizzare con iTunes
Very good software and easy to use. I used it to backup my pictures from my iphone to my external hard drive and also copied pictures off my old ipod.
It is a good app if you want to backup all your music from an iPod to a PC (windows in my case), but it is not possible to extract a particular folder to be copied on my PC. Similarly, it is not possible to know which files were already backed up in case of an iPod disconnection, and the back up must be done again from the beginning, taking too much time if the iPod size is big.