Manage iPhone contacts from your PC
Transfer iPhone photos to your PC and back
Download or delete iCloud photos
Back up your iPhone without iTunes
Transfer iPhone music to PC & iTunes
Back up and restore iTunes library
Simple apps for a better iPhone + Windows experience
---
CopyTrans Contacts
Manages your iPhone contacts, messages, calendars, and notes
CopyTrans Contacts lets you edit, transfer, and backup sensible iPhone data such as contacts, calendars, text messages, WhatsApp chat history, and more. Escape from iCloud or embrace the new way of managing different cloud services from your PC.
---
CopyTrans Photo
Transfers photos and videos from PC to iPhone and back
CopyTrans Photo brings an easy two-way transfer of iPhone and iPad pictures and videos to your computer. Simply drag and drop the shots from and to your iPad and PC or create and fill new iPhone albums with photos and videos.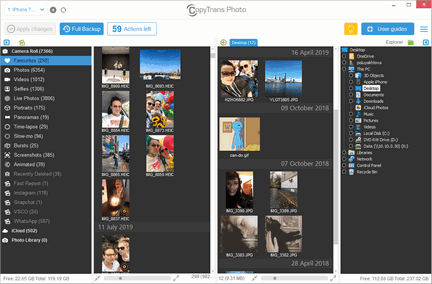 ---
CopyTrans Cloudly
Downloads, deletes, and rescues all your photos from iCloud
CopyTrans Cloudly is a triumph to the iCloud Photo Library management. Downloads and deletes all content from the iCloud Photo Library in one click, unlike the inconvenient existing solutions. As a bonus it can retrieve deleted iCloud photos that are still stored on the Apple servers.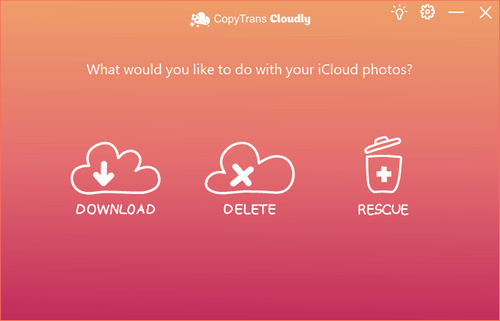 ---
CopyTrans Shelbee
Back up and restore iPhone without iTunes
Custom restore is the new CopyTrans Shelbee feature: it lets you restore only the data you need. Choose which data you want to restore to your new iPhone: you can restore only photos, contacts, calendars, notes, settings, Camera Roll photos and videos, app data, SMS, iMessages, WhatsApp, Viber, Line conversations, and much more.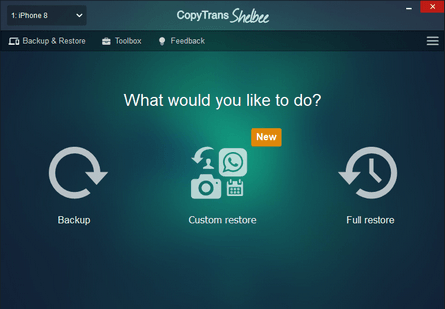 ---
CopyTrans
Transfers songs from iPod, iPad & iPhone to PC or iTunes
CopyTrans is a one-click solution to fill your iTunes library with your iPhone, iPad or iPod music, videos, playlists, and more. Back up your iPhone content to your computer or an external drive, customize your backup folder structure and select the tracks to back up.
---
CopyTrans TuneSwift
Transfers and saves iTunes libraries
CopyTrans TuneSwift is a small and powerful tool for backing up and transferring your entire iTunes library. Free up disc space and move your iTunes library to a new drive, migrate your iTunes library from an old PC to a new PC, or save full and incremental copies of your iTunes library.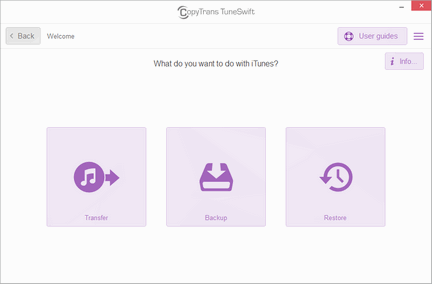 ---
See what people are saying about CopyTrans 6 Pack
Much easier than iTunes. I was easily able to reload individual files.
You get a lot of good software for a great price. Mainly used the contacts software to download and save text message conversations and used the images software to transfer a camera roll to a new phone for an in-law.
Started using CopyTrans to primarily download messages from iCloud to a PC in order to permanently save the messages in a file format. Then used it to create reliable backups of 40gb of family and scenic photographs. Used initially with an iPhone 5 and then 6 I have found CopyTrans to meet my requirements for the failings inherent with the iPhone. Sadly made the mistake of not renewing my 2 year subscription immediately and only renewed after many months without backing up. Typically then fully immersed the iPhone in water whilst on fully frying the circuits. Even a mad dash down the road to the repairer couldn't save it. Bought an identical replacement for about a quarter of the price when new and you would think a restore from iCloud would be straight forward. Not so as iCloud couldn't retrieve my messages or recent photographs even though paying for 50gb of data storage. Something to do with a partial or corrupt backup on iCloud. Then I spent most of the day waiting for iCloud before finding all this out. To compound matters I discovered that iTunes has migrated to Microsoft and even a standalone version would not install to my PC. So I eventually remembered why I had bought CopyTrans for in the first place... to back up iPhone content because Apple make it tough to recover your data. I am afraid that my next phone won't be Apple. iPhone SAR rates are also worrying. So in a nutshell buy CopyTrans and save yourself a shed load of time and effort.
It did the job perfectly!