Manage iPhone contacts from your PC
Recover your data from any iTunes backup
Transfer iPhone photos to your PC and back
Download or delete iCloud photos
Back up your iPhone without iTunes
Transfer iPhone music to PC & iTunes
Back up and restore iTunes library
Simple apps for a better iPhone + Windows experience
---
CopyTrans Contacts
Manages your iPhone contacts, messages, calendars, and notes
CopyTrans Contacts lets you edit, transfer, and backup sensible iPhone data such as contacts, calendars, text messages, WhatsApp chat history, and more. Escape from iCloud or embrace the new way of managing different cloud services from your PC.
---
CopyTrans Backup Extractor
Recover your data from any iTunes backup
CopyTrans Backup Extractor allows you to recover data from backups created with iTunes or other third-party software. Even if your iPhone is lost or broken, it is still possible to extract your contacts, photos, calendars, and other data to your computer – you don't need a device for that. CopyTrans Backup Extractor will find all the backups on your PC automatically. You will then be able to extract different types of data to your computer as well as move or delete your backups.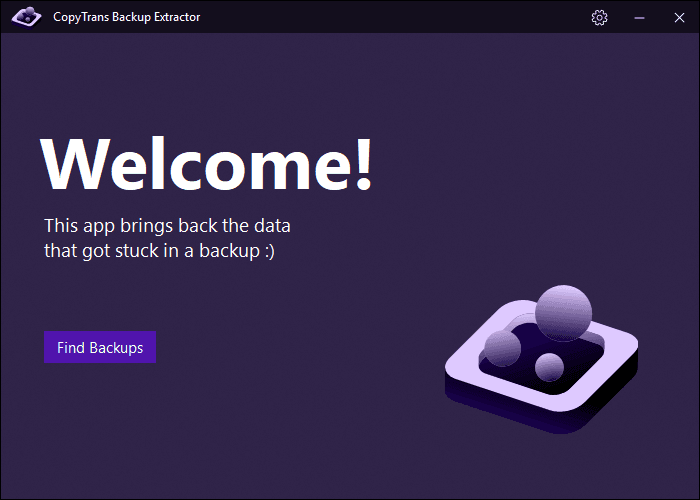 ---
CopyTrans Photo
Transfers photos and videos from PC to iPhone and back
CopyTrans Photo brings an easy two-way transfer of iPhone and iPad pictures and videos to your computer. Simply drag and drop the shots from and to your iPad and PC or create and fill new iPhone albums with photos and videos.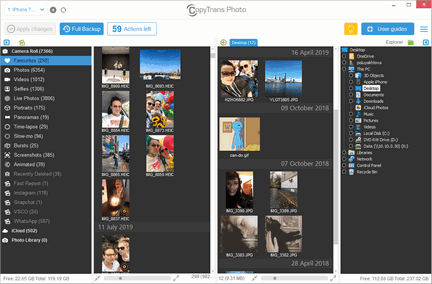 ---
CopyTrans Cloudly
Downloads, deletes, and rescues all your photos from iCloud
CopyTrans Cloudly is a triumph to the iCloud Photo Library management. Downloads and deletes all content from the iCloud Photo Library in one click, unlike the inconvenient existing solutions. As a bonus it can retrieve deleted iCloud photos that are still stored on the Apple servers.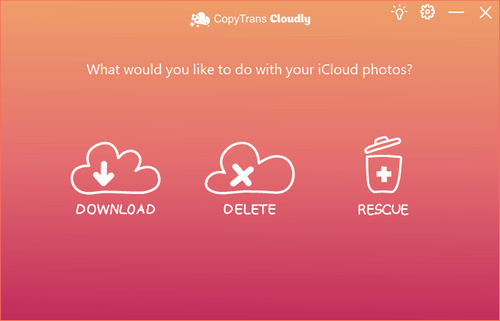 ---
CopyTrans Shelbee
Back up and restore iPhone without iTunes
Custom restore is the new CopyTrans Shelbee feature: it lets you restore only the data you need. Choose which data you want to restore to your new iPhone: you can restore only photos, contacts, calendars, notes, settings, Camera Roll photos and videos, app data, SMS, iMessages, WhatsApp, Viber, Line conversations, and much more.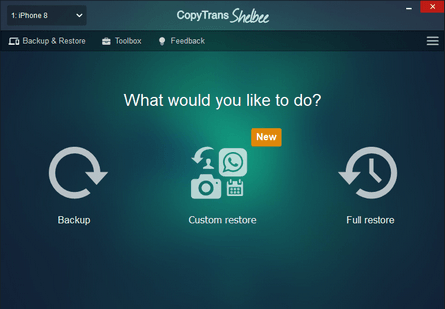 ---
CopyTrans
Transfers songs from iPod, iPad & iPhone to PC or iTunes
CopyTrans is a one-click solution to fill your iTunes library with your iPhone, iPad or iPod music, videos, playlists, and more. Back up your iPhone content to your computer or an external drive, customize your backup folder structure and select the tracks to back up.
---
CopyTrans TuneSwift
Transfers and saves iTunes libraries
CopyTrans TuneSwift is a small and powerful tool for backing up and transferring your entire iTunes library. Free up disc space and move your iTunes library to a new drive, migrate your iTunes library from an old PC to a new PC, or save full and incremental copies of your iTunes library.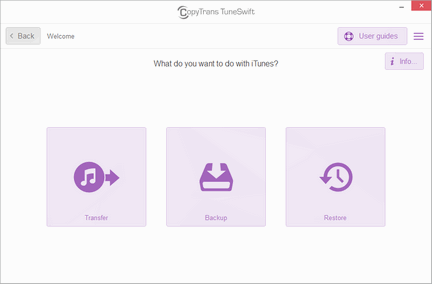 ---
See what people are saying about CopyTrans 7 Pack
I am glad I bought everything for the price of $29.99, save me $10 on two programs that I need to use on my phone. Now I would say try to have a tutorial for each application in a video form because it's hard to understand most of the links you send us to. Overall I would rate this a 10/10 program.
Great program to make transferring pictures and video's to my pc. Using file manager to transfer video's always crashed my pc with windows 10. This app is easy!
A great tool, works with ease. Worth the price.
You know, there are a lot of strange looking third party apps out on the internet, especially for Windows. Sometimes it's hard to tell if a "product" is just a basket for malware, or if it's the real deal and actually delivers on what it's claiming. Let me tell you something. If you're reading this, you probably hate iTunes. The user interface and experience is horrible. There are so many places to click that are unclear and not labeled (we're talking about iTunes right now). iTunes asks you for your username and password no less than 3 times each use, which is absurd. The worst part about iTunes is that backups just fail all the time with random error messages that are vague. Apple makes it so difficult just to transfer a song to your phone or vice versa. Am I going to lose the song from my computer? Will it remove what I purchased? I am not sure. Apple makes you turn off certain features, then turn others on, I don't know, it's confusing as all get-out. I'm a guy who builds my own PCs and installs operating systems, so I know what I am doing, but iTunes is just a cluster. Enter CopyTrans. CopyTrans knows all these headaches. They also know that they can't get around all them perfectly because they have to work *with* iOS. Whoever is in charge of User-Experience at CopyTrans knows what is UP. They present to you dialogue boxes and exactly the right times with the exact information you need so that you can successfully complete the operation you are trying to accomplish—all without iTunes. CopyTrans is the real-deal third party product and it's worth every penny. Goodbye iTunes.
This works beautifully. Was perfect for my needs.