Manage iPhone contacts from your PC
Transfer iPhone photos to your PC and back
Download or delete iCloud photos
Back up your iPhone without iTunes
Transfer iPhone music to PC & iTunes
Back up and restore iTunes library
Simple apps for a better iPhone + Windows experience
---
CopyTrans Contacts
Manages your iPhone contacts, messages, calendars, and notes
CopyTrans Contacts lets you edit, transfer, and backup sensible iPhone data such as contacts, calendars, text messages, WhatsApp chat history, and more. Escape from iCloud or embrace the new way of managing different cloud services from your PC.
---
CopyTrans Photo
Transfers photos and videos from PC to iPhone and back
CopyTrans Photo brings an easy two-way transfer of iPhone and iPad pictures and videos to your computer. Simply drag and drop the shots from and to your iPad and PC or create and fill new iPhone albums with photos and videos.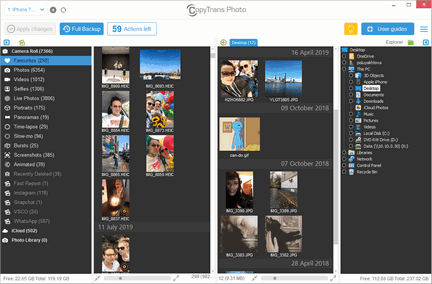 ---
CopyTrans Cloudly
Downloads, deletes, and rescues all your photos from iCloud
CopyTrans Cloudly is a triumph to the iCloud Photo Library management. Downloads and deletes all content from the iCloud Photo Library in one click, unlike the inconvenient existing solutions. As a bonus it can retrieve deleted iCloud photos that are still stored on the Apple servers.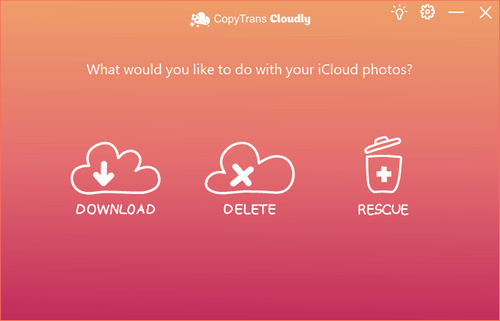 ---
CopyTrans Shelbee
Back up and restore iPhone without iTunes
Custom restore is the new CopyTrans Shelbee feature: it lets you restore only the data you need. Choose which data you want to restore to your new iPhone: you can restore only photos, contacts, calendars, notes, settings, Camera Roll photos and videos, app data, SMS, iMessages, WhatsApp, Viber, Line conversations, and much more.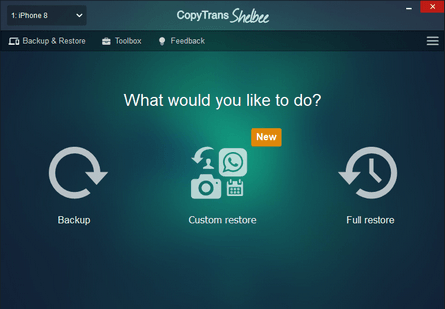 ---
CopyTrans
Transfers songs from iPod, iPad & iPhone to PC or iTunes
CopyTrans is a one-click solution to fill your iTunes library with your iPhone, iPad or iPod music, videos, playlists, and more. Back up your iPhone content to your computer or an external drive, customize your backup folder structure and select the tracks to back up.
---
CopyTrans TuneSwift
Transfers and saves iTunes libraries
CopyTrans TuneSwift is a small and powerful tool for backing up and transferring your entire iTunes library. Free up disc space and move your iTunes library to a new drive, migrate your iTunes library from a PC to a PC or a Mac, or save full and incremental copies of your iTunes library.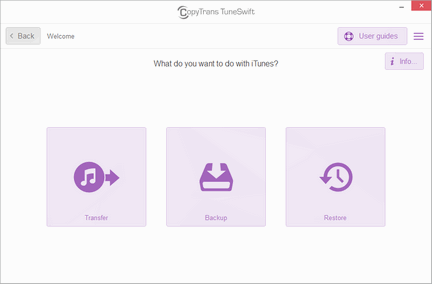 ---
See what people are saying about CopyTrans 6 Pack
it dose what is supposed to do no frills no fuss job dun always great to use a product that works great
Published 5 days ago
Works beautifully! I was able to transfer five years of texts from my son as a keepsake. It means a lot to keep those memories.
Published 6 days ago
I originally only looked at the CopyTrans Music side of the application for obtaining files from a previous music library that got accidentally formatted with my old Hard drive which meant my music on my device would be deleted and over written with the new install losing all my songs I spent years collecting but the Music app saved all of my files from permanent loss before the device was reset, other peoples reviews helped me choose the value package of other CopyTrans apps included like photos, notes etc... I am really happy to say I can't be more pleased with my choice others helped me make so I write this review to give back to the developer and those reviewers or other future customers who may read them to assure them also that they will not be disappointed in anyway. Nearly a thousand music files was saved thanks to CopyTrans and their reviewers so don't hesitate to purchase these applications because I will certainly be keeping them for any future use, well done apps work really well and are very easy to use and navigate through. Kindest Regards
Published 1 week ago
Phenomenal.. was soooo much easy to use. Bundle is Perfect and works as No-NonSense unlike APPLE software. Its a must have if you've got Phone etc..i just wish that they build a MAC version also instead of Windows only.
Published 1 week ago
It's always been good. I prefer CopyTrans over iTunes. I can control what gets backed up, how and when. It's simple and easy to use. Keep up the good work.
Published 1 week ago