Transfer photos and videos to and from iPhone
Delete photos to free up space on your iPhone
Manage iPhone and iPad photo albums
Back up your photos and videos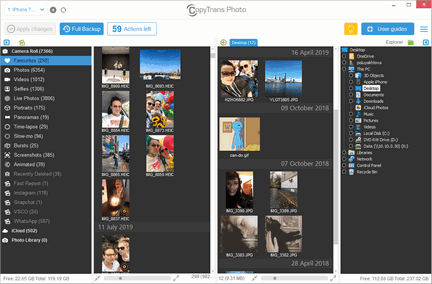 Transfer photos from iPhone to computer
Transfer the photos, videos, live photos, bursts, portraits, time-lapse, panoramas and more from your iPhone to your computer with a simple drag and drop. Back up your entire iPhone photo library with one click of a button! Just press 'Full Backup' and wait until all the photos and videos are transferred to your computer or an external hard drive.
---
Transfer photos from computer to iPhone
CopyTrans Photo offers a two-way transfer: you can also move pictures and videos from a computer to an iPhone or iPad. Create new albums and organize your photos however you want. View your iPhone and PC pictures and videos in one interface and simply drag and drop them from one side to the other. Apply the changes and you are all set.
---
Organize iPhone and iPad photos using albums
There are a lot of photos and videos on your iPad and it is not always easy to find the one you are looking for? With CopyTrans Photo you can create iPad and iPhone albums and organize your pictures and videos in no time.
The photo preview conveniently displays your shot's geolocation and altitude as well as photo size, date taken and format.
---
HEIC support
CopyTrans Photo supports the new HEIC format. You can choose to keep the orginal HEIC photos or convert them to JPEG automatically while transferring them to PC.
---
Featured in
CopyTrans Photo is an easy to understand software solution that you can use to transfer and backup image files from your iPod or iPhone, to your computer.
With CopyTrans Photo, you can manually add and delete photos at will and never have to sync them with your computer.
---
What people say about CopyTrans Photo
CopyTrans Photo is a user friendly app. It load pictures very fast and automatically convert HEIC to JPG. Very convenient to use when transferring photos from my iPhone to PC.
Used it with my iphone to convert photos from HEIC to JPEG format and it worked perfectly! Even photo albums from your iphone can be transferred in an instant.
New to the iPhone world and needed something to transfer photos to and from my pc. It has worked great .
Should have purchased this a long while ago, makes transferring Photos and videos from iPhone to PC so easy, also can see the dates they were taken, so very easy to put into movie software in date order.
Fabulous program which takes the pain and annoyance out of getting your photos from your iPhone onto your PC. It easily takes the photos or your albums which you may have already organised on your phone and simply transfers them onto your PC . So easy! I have many years of photos on my phone which I have stored in albums. Now I just drag and drop the album and they all stay together on my PC. No more searching through countless apple folders searching for my treasured memories.