CopyTrans Photo
Transfer photos from iPhone to computer and back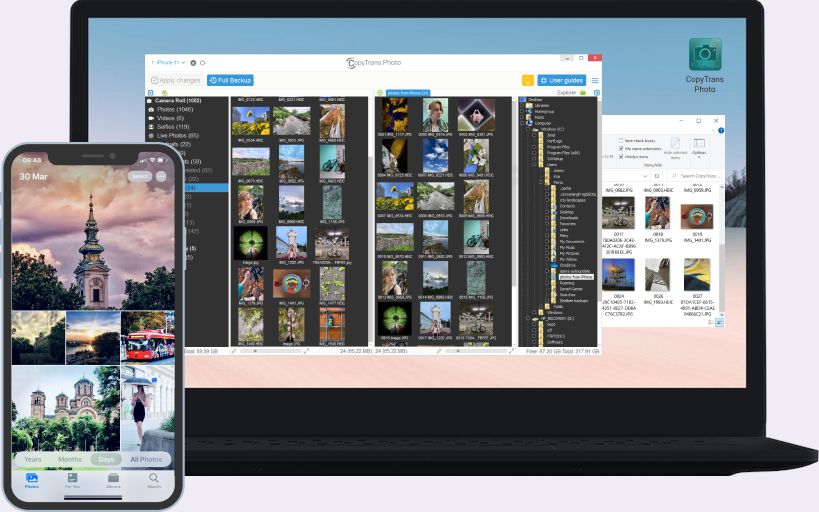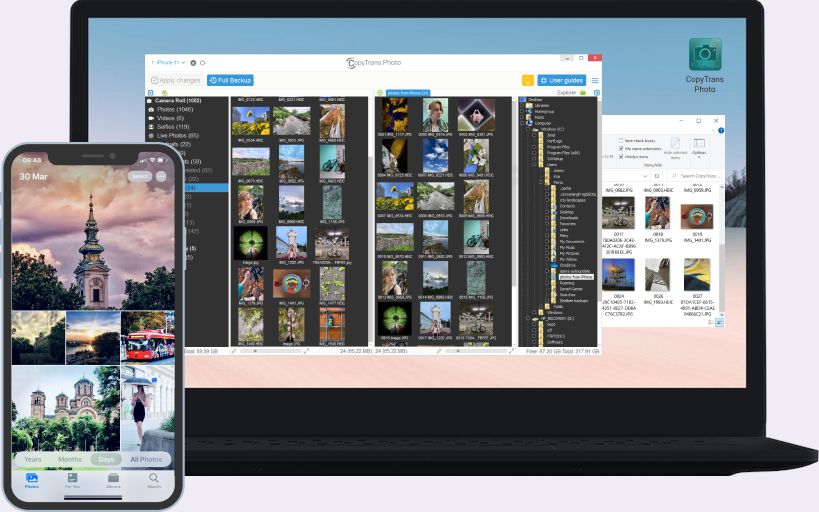 Transfer photos from iPhone to computer
Transfer the photos, videos, live photos, bursts, portraits, time-lapse, panoramas and more from your iPhone to your computer with a simple drag and drop. Back up your entire iPhone photo library with one click of a button! Just press 'Full Backup' and wait until all the photos and videos are transferred to your computer or an external hard drive.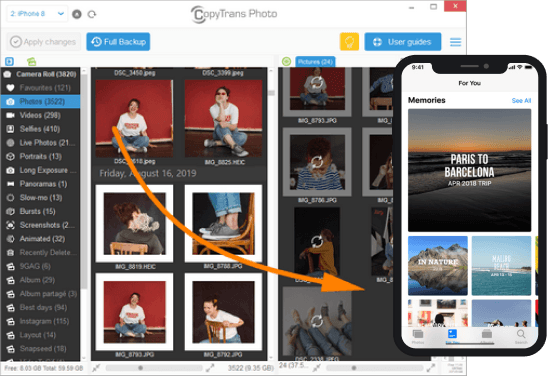 Transfer photos from computer to iPhone
CopyTrans Photo offers a two-way transfer: you can also move pictures and videos from a computer to an iPhone or iPad. Create new albums and organize your photos however you want. View your iPhone and PC pictures and videos in one interface and simply drag and drop them from one side to the other. Apply the changes and you are all set.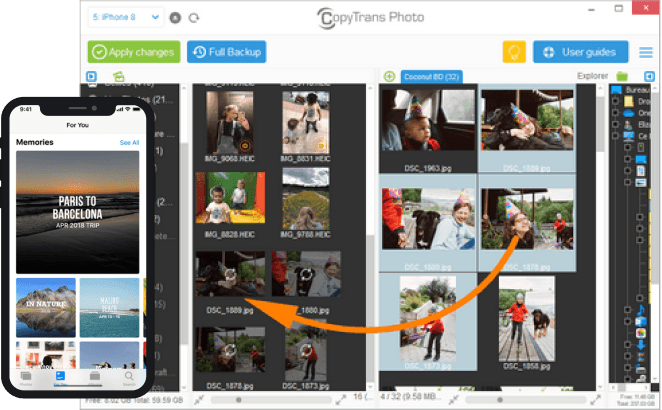 Organize iPhone and iPad photos using albums
There are a lot of photos and videos on your iPad and it is not always easy to find the one you are looking for? With CopyTrans Photo you can create iPad and iPhone albums and organize your pictures and videos in no time.
The photo preview conveniently displays your the geolocation and altitude of your shots as well as photo size, date taken and format.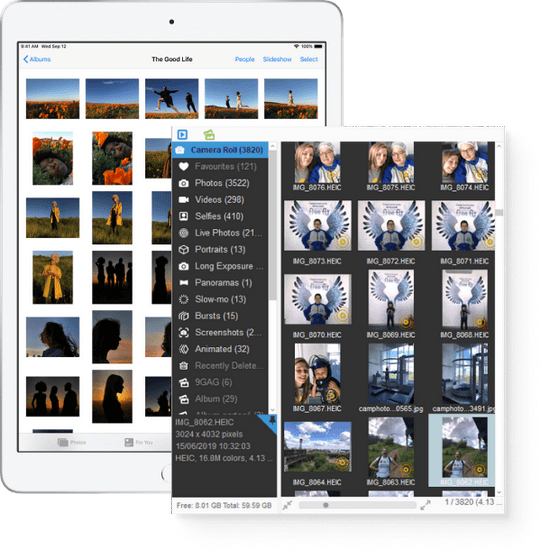 HEIC support
CopyTrans Photo supports the new HEIC format.
You can choose to keep the orginal HEIC photos or convert them to JPEG automatically while transferring them to PC.
---
Apple ProRAW support
Become a photographer with just your iPhone in a pocket.
Capture images in Apple ProRAW format and use CopyTrans Photo to transfer them to PC for further editing.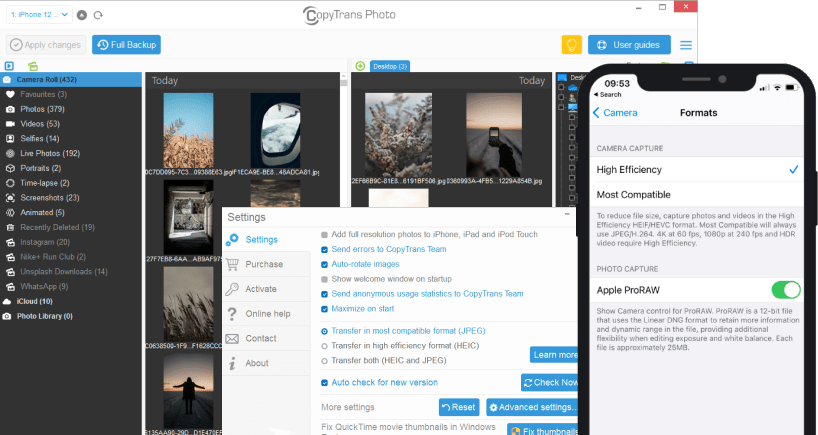 Featured in
Here are some publications about us

"CopyTrans Photo is the easy way to transfer photos between PC and iPad. A single click is all it takes to back up your entire iPad photo collection and albums to the PC."
CNet
read in full

"CopyTrans Photo is an easy to understand software solution that you can use to transfer and backup image files from your iPod or iPhone, to your computer."
Softpedia
read in full

"With CopyTrans Photo, you can manually add and delete photos at will and never have to sync them with your computer."
Bright Hub
read in full
Previous
Next
---
What people say about
CopyTrans Photo:
4.3 out of 5 based on 1711 User Reviews
"
After struggling to move 200+ photos, found copytrans and had it done in a few clicks
"
"
This is THE easiest program I have found for getting pics off my iPhone. Love it!
"
Yorba Linda
,
United States
"
Windows 10 has proven to be hopeless with respect to importing iPhone photos. I'm a pc enthusiast who's had nothing but issues with various pc builds, all resulting in the same errors when attempting to import photos. I tried copying directly from the DCIM folders, but to no avail, as the operation would either time out, or wouldn't move all photos and videos. I tried other freeware apps which managed to import photos, however, had difficulty locating all media. I'd used copytrans years ago - albeit a free version - and decided to bite the bullet and pay for the full version. I'm glad I did! All photos and videos were imported within a matter of minutes. I would highly recommend the product in the event that you've exhausted other options.
"
Secure & always compatible
Our program works with all iOS versions.
Safety and Security
CopyTrans Photo is renowned as a secure and stable application that is, like all other CopyTrans programs, free from ads, spy- or malware.
Compatibility
CopyTrans Photo supports all iPhone and iPad models and was designed for Windows 10, Windows 8.1, and Windows 7.