Backup all iCloud photos to your computer, external drive or NAS
Update your backup with the recently added photos
Delete your iCloud Photo Library in one click and stop paying for iCloud storage
Restore permanently deleted photos from your iCloud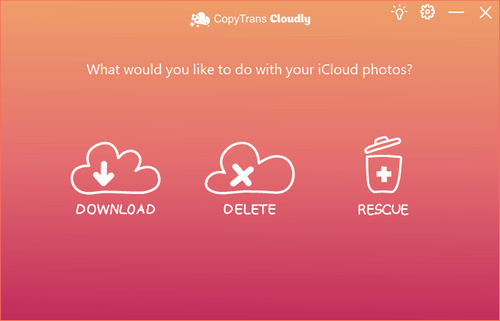 Take control over your iCloud Photo Library!
---
Backup iCloud photos
Download all your iCloud photos and videos at once to a selected folder on your PC, external hard drive or NAS. CopyTrans Cloudly preserves album structure of your iCloud Photo Library. The photos will be downloaded in folders just like you have them in iCloud. Super convenient!
---
NEW

Update your backup with recently added photos

Keep your iCloud photos backup up-to-date with the incremental backup feature. It allows you to download recently uploaded photos and videos from iCloud to computer in a matter of minutes – no need to download the whole iCloud Photo Library all over again.
---
Delete everything from iCloud Photo Library in one click
You can completely erase your iCloud Photo Library with just a few clicks. It's a great opportunity to downgrade your iCloud storage plan and stop paying for it.
---
Restore permanently deleted iCloud photos
If you accidentally deleted all your photos from iCloud, we can help you recover them. After you permanently delete the photos from your iCloud, they are still present on Apple servers for some time. Try the "Rescue" feature in CopyTrans Cloudly to bring them back!
---
CopyTrans Cloudly vs iCloud.com vs iCloud for Windows
CopyTrans Cloudly
iCloud.com
iCloud for Windows
Download all photos at once
Preserve the album structure
Download original photos
Download recently taken photos
Delete all photos at once
Recover permanently deleted photos
View and select photos to download
Mac version
Upload photos to iCloud
In some cases photos are not downloaded in original quality

---
Featured in
CopyTrans Cloudly is a Windows utility that might prove to be of good use if you wish to easily and quickly transfer your iCloud photos and videos to your computer.
Download all your pictures and videos including recently deleted, directly to the folder on your PC, external hard drive or NAS.
---
What people say about CopyTrans Cloudly
It worked perfectly!! Great purchase, saved me a ton of time!!
CopyTrans Cloudly is very useful app for me. I tried to download my pics via icloud but i cant done it. My computer use 1.5 Tb internet but couldnt download 200GB of my pics via icloud. icloud is rubish. But I wish I saw your twitter link 17.99$ discount for all your apps. İt is very expensive for me to buy all apps 29.99$ Thanks for your app. İt is excellent work