CopyTrans Cloudly
iCloud Photos App
Backup iCloud photos
Download all your iCloud photos and videos at once to a selected folder on your PC, external hard drive or NAS. CopyTrans Cloudly preserves album structure of your iCloud Photo Library. The photos will be downloaded in folders just like you have them in iCloud. Super convenient!
---
Update your backup with recently added photos
Keep your iCloud photos backup up-to-date with the incremental backup feature. It allows you to download recently uploaded photos and videos from iCloud to computer in a matter of minutes – no need to download the whole iCloud Photo Library all over again.
Delete everything from iCloud Photo Library in one click
You can completely erase your iCloud Photo Library with just a few clicks. It's a great opportunity to downgrade your iCloud storage plan and stop paying for it.
---
Restore permanently deleted iCloud photos
If you accidentally deleted all your photos from iCloud, we can help you recover them. After you permanently delete the photos from your iCloud, they are still present on Apple servers for some time. Try the "Rescue" feature in CopyTrans Cloudly to bring them back!
CopyTrans Cloudly vs iCloud.com vs iCloud for Windows
Features
CopyTrans
Cloudly
iCloud.com
iCloud
for Windows
Download all photos at once
Preserve the album structure
Download original photos
Download recently taken photos
Delete all photos at once
Recover permanently deleted photos
View and select photos to download
Mac version
Upload photos to iCloud
CopyTrans Cloudly features
Combines perfectly with: CopyTrans Backup Extractor
Combine CopyTrans Cloudly and CopyTrans Backup Extractor and become an ultimate master of your photos in iCloud! With CopyTrans Backup Extractor, you can find even more photos and videos that are stored in your iCloud backups and extract them to your PC.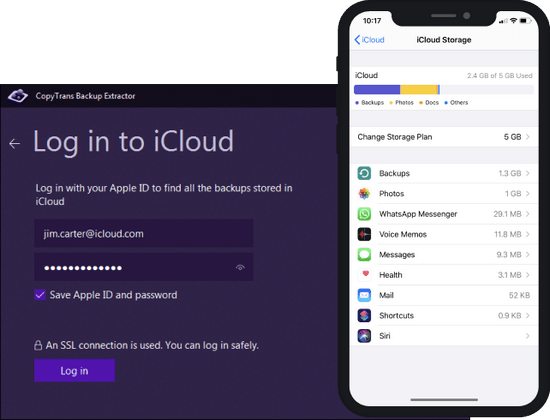 What people say about
CopyTrans Cloudly:
4.2 out of 5 based on 284 Real User Reviews
"
I backed up over 5GB of photos & Doc fast & easy. I'm happy so far and impressed.
"
"
I did not believe in this app until I saw what it does. My daughter deleted great photos and videos from her Iphone which was linked to my Icloud account and my Iphone too. When she realized we had lost great memories in both IPhones and Icloud. I contacted the Iphone support to request a recovery but they couldn't so she found this app on Internet. We tried it and worked perfect, we recover them! Thank you.
"
"
I didn't have high hopes after my daughter deleted 5000 pictures from her iPad, and then went and deleted the pictures in the deleted album. These were connected to my phone account. 7 months of photos gone. I tried a couple of programs with no luck. Initially I didn't think this program worked until the next day I discovered I was looking in the wrong folder on the pc. All photos were recovered. Amazing.
"
Secure & always compatible
Safety and Security
CopyTrans Cloudly uses an SSL connection. We never save users' Apple IDs or passwords (unless they ask for it). The program is free from ad-, spy- or malware.
Compatibility
CopyTrans Cloudly supports Windows 10, Windows 8.1, and Windows 7.