CopyTrans Cloudly
iCloud Photos App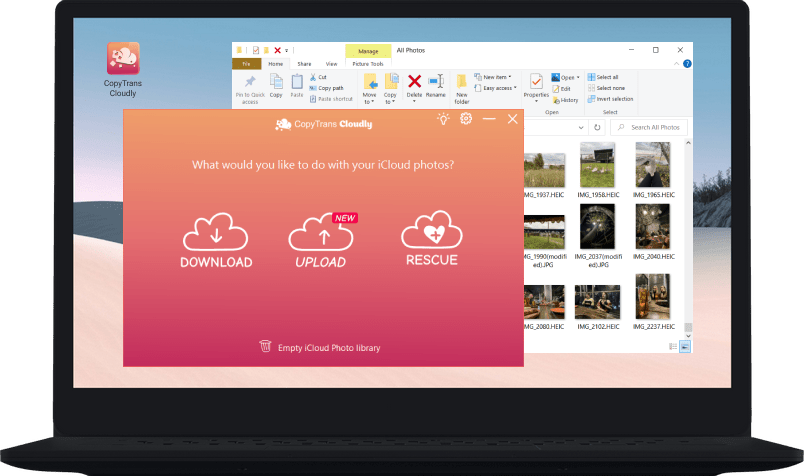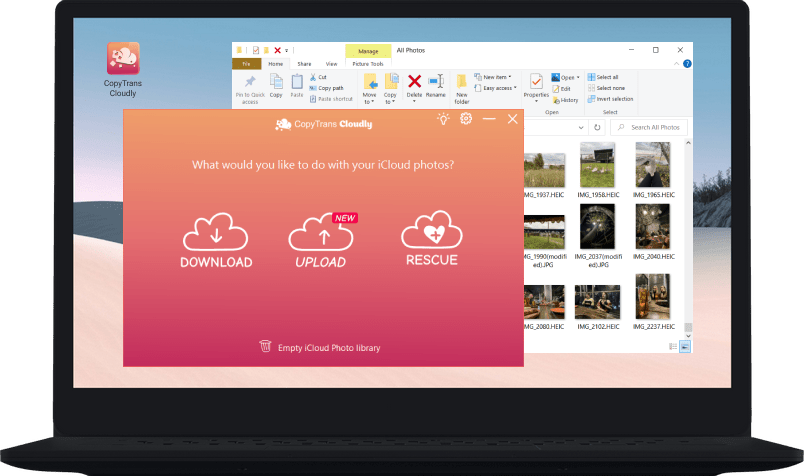 Backup iCloud photos
Download all your iCloud photos and videos at once to a selected folder on your PC, external hard drive or NAS. CopyTrans Cloudly preserves album structure of your iCloud Photo Library. The photos will be downloaded in folders just like you have them in iCloud. Super convenient!
---
Update your backup with recently added photos
Keep your iCloud photos backup up-to-date with the incremental backup feature. It allows you to download recently uploaded photos and videos from iCloud to computer in a matter of minutes – no need to download the whole iCloud Photo Library all over again.
Delete everything from iCloud Photo Library in one click
You can completely delete your iCloud Photo Library with just a few clicks. It's a great opportunity to downgrade your iCloud storage plan and stop paying for it.
---
Restore permanently deleted iCloud photos
We can help you recover permanently deleted photos from iCloud if you accidentaly deleted them. After you permanently delete the photos from your iCloud, they are still present on Apple servers for some time. Try the "Rescue" feature in CopyTrans Cloudly to bring them back!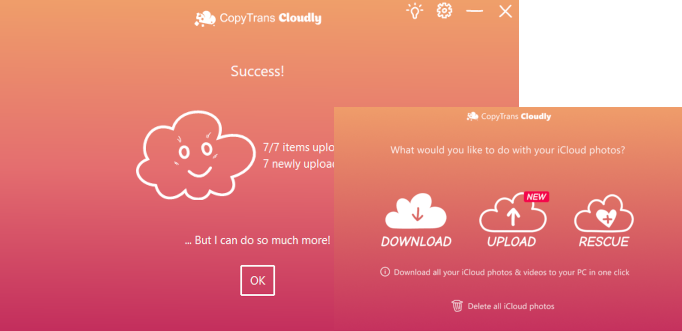 Upload photos and videos to iCloud
Easily upload images and videos to iCloud from PC and keep your photo library
up to date across all devices.
CopyTrans Cloudly supports JPG, HEIC, and PNG image formats.
The supported video formats are MOV, MP4, M4V.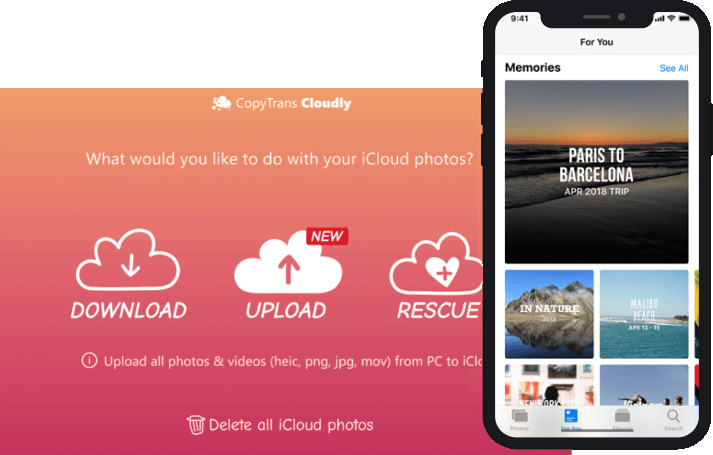 CopyTrans Cloudly vs iCloud.com vs iCloud for Windows
Features
CopyTrans
Cloudly
iCloud.com
iCloud
for Windows
Download all photos at once
Preserve the album structure
Download original photos
Download recently taken photos
Delete all photos at once
Recover permanently deleted photos
Upload photos to iCloud
View and select photos to download
Mac version
CopyTrans Cloudly features
Combines perfectly with: CopyTrans Backup Extractor
Combine CopyTrans Cloudly and CopyTrans Backup Extractor and become an ultimate master of your photos in iCloud! With CopyTrans Backup Extractor, you can find even more photos and videos that are stored in your iCloud backups and extract them to your PC.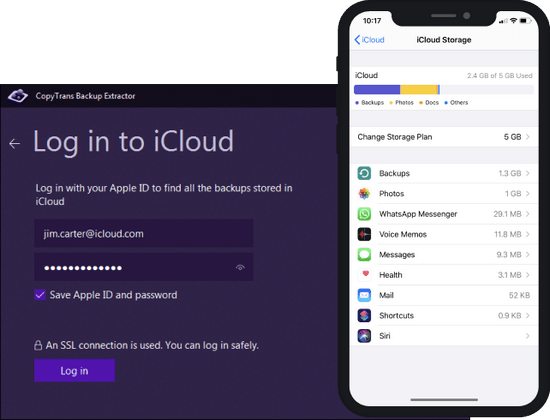 What people say about
CopyTrans Cloudly:
4.3 out of 5 based on 501 User Reviews
"
I've been dealing with iCloud poop shows for years with several customers. I actually started calling it iCloud hell. I thought I could tame iCloud with the native Windows and MacOS tools but I was wrong. My last adventure had over 7000 files mingled with duplicates. The hard to find duplicates tripped up the iCloud browser download zipping process with no error thrown. OMG what a pain. Add to that a limit of 1000 files per download. I had enough. Instead of wasting hours with these stupid limits, I took the chance with CopyTrans Cloudy. The best $20 ever spent. One click to download everything. No errors, super fast and bam it was done. One more click to delete everything and now my customer is out of iCloud hell forever. I'm was a stubborn fool for not trying CopyTrans Cloudly sooner. Don't be an idiot like me. Give it a try.
"
"
I was a bit sceptical but I managed to get an important document back which had been deleted from my icloud and recycle bin. So I am very happy with it.
"
Crowborough
,
United Kingdom
Secure & always compatible
Safety and Security
CopyTrans Cloudly uses an SSL connection. We never save users' Apple IDs or passwords (unless they ask for it). The program is free from ad-, spy- or malware.
Compatibility
CopyTrans Cloudly supports Windows 11, 10, 8.1, and 7.