Back up all iPhone contents
Restore selected data
Back up your iPhone to any folder on your PC or external drive
Save space on your computer with incremental backups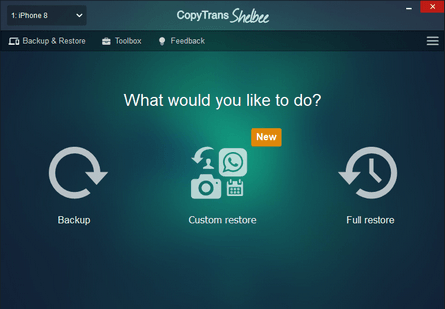 Restore selected items from iPhone backup
Custom restore is the new CopyTrans Shelbee feature. It lets you restore only the data you need.
Choose which data you want to restore to your new iPhone: you can restore just photos, contacts, calendars, notes, settings, Camera Roll photos and videos, app data, SMS, iMessages, WhatsApp, Viber, Line conversations, and much more.
---
SMS, iMessage, WhatsApp restore
If you get a new iPhone and decide to keep just your message history, you can use CopyTrans Shelbee to transfer SMS, iMessage and WhatsApp messages to your new iPhone from backup in a few clicks.
You can either make a new backup with CopyTrans Shelbee or restore your messages from an old iTunes backup.
---
Restore apps
Back up apps from your iPhone to a computer with the latest version of CopyTrans Shelbee. It will be possible to restore them to any iOS device with ease even if they have been removed from the App Store after (provided you did a backup before they were removed from the App Store).
---
Backup and restore your iPhone
It's important to make regular backups of your iPhone in case something happens to it.
CopyTrans Shelbee lets you back up and restore your iPhone without the need of iTunes or iCloud.
---
Full and Incremental iPhone Backups
Unlike iTunes, CopyTrans Shelbee lets you choose to make either full or incremental backups.
Incremental backups allow you to save only the latest iPhone changes, which helps saving disk space on your computer.
---
Select a backup location
iTunes doesn't let you change the backup location, but CopyTrans Shelbee does!
You can choose to backup to any folder on your computer, or even decide to backup to a USB stick or to an external hard drive.
---
More features
Encrypt your iOS backups with a password. Easily edit or remove the backup password at any time.
Restore only the data you want from the old iPhone to the new iPhone. Can't restore data from your backup because it is corrupted? Try our new iPhone backup extractor app.
CopyTrans Shelbee keeps previous iPhone backups safe and organized for a clear overview of your restore options.
CopyTrans Shelbee vs iTunes
| | CopyTrans Shelbee | iTunes |
| --- | --- | --- |
| Backup | | |
| Restore | | |
| Backup and restore apps | | |
| Change backup location | | |
| Incremental backup | | |
| Restore selected data only | | |
| Backup notifications | | |
| Change the name of the backup | | |
---
Featured in:
In short, you can say that this freeware is one stop solution to all your iOS device related backup/restore problems.
CopyTrans Shelbee is a powerful tool that helps you create user friendly iOS backup and restore without iTunes.
---
What people say about CopyTrans Shelbee
i had to restore my iphone 6 and i play several games which i really didnt want to lose progress on. i bought copytrans shelbee and went through the steps as laid out, restored my phone and got back on with all games saved. im not good with compurter stuff so if i can do it anyone can.
Shelbee worked perfectly - good product and a good iTunes backup replacement.
Had to back up two phones and transfer onto two new phones. Sure, it was a bit more involved than that, but CopyTrans made the process super simple!!
Backed up my ipad ..no worries....just waiting for new one to do a restore...hopefully it works as good as the back-up