The fact that your contacts disappeared on iPhone does not always mean that you deleted them yourself. It could have happened because you updated your iPhone to a newer iOS version or just because of some small nasty bug.
Fortunately, we know how to restore contacts on iPhone and save you a lot of stress.
Restore contacts without iTunes
Sometimes iTunes may pull a dirty trick on you by making an unexpected backup (surpri-ise!).
🙄 If it does so after your contacts have been deleted, it will overwrite the backup, making it an empty file instead.
😢 Besides, upon restore iTunes will overwrite all the data on your Phone, basically throwing you back to the time of the backup, and that is not always a welcome change.
If you want a program that will allow you to make full backup but custom restore (and also validate the backup on completion to make sure it is not corrupt), use CopyTrans Shelbee. It will make sure none of your data gets replaced, except for contacts.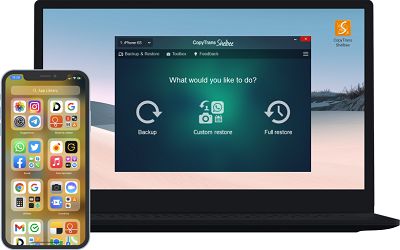 With CopyTrans Shelbee, you can:
✔ back up any iOS device;
✔ restore selected data without overwriting contents on your iPhone;
✔ restore apps to any iOS device with ease even if they have been removed from the App Store after *;
✔ restore data from an iTunes backup;
✔ restore data from a corrupted iTunes backup;
✔ restore an encrypted backup.
* provided you did a backup with CopyTrans Shelbee before the apps were removed from the App Store.
To restore contacts on iPhone, download CopyTrans Shelbee from the following page: Download CopyTrans Shelbee
Run CopyTrans Shelbee and connect your iPhone. Select "Custom restore".

Click on the green pencil icon.

In the window that will shortly appear, look at the list of all your previous backups made with iTunes. Select the backup file you would like to restore from.

Choose "Contacts" and click "Next".

NOTE

While restoring, CopyTrans Shelbee may ask you to enter the iOS backup password to decrypt the data in the backup. What is an iOS backup password?

Please note that the data you selected will be overwritten. So, if you want to restore contacts, the device contacts will be replaced with the ones from the backup.

CopyTrans Shelbee will ask you to choose where you want to save the backup of your device in case something goes wrong during Custom restore. Select the destination and click "Start".

Wait until the restore process finishes.


That's it! Your device will now restart.

For detailed instructions, please refer to the custom restore guide.
Restore deleted contacts to PC without iTunes and iPhone
Use this method in case:
📌 you don't want any of your data overwritten;
📌 you don't want to use iTunes;
📌 you don't have iPhone (because, for example, it was lost or broken).
This method requires a PC with any type of iPhone backup on it and CopyTrans Backup Extractor. In case you don't know how or where to search for backups, download CopyTrans Backup Extractor and it will do all the work for you.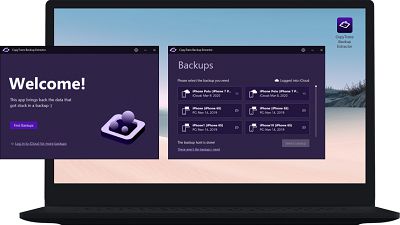 With CopyTrans Backup Extractor, you can:
✔ find iPhone backups on your PC, wherever they are;
✔ find iPhone backups in iCloud;
✔ recover contacts, notes, calendars and voice memos;
✔ extract photos from iPhone backups;
✔ restore messages and chats to computer.
You can download CopyTrans Backup Extractor by clicking on the button below:

After the download, install and run the program: it will automatically start a "backup hunt". When the search is finished, you will see the list of all the backups available on your PC.
NOTE: If you can't see the backup you need, it may be stored in iCloud. Let CopyTrans Backup Extractor сheck it for you: just click on "iCloud Backups".

Select the backup you need.

Click on "Contacts" and press "Next".

Select the destination folder. All your contacts from iPhone backup will be extracted there.
You can read more about how to use CopyTrans Backup Extractor here: getting started with CopyTrans Backup Extractor.
Restore contacts from iCloud
If you accidentally deleted your contacts or lost them during the sync process, you can easily rectify this and restore contacts from iCloud using your Apple ID and password.
Here is what you need to know about iCloud contacts:
📌 As you turn on iCloud contacts on any iOS device, your contacts are uploaded to iCloud. All the changes you make are also pushed to your other devices;

📌 As you turn off iCloud contacts on any iOS device, your contacts won't be deleted from iCloud, they just won't update automatically.

You can find and edit your iCloud contacts at iCloud.com or using iCloud for Windows.

☹ The downside of this method is that the archived contacts you download from iCloud will replace your existing iPhone contacts.
If you are OK with that, follow these simple steps to restore contacts from iCloud:
Go to iCloud.com.
Log in with your Apple ID and enter your password.

Go to "Settings".

Scroll down until you see the section with Advanced settings. Then click on "Restore Contacts".

You will see a list of previously created archives, sorted by date. Choose the archive you need and click "Restore".

Click on "Restore" again.

Wait a little bit…

That's it!
Restore deleted contacts with iTunes
Restoring iPhone contacts from a backup via iTunes will delete any media tracks on your iPhone and overwrite all iPhone data with that from the backup file.
If you still want to use iTunes, then here are the steps:

Run iTunes and connect your iPhone.

Wait until the iPhone is recognized by iTunes; then click on the iPhone icon.

In the "Summary" screen, click on "Restore Backup…".

Disable the "Find my iPhone" feature if necessary. To help you, here is our guide on how to turn off Find my iPhone.

If there is more than one backup entry, select the one with the contacts you need and click on "Restore".

After the restore is complete, you will have your iPhone contacts recovered from the backup you choose.
Restore deleted contacts with CopyTrans Contacts
If you accidentally deleted one or more of your iPhone contacts or calendar events, or made unintended changes, and want to know how to restore contacts/the address book/calendars, you can always restore them thanks to CopyTrans Contacts.
Run CopyTrans Contacts and go to More > Restore:

Select the source to restore from. CopyTrans Contacts creates a backup of the iPhone, iCloud, Google or Yahoo address book every once in a while.

Choose the type of data that you want to restore (i.e., contacts).

Confirm the selection by clicking on "Restore":

Once the contacts are restored, click on "Finish".
These are the 5 main ways to restore contacts on iPhone. Now that you know better, do not forget to regularly back up your iPhone!