Sometimes you just wake up and realize that you need to recover deleted messages from that pizza delivery asap. Or maybe you have an upcoming legal case and you want to print messages for court.
This article will help you figure out how to recover deleted messages on an iPhone.
Choose one of the 4 ways to recover deleted text messages:
TIP: We strongly recommend that you always have an up-to-date backup of your phone: this way you will always be protected against any unpleasant surprises.
Restore messages on an iPhone with CopyTrans Shelbee
This is the easiest way to restore your deleted iPhone messages. Just like other methods, it requires a recent backup that contains the deleted texts, but unlike other methods, it doesn't overwrite all the data on your phone, just the text messages. Let's start recovering your deleted texts!
Start with downloading CopyTrans Shelbee. If you need help installing the program, refer to the installation guide.


Run CopyTrans Shelbee, connect your iPhone to your PC and click on "Custom restore".

Click on the pencil icon to see the list of backups available.

Select the backup containing your lost messages.

Select the types of data you want to restore and click on "Next".

NOTE: To make sure that all your messages are transferred, we recommend selecting "Accounts" along with the "Messages" during this step. Selecting "Accounts" will overwrite the already existing mail accounts and any associated cloud account information (contacts, calendars, notes, iMessages) on the destination device.

Please, keep in mind that existing messages on your phone will be overwritten. Click "Next".

TIP

Before restoring we make a temporary backup just in case something goes wrong. We strongly recommend to wait until the process is completed.




In the next window, select the backup location. When ready, click "Start".

The restoration process is launched now. Get a cup of coffee and wait until the program completes the operation.

And it's done! This is how you restore deleted messages on iPhone without breaking a sweat.

Restore deleted texts from an iCloud backup
This is exactly the moment when these annoying iCloud backup notifications may come to your rescue.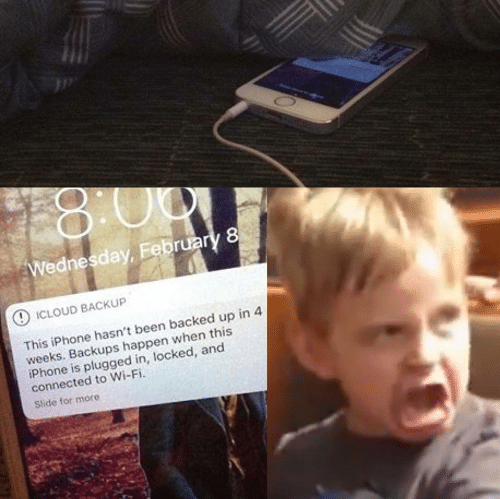 This section focuses on how to recover deleted texts from an iCloud backup. Please note that restoring from an iCloud backup will overwrite the contents of your phone, meaning that all the messages sent and received after the date of the backup will be lost, along with the newest pictures, contacts, etc. If you would rather avoid that, choose another section.
First of all, open "Settings" on your iPhone and tap on your name.

Tap on "iCloud".

Select "Manage Storage".

Now select "Backups".

Now it is high time to remember which of your backups may contain the messages you are looking for.

To restore your iPhone from iCloud backup, go back to the "Settings" and choose "General".

Scroll down and find the "Reset" tab.

Choose "Erase All Content and Settings", then "Erase now". Yes, that's right: you will need to erase all of your data first. That may sound terrible, but this is how Apple works. Try not to worry, though, as you will set up your iPhone right after that using one of the old backups.

Your iPhone will then reboot and offer you a number of standard setup steps. When you get to the step where you are offered to restore your device from an old backup, choose wisely: make sure you don't forget which backup you need.
Recover deleted text messages on iPhone with iTunes
iTunes might also be of help while restoring your deleted messages. Just like iCloud, it will overwrite other types of data as well (contacts, setting, notes, etc.). If you want to restore deleted messages to iPhone without overwriting the device data, use CopyTrans Shelbee method.
Start by connecting your iPhone to the computer and opening iTunes. Then click on the phone icon in the upper left corner.

Click "Restore Backup".

Choose the backup you want to restore from. You will need to remember (or calculate) which backup contains the messages you want to restore. When in doubt, just choose the latest.

The restore is in progress. Wait until it is finished.
BONUS: How to save text messages from iPhone to PC without any overwriting
If you need your messages from an iPhone but you don't want any of your data overwritten, use this method!
You don't even need the iPhone for that: just a PC with the backup on it and CopyTrans Backup Extractor.
Use these 4 simple steps to get your iPhone messages:

Download and install CopyTrans Backup Extractor. The download button is just below:

Run the program. It will start searching for all iPhone backups that are stored on your PC. PLEASE NOTE: If you can't see the backup you need, it may be stored in iCloud. Let CopyTrans Backup Extractor сheck it for you: just click on "iCloud Backups"..

Select the backup you need.

Click on "Messages" and press "Extract".

Select the destination folder. All your messages from the iPhone backup will be located in the chosen folder.
That's the happy end of our story. Don't forget to keep your backups up-to-date! Hope this guide served you well. Let us know what you think in the comments below.