As a rule, iPhone devices have a lot of storage space, but make it a challenge to get files off device. And when the worst comes to the worst, you get a popup saying "Storage Almost Full". If you find iPhone storage full, you'll need to know how to free up space on iPhone and search for a way to export your data to PC. If you're scratching your head over how to clear storage on iPhone, here are a couple of tips.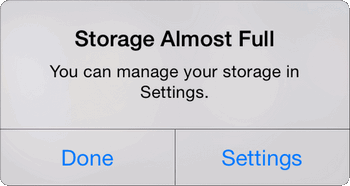 ---
How to check iPhone storage
For starters, let's identify the root of low disk space iPhone, checking your storage. What is taking up most space on your device? How much iPhone storage do you have left?
Here's how to check memory on iPhone: go to Settings -> General -> iPhone storage.
You will see a bar chart on top of the screen, indicating how your iPhone storage resources are distributed.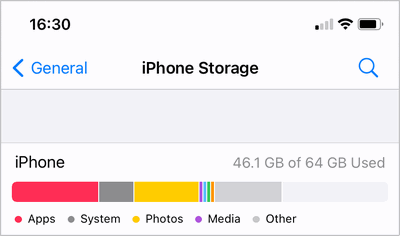 In my case, the most space-consuming items are photos and apps. If you look closely, there is also this enigmatic category "other storage". What does other mean in iPhone storage??
Well, all in good time. Eventually, I was able to free up space on iPhone by a third following all the suggestions from this article.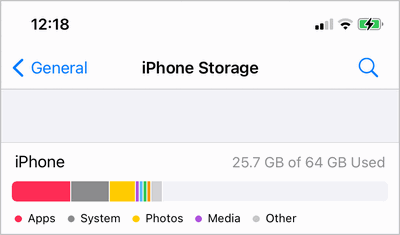 I started with the tips my iPhone offered right below the storage bar: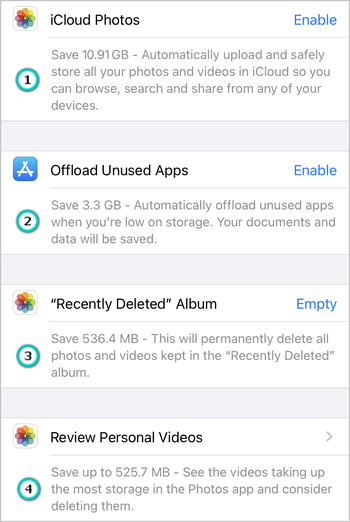 Upload photos to iCloud. This is a viable suggestion but has to be discarded if you don't have enough iCloud storage or don't want to depend on a cloud service to store your photos.

Erase Recently Deleted photos. If you haven't done so already, this is always a good place to start. The next step, of course, would be clearing your photo library (let's admit, more often than not it's a mess).

Review personal videos. Start with the heaviest items and get rid of those you don't need. However, my Camera Roll videos do not take as much space, and I am pretty sure I need all of them. If you want to see all the files on your device sorted by size and delete the largest ones, here's a suggestion from CopyTrans.
What does offload app mean
What does it mean to offload an app? This option commands your iPhone to "return" unused apps and all the user-generated data back to App Store. The app icon will stay on your device, waiting to be clicked on. If you want to use the app again, just tap the icon and wait for it to be downloaded back onto device.
---
These tips provided by iPhone are quick, effective and personalized, and are worth trying before you move on to more fundamental suggestions on how to clear storage on iPhone.
How to free up storage on iPhone
One of the best ways to free up space on iPhone is to remove files you no longer need or use on your device. Check out the options listed below and learn how to back up the files before deleting them.
Delete photos
One of the simplest ways to quickly free up space on iPhone is to delete photos from iPhone – the ones you don't need. For me, this was one of the most effective measures as I have a messy library with many duplicates and photos I plan to delete "some tome later".
The problem with deleting photos on iPhone is they are not easy to select. That's why I cleared my iPhone library from PC using CopyTrans Photo. It allows you to:
⭐ preview all images in a desktop environment;
⭐ export groups of photos to PC;
⭐ quickly delete the photos you don't need.
So, here is how to delete photos from iPhone in case iPhone storage is almost full:
Download CopyTrans Photo and install it:

Download CopyTrans Photo

If you need help installing CopyTrans Photo, please refer to the installation guide.

Launch CopyTrans Photo and connect your iPhone to PC. If you need help with drivers, we got you. You will see your iPhone photos on the left, and PC photos and folders on the right.

Consider backing up all or some of your photos before you delete them.

To free up space on iPhone, you can now go through all photos and select the ones you want to delete.


Tips:
💡 Scale photos in the interface using a slider in the bottom-left corner.
💡 To select individual photos, hold down Ctrl while clicking on each one.
💡 To select all photos in an album, navigate inside and press Ctrl+A.

Right-click on the photos and click "Delete". Or use the "Delete" key.

Click "Apply changes", and the photos will leave your iPhone for good.
How to use iCloud storage
If you're already paying for additional space in iCloud, you probably don't have a photo storage problem. Otherwise, you may be asking yourself: how to add iCloud storage? Well, there are several solutions available, but if you want to have more control over which photos to back up, let us offer our own product with a photo upload feature – CopyTrans Cloudly.
So, how to get more storage on iPhone and still have access to your photos? After saving all your photos and videos on your PC with CopyTrans Photo, you can upload your photos to iCloud.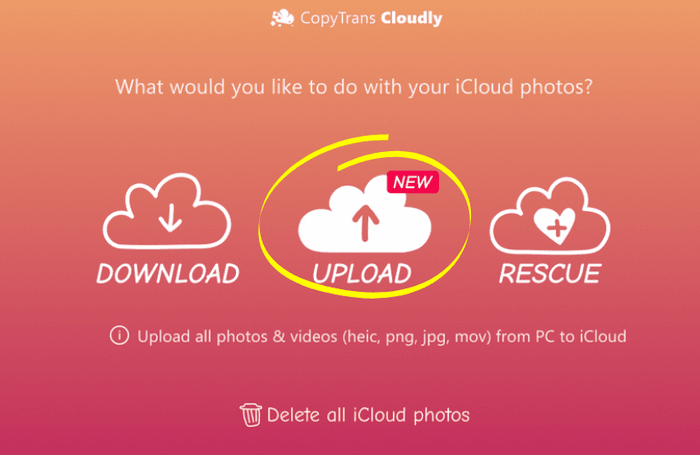 Delete app data
If you've cleared your photo library but are willing to go further, it is time to take a look at your messenger and browser settings. One more way to get more storage on iPhone is by reviewing data storage policies and clearing cache.
WhatsApp
If you have a lot of WhatsApp conversations, your iPhone is storing all the attachments – hordes and hordes of attachments that invade inhabit your Camera Roll. But you can put an end to it. Here's how to reduce WhatsApp storage space on iPhone:
Launch WhatsApp and go to Settings (lower-right corner) -> Storage and Data -> Manage Storage.

You will see how much space cached files take on your iPhone and a list of all chats ranged by the amount of storage they take:

Click on the chat to see all the images inside. If there are some valuable attachments, you can download all the media from a WhatsApp group to PC first. CopyTrans Contacts will export the whole chat in PDF and save attachments in a separate folder.

To delete all the attachments inside the chat from your iPhone's memory, tap Select -> Select All -> Delete.

The photos will stay in the chat, they will just be removed from your device.

Puff! Your attachments are gone.
CopyTrans 7 Pack
If you are interested in two or more solutions from our list, you might want to look at our combined application suite.
❤ We currently have a great deal – you can get 75% off CopyTrans 7 Pack. It's cheaper than buying just two programs 😉
---
Telegram
In my case, app data was bloated simply because I use Telegram. While Telegram is a wonderful app, it will gobble up huge chunks of iPhone memory unless you tell it otherwise. To minimize memory consumption, regulate the maximum cache size and how the app stores media files:
Open Telegram and go to Settings (lower-right corner) -> Data and Storage -> Storage Usage.

Reduce the maximum cache size and media storage time by moving the sliders to the left. Do not forget to clear the cache following the prompt at the bottom of the screen.
---
Google Chrome
If your default iOS browser is Google Chrome, you can attempt to get even more space by deleting browser cache. In order to do this:
Open the browser, then choose More (three dots in the lower-right corner) -> History -> Clear browsing data.

Make sure you've selected all you need and confirm the action.

A small portion of your iPhone disk space will be freed.
---
Safari
If you prefer Safari to Google, here is what you can do to clear history and cookies:
Go to Settings > Safari and scroll down to "Clear History and Website Data". Tap on the option and confirm.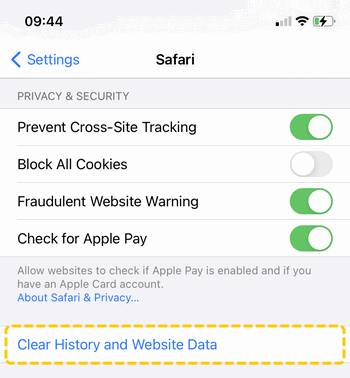 This option will help saving space on older devices, but new iOS devices usually have much higher storage capacity, so the amount of space you save here will be negligible.
Delete music, podcasts
iPhone is extremely multifunctional: you can even store all your music, podcasts and books on your iOS device. The difficulty is they will take a lot of space on your iPhone. So, save this data on your PC and free up space on iPhone. You will not lose anything important, I assure you. So, let's begin!
Transfer music, podcasts and books to PC to clear storage on iPhone.

CopyTrans offers you two options: copy all your music, podcasts and books to your PC or to iTunes.

Just follow these easy steps to transfer music from iPhone to your PC.

Delete music, podcasts and books from iPhone to clear space on iPhone.

CopyTrans Manager will help you delete all or some songs, podcasts, books (including audiobooks).

Here are the instructions: delete music from your iPhone.

Manage podcasts and books on your iPhone.

To help you manage your podcasts, Apple offers a function which automatically deletes the episodes once you've completed them. To enable "Delete played", go to Settings → Podcasts → choose to Delete Played Episodes.

If you need to delete some books from the iPhone, go to the "Books" app, search the library for the book you (don't) need, tap three small dots below it → select "Remove".
---
iPhone storage other
Even in the latest iOS 15 it is pretty hard to identify and remove data in the Other storage category. In most cases iPhone other storage is huge, therefore more and more users are wondering what it is and how to get rid of other storage on iPhone. Keep on reading, we will give a few valuable tips!
What is other in iPhone storage
iPhone other storage is made up by cached files, settings, Siri content and user files stored in 3rd-party iOS apps. For more info on what Other storage is, consult Macworld. For tips on how to reduce Other storage on iPhone, read on.
How to clear other storage on iPhone
If you don't want to go through your apps one by one to see which files you can or cannot delete, we know one way to help. You can delete the largest files on iPhone using a free tool, CopyTrans Filey.
Advantages of CopyTrans Filey
✔️ Delete documents on iOS device with few clicks;
✔️ Transfer files between iPhone/iPad and PC;
✔️ Back up files;
✔️ Work with different formats: .xlsx; .docs; .pptx; .pdf; .epub; .avi; .mov; .mp4; .mp3.

Here is how to get rid of other storage on iPhone and perform an effective file cleanup on your device:
Download CopyTrans Filey from the product page and install it:

Get CopyTrans Filey

If you need help, refer to the installation guide.

Launch CopyTrans Filey and connect your device. For any connection issues, please consult our guide on getting started with CopyTrans Filey. You will see the main screen. From there, click on "All Files".

You will see all the user files stored on your device. Sort them by size to get a clearer picture.

Now that you can see all the files sorted by size, just delete the largest ones.

Done! Here's how to reduce other storage on iPhone and make sure you didn't miss anything.

If deleting app files does not suffice, consider offloading apps.