CopyTrans HEIC
for Windows
Free for personal use
Open and convert HEIC files on your Windows PC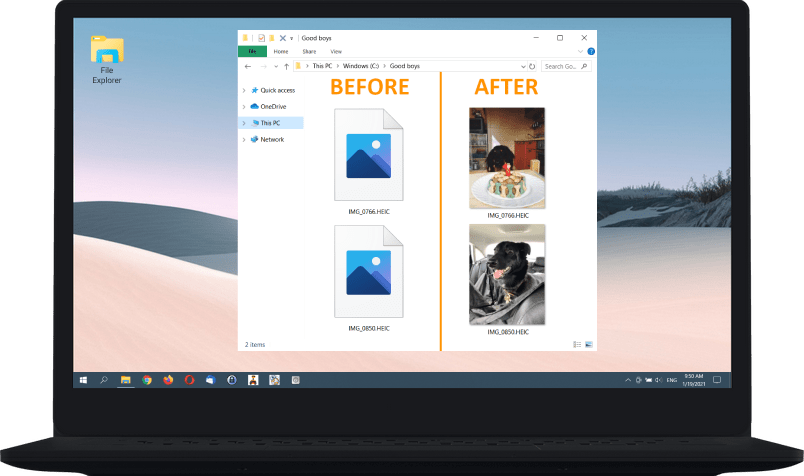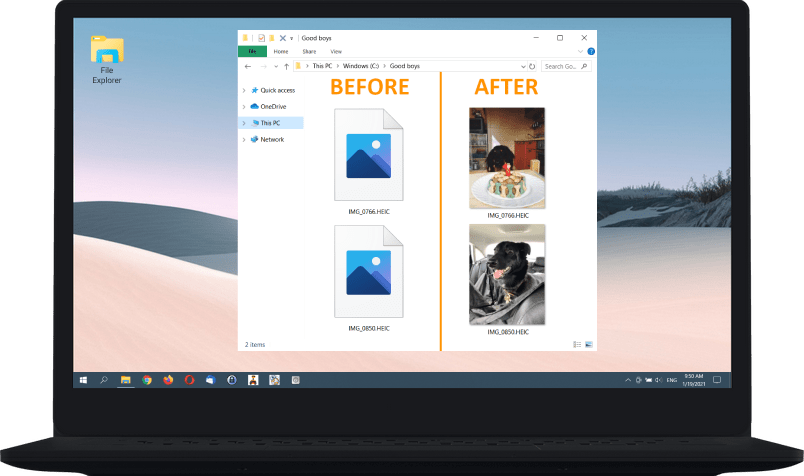 We teach Windows to see HEIC
What is HEIC? In 2017, Apple devices with iOS 11 and above started using High Efficiency Image Format (HEIF) for coding images. Apple's version of this format became known as HEIC (High Efficiency Image Coding).
HEIC images are almost twice lighter than JPEGs of the same quality, and they allow your iPhone to take really good quality pictures. So, they are the future!
However, native Windows applications do not support this format yet. This is why we developed CopyTrans HEIC, a hassle-free solution for viewing HEIC images on your PC!
For business clients: The plug-in works in Citrix and Windows Terminal Server environments.
---
View HEIC files on Windows
With CopyTrans HEIC, you can preview and browse HEIC images through Windows Explorer. You don't have to run any additional software! Browse your photos or send them to print – all without converting to JPEG.
Additionally, CopyTrans HEIC may help some other image viewers, such as FastStone Image Viewer or IrfanView, to recognize HEIC files.
To view HEIC photos on Windows 10 and 11, please use Windows Photo Viewer.
---
Use HEIC to JPG converter
If you need your photos in JPEG anyway, CopyTrans HEIC will gladly convert them, preserving the date taken, geolocation and more. No need to launch anything – just right-click on the images and choose to convert!
In this way, you can convert up to 100 images in one go. Also, your photos are not going anywhere from your PC: all conversion happens locally!
Enjoy Microsoft Office support
Make your MS Word, PowerPoint, Outlook and Excel documents even better with High Efficiency photos! CopyTrans HEIC makes Microsoft Office* compatible with HEIC format.
Now that you can insert HEIC photos into Microsoft Office documents, they will take less space and will respond more quickly!
*Starting with Microsoft Office 2010
---
Stop wasting your disk space
By default, your iPhone* converts HEIC images to JPEG upon transfer to PC, because it knows your computer probably can't read HEIC files.
CopyTrans HEIC makes things easier by enabling HEIC support on your PC. So, you can switch that setting off and store your images in High Efficiency format – same photos, twice less space!
* iPhone 7, iPad (2017) and all the later models.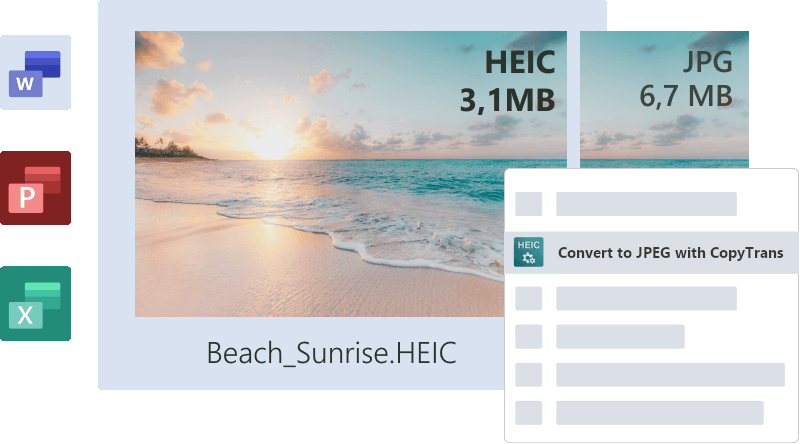 Our features at a glance:
View HEIC and HEIF images on your PC.
Convert HEIC to JPEG in one click.
hassle-free installation
(silent installation also possible)
one-click conversion to JPEG
Microsoft Office HEIC support
displaying HEIC thumbnails
keeping your original EXIF data
(date taken, geolocation)
supports Citrix and Windows Terminal Server

Combines perfectly with: CopyTrans Photo
Transfer iPhone photos to PC in original quality and choose the format: HEIC, JPEG or both. Use CopyTrans HEIC to view high efficiency images and CopyTrans Photo to convert photos upon transfer.
You can convert as many as you like in one go!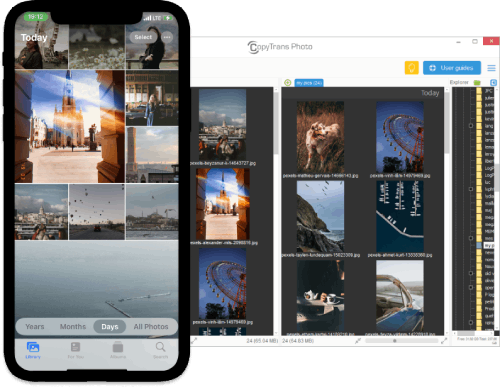 ---
These companies trust us: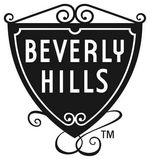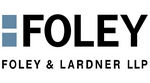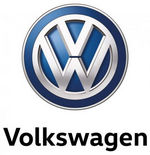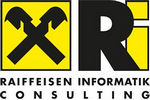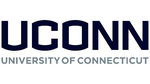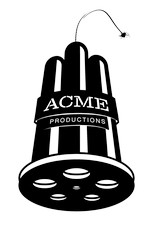 ---
Frequently asked questions
How much is CopyTrans HEIC for Windows (CTH)?

It's absolutely free! Unless you plan on using the software for business purposes.

How do I install CTH?

Scroll down until you see the "Download" button.
Click it and wait until the .exe file is downloaded on your PC.
Run the CopyTransHEICforWindows.exe file and grant it administrative privileges.
Click Next, read the License Agreement very carefully like you always do when installing software, click "I accept the agreement", click Next, click Install.
Voila! CTH is installed on your computer.

How do I update to the new version?

First check whether you need to update. Go to Control Panel\Programs\Programs and Features on your PC and check which version of the codec you have installed. Then visit this page, hover over the download button and compare it with the version you have installed. If it's the same, you have the latest version. If the version on the website if higher, delete the old codec and install the latest version.

Does CTH support HEVC videos?

No. Both HEIC and HEVC use the same image encoding technology, but in a different way. HEVC video format uses video codecs (there are lots of them already), and HEIC photo format uses Windows image plugins. Currently CTH is the only HEIC plugin for Windows.

I installed CTH, but I still don't see HEIC files.

Step 1: Check the origin of the HEIC file. CTH only supports HEICs taken on iOS devices. Step 2: Reboot your PC.

I tried opening HEIC images with the Photos app but the photos are blurry.

CopyTrans HEIC doesn't open HEIC photos in the Photos app, you need to associate it with the Windows Photo Viewer. To do that, right click on the HEIC photo – click Properties – click on the 'Change…' button next to 'Open with…' – pick Windows Photo Viewer.

How can I view HEIC photos on Windows 10 and 11?

To view HEIC images on these OS versions, please install Windows Photo Viewer or Photos app first. After that, right-click on the HEIC photo – click Properties – click on the 'Change…' button next to 'Open with…' – pick Windows Photo Viewer or Photos. Now you can view HEIC photos by simply double-clicking on them.

How can I convert a HEIC file to JPG?

After installing CTH, right-click on any HEIC file and choose "Convert to JPEG with CopyTrans" in the drop-down menu. You will see a converted JPG image next to the HEIC one.

Can I edit HEIC images?

Not on your PC. But hey, you can view them! You can also transfer HEIC images back to your iPhone and edit them there.

Can I transfer HEIC files on my PC back to my iPhone?

Yes, you can do so using CopyTrans Photo.

Does CTH for Windows affect other programs?

No, CTH doesn't interfere with other programs and has no impact on them.

What versions of Windows does CTH support?

Windows 7, Windows 8, Windows 10 and Windows 11.

How do I delete CTH?

Go to Control Panel\Programs\Programs and Features on your PC, find CopyTrans HEIC for Windows, double-click, grant it administrative privileges, click "Yes" to uninstall. That's it!
Secure & always compatible
Safety and Security
The program is free from ad-, spy- or malware.
Compatibility
CopyTrans HEIC supports Windows 11, 10, 8.1, and 7.