Introduced in iOS 11, HEIC format created a lot of confusion. A HEIC file is incompatible with Windows, which led to the most important question – how to convert HEIC to JPG? Well, thanks to our apps you can convert HEIC to JPG using one of the ways mentioned below.
⚡ Let us couponize you – don't miss your discount at the end of the guide 😉
What is HEIC file
Many users are wondering what is an HEIC File and if is better than JPG. HEIC is a subset of HEIF (High Efficiency Image Format) conventionally used in Apple products.
✔ a .HEIC file supports higher resolution and better compression than JPEG;
✔ a HEIC image is half the size of the same resolution JPEG image, on average.
Learn more about HEIF on Wikipedia.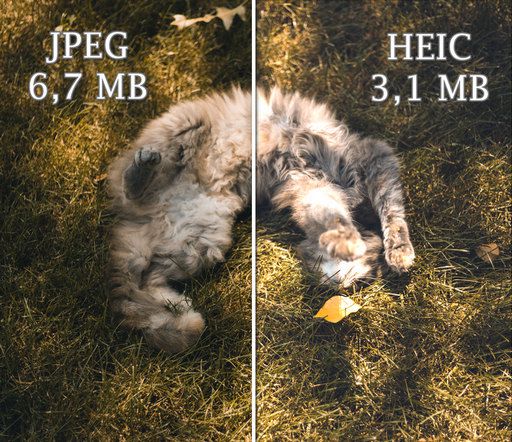 HEIC to JPG converter
According to The New York Times, CopyTrans HEIC for Windows became an absolute must for those who would like to view HEIC file types on their computers.
Along with other cool features, CopyTrans HEIC for Windows can actually convert HEIC to JPEG!
⚡ Your photos are not going anywhere from your PC: the process of converting HEIC to JPG happens locally. You don't have to run any additional software or upload your personal photos to any websites to change HEIC to JPG.
Download CopyTrans HEIC for Windows from the following page:

Download CopyTrans HEIC for Windows

Install the program. If you need help, just watch this quick tutorial:

Open a folder containing your iPhone made HEIC photos (also works for Nokia made HEICs).
TIP: If you still have the pictures you need to convert on your iPhone and need to transfer them to the computer, use the second option.

Select a photo you want to convert to JPEG. Right-click and choose "Convert to JPEG with CopyTrans". CopyTrans HEIC for Windows can convert up to 100 HEIC photos simultaneously.

That's it! Literally two clicks between HEIC and JPEG files.
Now you know how to view HEIC files and convert them to JPG on your PC.
How to convert HEIC to JPG
using CopyTrans Photo
If you don't have HEIC photos on a computer yet, don't worry – we can easily fix that with CopyTrans Photo. You can even transfer a HEIC file as JPG on your computer directly.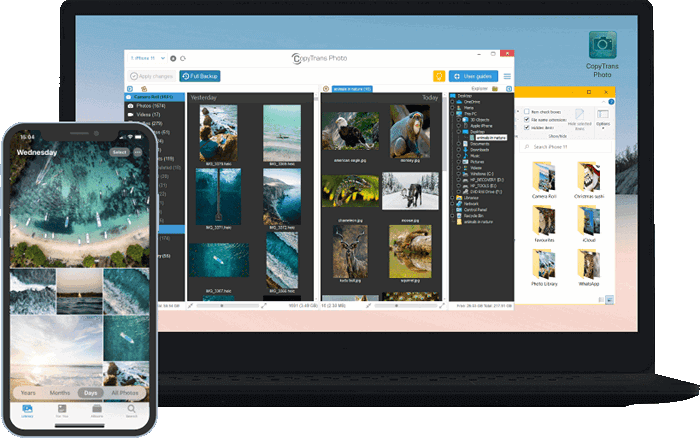 💙 What CopyTrans Photo can do for you:
▪ Transfer photos in HEIC, bmp, gif, jpeg, jpg, dng, tiff, tif, tga, png, pcx, dng (ProRAW)
▪ Convert HEIC to JPEG Windows 10, 11, also 8.1, and 7;
▪ Choose the format: HEIC, JPEG or both;
▪ Transfer photos from PC to iPad or iPhone preserving the original quality and EXIF data;
▪ Copy photo albums back and forth, preserving the album structure;
▪ Work offline.
Get CopyTrans Photo from the following page:

Make sure your Apple device is unlocked and connect it to your PC. All the photos from your device will appear on the left side of the screen. You have all your PC albums on the right side.

Go to the Settings tab and choose "transfer in most compatible format (JPEG)" option.

Locate the HEIC pictures you wish to transfer and just drag and drop them to the right side. Click on the green "Apply changes" button in the top left corner to save the photos.

Navigate to the folder to which you transferred the photos and enjoy!

💡 CopyTrans Photo stands not only as a reliable program to transfer photos from iPhone to PC and back, but as a HEIC converter for files stored on your PC. It is another marvellous feature of the program, isn't it? See how we do it:

Launch CopyTrans Photo and navigate to the folder on your PC where you have a HEIC to convert;
Select the photo you want to convert to JPEG. Right-click and choose "Save to JPEG":

---

❤ We currently have a great deal – you can get 80% off CopyTrans 7 Pack. It's cheaper than buying just two programs 😉

CopyTrans 7 Pack

Special offer

CopyTrans 7 Pack is a bundle of simple apps for a better iPhone + Windows experience. Transfer photos between iPhone and PC, export and import contacts, manage iCloud photos, back up and restore iPhone, and much more…!

✔ Activate on 5 PCs;
✔ Manage 5 devices;
✔ Full iPhone management;

✔ 2 years of free updates;
✔ No subscription;
✔ 108$ off.

* The offer includes an additional 3$ discount and is only valid when purchasing CopyTrans 7 Pack for private use.

Both methods to convert HEIC to JPEG are 100% success guaranteed for the HEIC photos made on iPhone. Which one is the most convenient to you? Let us know in the comments section below.