Hey, I can't see iPhone photos on my PC because the photos were taken in a strange HEIC format. Could you please help me to turn off HEIC on iPhone?
Thanks,
Emma
Apple is always taking care of its users, and is constantly improving its products. Photo quality has always been a burning issue for iPhone users. That is why, since iOS 11, Apple created a new photo format that improves the quality of the images, but uses less storage space – HEIC.
But unfortunately, Windows users can no longer view these photos on their computers for free as now this format is only supported by Apple products.
So, you should have a question, what to do now? Don't worry! We have two solutions for you:
---
Why are my photos HEIC instead of JPG
Users usually discover that the photos taken are in a HEIC format only after transferring their iPhone pics to a PC. What's more? It turns out that Windows can't open HEIC files. Why does this happen? Since iOS 11, Apple devices (even some Android devices) take pictures in a HEIC format, unless you turn this feature off in the camera settings. You might not notice any changes in your Photo Gallery, but you can always check the image EXIF data by swiping the photo up.
So, what is HEIC? HEIC stands for High-Efficiency File Format, a way to store photos that is more efficient than JPEG and preserves the quality of the image. This file format allows users to store photos at a smaller size without sacrificing any of the original details of the images. That is why Apple has made HEIC the default image format for all iPhones and iPads.
HEIC files have a .heic or .heics extension. This type of file contains compressed data and metadata, making it smaller in size and with better image quality than other formats. However, there is still no universal compatibility between HEIC files and other systems.
To resolve this issue, you'll need to switch your iPhone camera settings to take JPG photos in the first place, or convert existing HEIC files into a universally accepted format such as JPEG.
In this article we will explain to you how to turn off HEIC, or how to keep taking photos in a good quality, but convert them on your PC.
---
Turn off HEIC on iPhone
If you want to turn off HEIC on iPhone, access Settings app and follow the instructions below. Swithiching this option off will change the format of pics your iPhone will take from this moment. If you already have some photos heic photos on your device, here is how to view HEIC photos on your PC.
Follow the steps to change HEIC to JPG:
Go to "Settings" and scroll down. Find "Camera" and click on it.

In the opened tab, click on "Formats".

Now you can choose the format "Most compatible": this will turn off HEIC.

That is it! Now you can make pictures in JPG, but… If you just changed your mind and want to use your iPhone camera for professional shots, then look into the solutions we have prepared for you! Enjoy the easy way to view or convert HEIC on your PC!
---
View or Convert HEIC to JPG on your PC
If you want to keep using HEIC format to make your best shots, nothing should stop you! Choose one of the 2 solutions below – you'll be able to keep high quality pics on your device but also view them on PC.
With CopyTrans HEIC
With CopyTrans HEIC you can keep on taking photos in a high efficiency format on your iPhone and then view them without any problem on your PC. Also, you can simply convert these photos to JPG. Follow these easy steps bellow:
Download CopyTrans HEIC for Windows and install it:

Open a folder with HEIC photos. Now you can see the thumbnails of the images. To view HEIC images, please use Windows Photo Viewer or Photos app.

TIP: If you still have the pictures you need to convert on your iPhone and need to transfer them to the computer in JPG format, use CopyTrans Photo method.

Now, to convert HEIC to JPG, just select a photo or a batch of photos you want to convert to JPEG. Right-click and choose "Convert to JPEG with CopyTrans".

The mission is completed! You can now convert HEIC to JPEG in two clicks.
---
With CopyTrans Photo
One more solution for you is to use CopyTrans Photo, as it has a really useful function: it can transfer your HEIC photos to PC in JPG.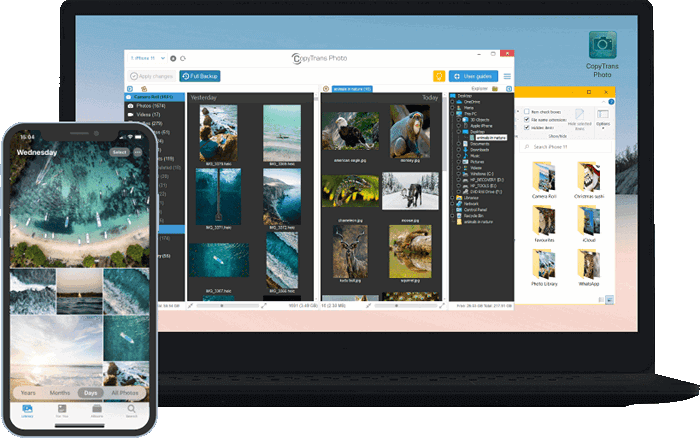 With CopyTrans Photo you can:
✔️ Choose the format: HEIC, JPEG or both;
✔️ Transfer photos from PC to iPad or iPhone preserving the original quality and EXIF data;
✔️ Convert HEIC to JPEG Windows 10, 11, 8, and 7;
✔️ Transfer photos in HEIC, bmp, gif, jpeg, jpg, dng, tiff, tif, tga, png, pcx, dng (ProRAW)
✔️ Work offline
Download CopyTrans Photo
Download CopyTrans Photo and install it.

Connect iPhone to PC. All the photos from your device will appear on the left side of the screen. You have all your PC albums on the right side.

Click on three lines in the right corner of the program. Go to the "Settings" tab and choose "Transfer in most compatible format (JPEG)" option.

And now you can just drag-and-drop the photos to the right side. Click on the green "Apply changes" button in the top left corner to save the photos.

That is it! You can now find your JPG photos on PC.
---
iPhone HEIC turn off
Conclusion
As you can see from this article, HEIC photos is a good solution for your, especially if you are a professional blogger or content creator. So we have showed you how to turn HEIC off on iPhone or how to view and convert HEIC on your PC, you just have to choose the best solution for you! But we think, it will be better to use our FREE tool – CopyTrans HEIC, and to make HEIC format compatible with your PC! Just try it.