HEIC (High Efficiency Image Coding) is a new format, designed to replace the JPG format. It takes up about half the space of the JPG format but retains the same quality.
Although the HEIC format was introduced a long time ago, many users still face the problem of how to open HEIC file on their personal Windows PC. For this very reason, CopyTrans has developed a special tool to solve this persistent incompatibility problem: CopyTrans HEIC.
---
Why are my photos HEIC
HEIC vs JPEG
So, what is HEIC file? In fact, HEIC is a variant of HEIF that was chosen by Apple for naming the format. Actually, HEIF was created by the MPEG group. High Efficiency Image File Format (HEIF) is a file format that makes use of a modern compression algorithm that's able to store images in smaller sizes – while still keeping that crystal clear, high-definition image quality.
Advantages and disadvantages of HEIC photos:
Pros
✔️ Occupies less storage space
✔️ Can produce high quality images
✔️ Supports up to 16-bit color scheme, while JPEG offers 8-bit
✔️ Live Photo feature is possible because of HEIF
✔️ Supports transparency (same as PNG files)
Cons
❌ Not compatible with all systems and devices
❌ Not supported by most popular web browsers or social media platforms (e.g Facebook)
❌ No open-source
And what about JPEG? So, JPEG is a commonly used method of lossy compression for digital images, particularly for those images produced by digital photography. The degree of compression can be adjusted, allowing a selectable tradeoff between storage size and image quality.
Pros
✔️ Widely compatible with all Windows PC, Macs, Android, iOS devices, and browsers
✔️ Adjust the compression degree and photo quality
Cons
❌ Take up double storage space than a HEIC file
❌ Doesn't support transparency
HEIC vs JPG: which format to use is up to you, but we recommend you read on and you will find out how to open HEIC on your PC.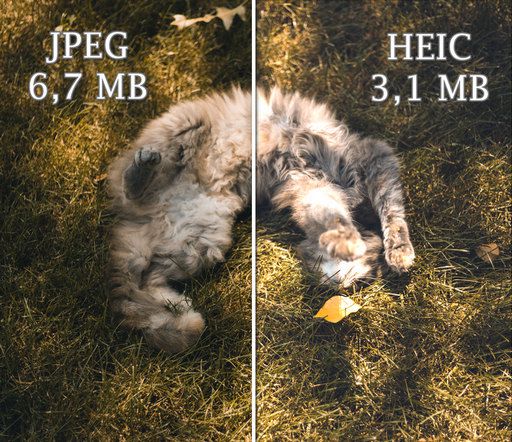 ---
Cant open HEIC file
I can imagine that after making all these awesome photos on you iPhone, you would like to share them with the world, and maybe one day you'll want to transfer these photos to your Windows computer. And now what? You will find out that all these images are not supported by Windows OS.
Why these happens? Since 2017, Apple uses a special High Efficiency Image Coding for images, that saves the iPhone space, but is not compatible with the systems that are not an Apple ecosystem. However, you should not worry about it: we will help you to fix the problem.
How can you open HEIC on your PC? There are two options:
---
Open HEIC file Windows 10
Opening heic on Windows is not that easy! But right after installing CopyTrans HEIC, you will be able to view your heic files on your PC. To open HEIC file:
Simply select the folder where your HEIC photos are stored. The thumbnails of HEIC images are displayed directly in the folder immediately after installation.
Download our plug-in CopyTrans HEIC
After right click on the photo, tap on Open with
Then select the Windows Photo Viewer
Please do not forget to change the settings of HEIC files to open them with Windows Photo Viewer by default.
---
Open HEIC file Windows 11
Now that you understand why you use the HEIC format, you probably have another question: how to open heic on your PC? In this section, we will explain to you how to resolve this problem if you have Windows 11 on your PC.
CopyTrans HEIC teaches your Windows system to display HEIC images in the Windows Photo Viewer (recommended) and in the Windows Photos application.
To open HEIC files on your PC:
Download our plug-in CopyTrans HEIC
Right click on the image you want to view and tap on Open with
Then select the Windows Photo Viewer

This app can be hidden in the menu. To find it, tap on Choose another application and drag the applications until you see the Windows Photo Viewer. And that is how to open heic files!
Check the "Always use this application to open .HEIC files" box so that your HEIC photos will now automatically open in the viewer.
NOTE: If you cannot find the Windows Photo Viewer among the applications, it means that it is disabled on your computer. Installing CopyTrans HEIC will re-enable the viewer.
---
Convert HEIC to JPG on iPhone
If you still prefer JPG photos, then you can set your phone to always use this format. How to change HEIC to JPG on iPhone? Just follow these steps:
Open the Settings app on your iPhone
Tap Camera > Formats > Most Compatible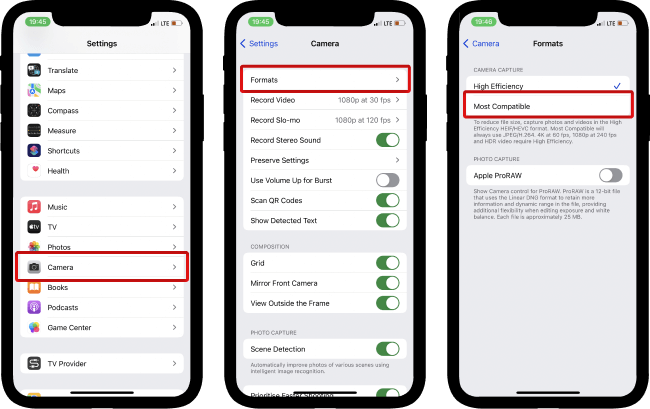 If you want to keep taking pictures in good quality, there is a solution for that as well. Just set your phone so that when you transfer the photos are converted to JPG. This is how to convert HEIC to JPG iPhone:
Open the Settings app on your iPhone
Select Photos
In the Transfer to Mac Or PC section, click on Automatic