CopyTrans Contacts
Manage iPhone contacts, calendars, messages, and notes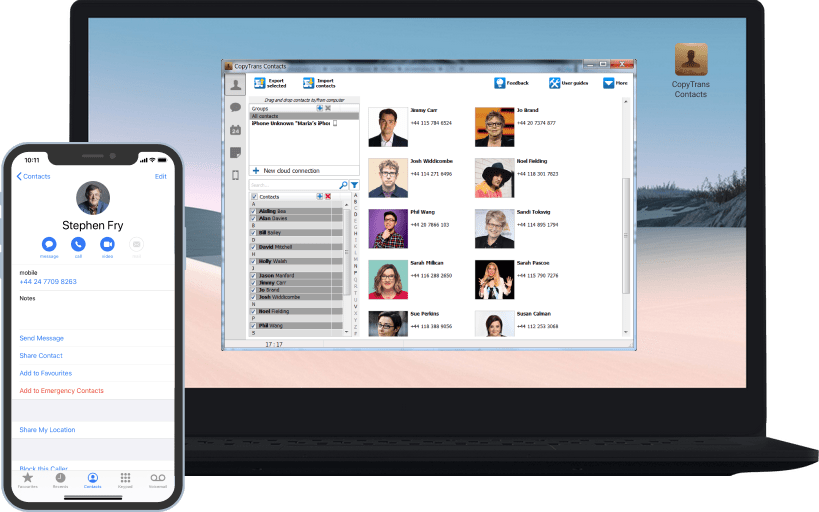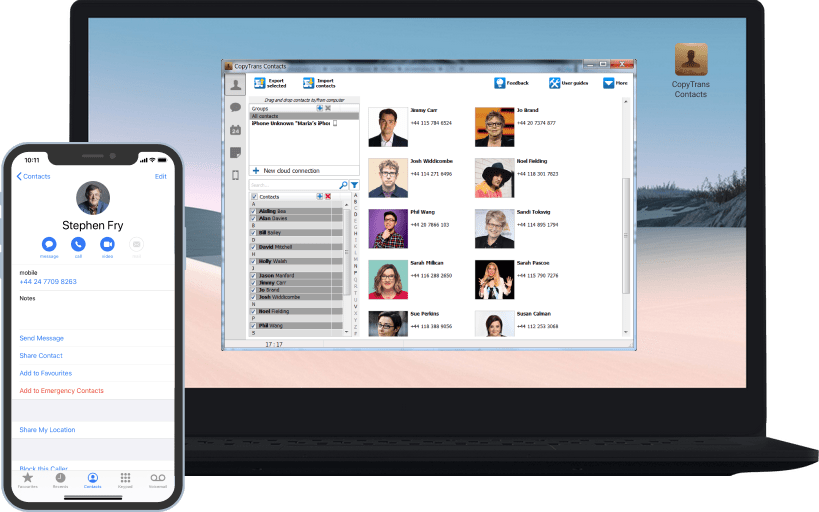 Manage iPhone contacts
Edit, group and delete your iPhone contacts directly from your computer. Transfer contacts to and from iPhone, Outlook, Gmail, iCloud, Excel, Windows, Android, BlackBerry, Thunderbird, Hotmail, and Yahoo! or keep full backups of your iPhone address book on your PC.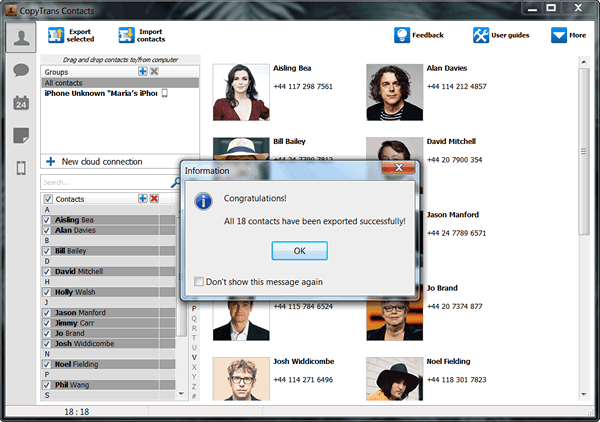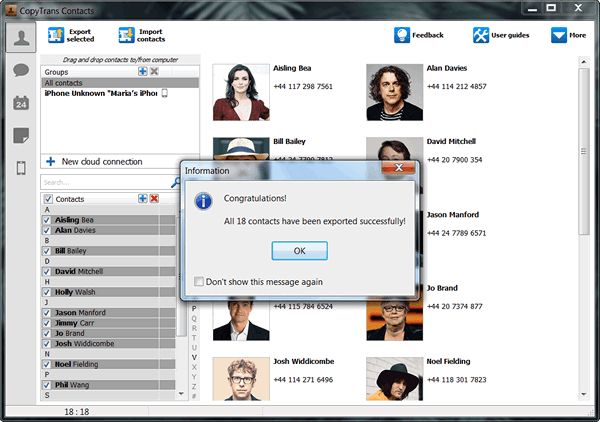 Back up and print iPhone messages
Back up your SMS, iMessages, WhatsApp, Viber, and Line conversations to your computer in just a few clicks. CopyTrans Contacts also saves all attachments like photos, videos, GIFs, voice messages and more.
You can export the messages in different formats like PDF, Word, Excel, Plain Text, CSV or HTML. You can easily read, print, and share those conversations.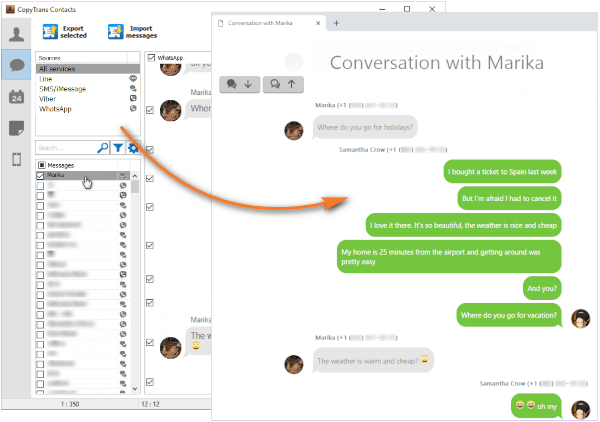 Manage iPhone calendars
View all your events on your PC screen and easily back up, transfer, add, edit, and remove calendars or events. Manage different cloud calendars, copy events directly from one cloud service to another and transfer calendars and events to and from Outlook.
---
Back up iPhone notes
With CopyTrans Contacts you can export all your iPhone and iCloud notes with all the attachments to your computer. Import or edit your Gmail or Yahoo notes with just a few clicks!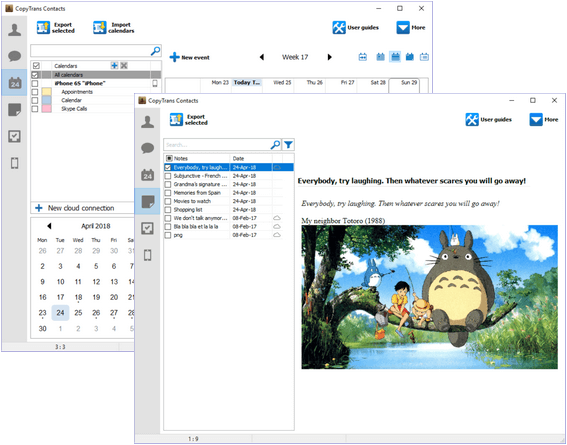 Connect iCloud, Gmail, and more
With CopyTrans Contacts you have the choice to manage sensible iPhone data offline or connect to the cloud and enjoy managing different cloud services in one place.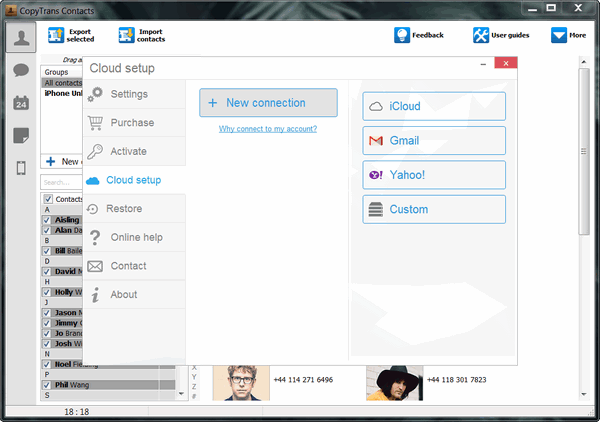 ---
Featured in
Here are some publications about us

"Many different programs can not only decipher the SQLite file Apple uses to store SMS messages, but can also simplify finding and archiving them. CopyTrans seems to be the application of choice among Windows users."
Wired
read in full

"CopyTrans Contacts provides a one-stop-shop where you can add, delete, import, export, and otherwise manage contacts between different devices."
CNet
read in full

"When you want to actually manage contacts beyond just adding a name or phone number, the iPhone's or iPad's relatively small screen and lack of a keyboard can be very limiting. That's where CopyTrans Contacts comes in."
PCWorld
read in full
Previous
Next
---
What people say about
CopyTrans Contacts:
4.1 out of 5 based on 4282 User Reviews
"
Easy, convenient, user friendly. Great product. Saved me countless hours of downloading messages and contacts.
"
"
Seems to simply have accomplished what I needed to and that was transfer Exchange contacts from my iphone to Outlook. Would have given it 5 Stars but pricing is not clearly displayed upfront.
"
"
Perfect program to copy contacts between Google, Outlook, IPad (IPhone Mac)…. Love it love ❤️
"
Try CopyTrans Contacts now!
Manage your iPhone contacts, messages, notes and calendars with ease.
Download
Secure & always compatible
Our program works with all iOS versions.
Safety and Security
CopyTrans Contacts is renowned as a secure and stable application that is, like all other CopyTrans programs, free from ads, spy- or malware.
Compatibility
CopyTrans Contacts supports all iPhone and iPad models and was designed for Windows 10, Windows 8.1, and Windows 7.