CopyTrans Contacts
Manage iPhone contacts, calendars, messages, and notes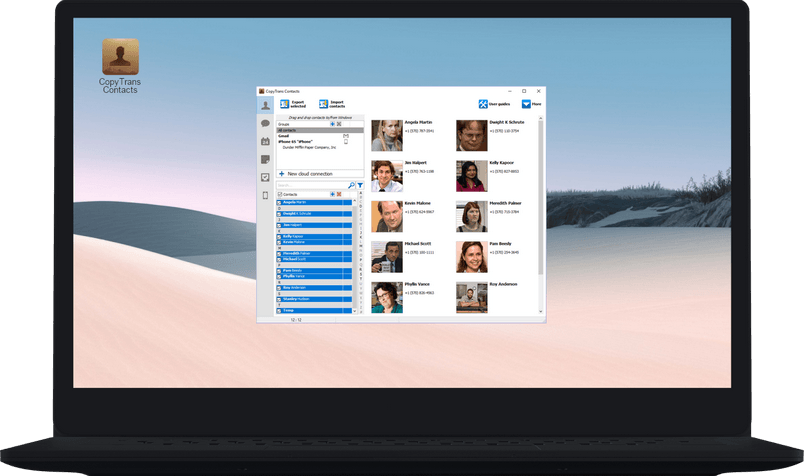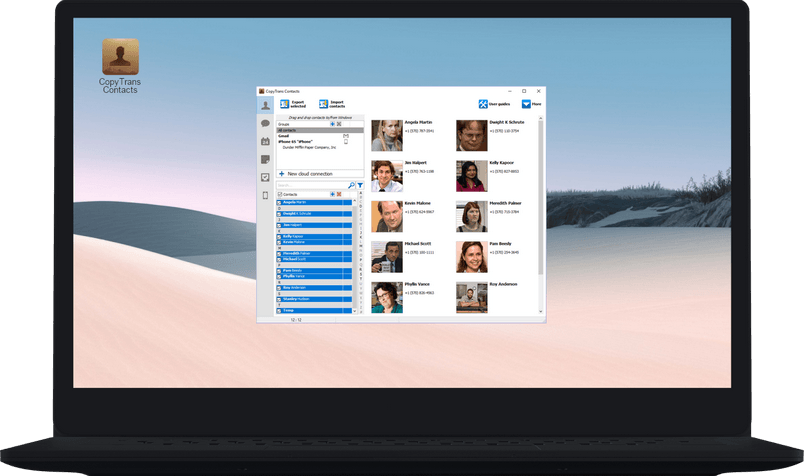 Manage iPhone contacts
Edit, group and delete your iPhone contacts directly from your computer. Transfer contacts to and from iPhone, Outlook, Gmail, iCloud, Excel, Windows, Android, BlackBerry, Thunderbird, Hotmail, and Yahoo! or keep full backups of your iPhone address book on your PC.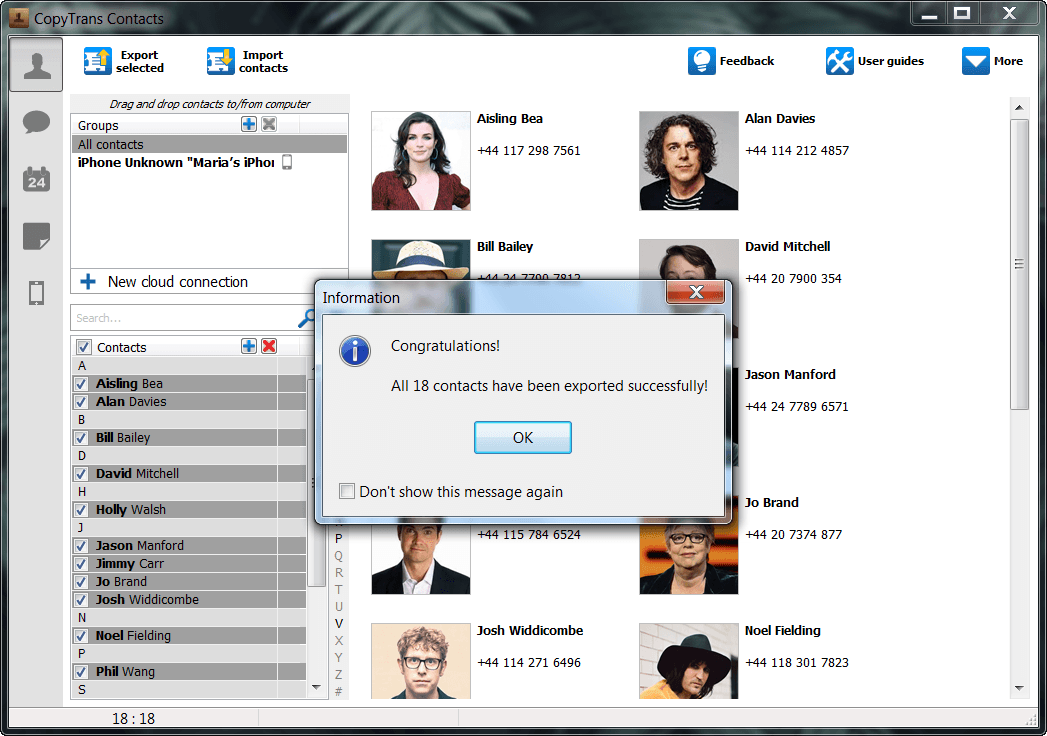 Back up and print iPhone messages
Back up your SMS, iMessages, WhatsApp, Viber, and Line conversations to your computer in just a few clicks. CopyTrans Contacts also saves all attachments like photos, videos, GIFs, voice messages and more.
You can export the messages in different formats like PDF, Word, Excel, Plain Text, CSV or HTML. You can easily read, print, and share those conversations.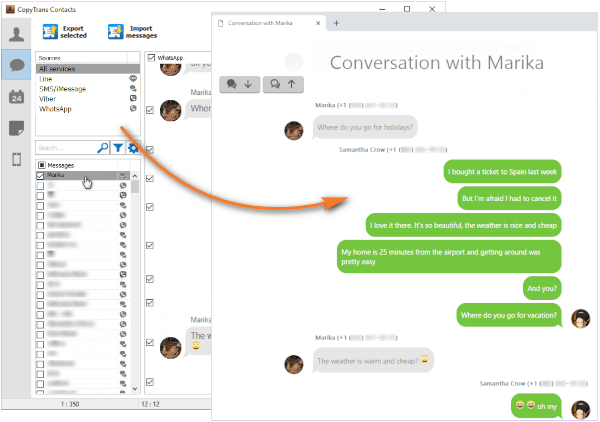 Manage iPhone calendars
View all your events on your PC screen and easily back up, transfer, add, edit, and remove calendars or events. Manage different cloud calendars, copy events directly from one cloud service to another and transfer calendars and events to and from Outlook.
---
Back up iPhone notes
With CopyTrans Contacts you can export all your iPhone and iCloud notes with all the attachments to your computer. Import or edit your Gmail or Yahoo notes with just a few clicks!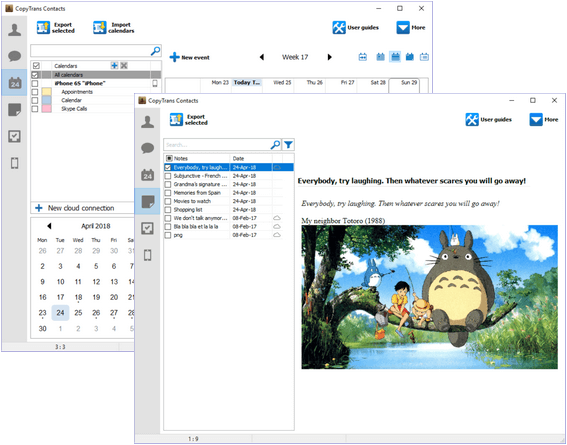 Connect iCloud, Gmail, and more
With CopyTrans Contacts you have the choice to manage sensible iPhone data offline or connect to the cloud and enjoy managing different cloud services in one place.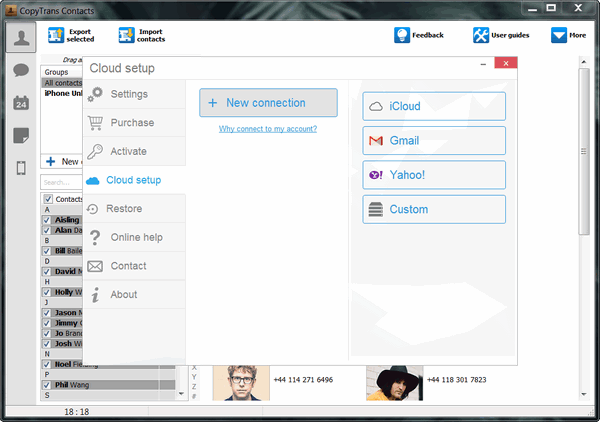 ---
What people say about
CopyTrans Contacts:
4.1 out of 5 based on 4120 Real User Reviews
"
So far the product works. I had some issues with the app. I already had the demo version downloaded and logged in using my name and key that I purchased. I plugged in my phone and set it to loading my texts. twelve hours later it had reached 100% but was still spinning and had not loaded anything. I had to remove the demo version, download the latest Copytrans Contact app and then login again. This time I was able to download my texts. What I would like to see in a future version is the ability to scan your phone only for texts; as it is now contacts, calendar, texts, and notes are all scanned before you can transmit to PDF
"
"
Fast, secure, and paperless. Highly recommended.
"
"
Expensive - but it did the job perfectly. Nokia N71 .csv contacts to New Apple iphone. Now what do I do with it, I only needed it for the one transfer which it did in seconds, now $19 later its going to sit there I guess
"
Try CopyTrans Contacts now!
Manage your iPhone contacts, messages, notes and calendars with ease.
Download
Secure & always compatible
Our program works with all iOS versions.
Safety and Security
CopyTrans Contacts is renowned as a secure and stable application that is, like all other CopyTrans programs, free from ads, spy- or malware.
Compatibility
CopyTrans Contacts supports all iPhone and iPad models and was designed for Windows 10, Windows 8.1, and Windows 7.