Transfer contacts from one iPhone to another
Back up iPhone messages to a computer
Manage your iPhone and cloud calendars
Transfer iPhone notes to your computer
Manage iPhone contacts
Edit, group and delete your iPhone contacts directrly from your computer. Transfer contacts to and from iPhone, Outlook, Gmail, iCloud, Excel, Windows, Android, BlackBerry, Thunderbird, Hotmail, and Yahoo! or keep full backups of your iPhone address book on your PC.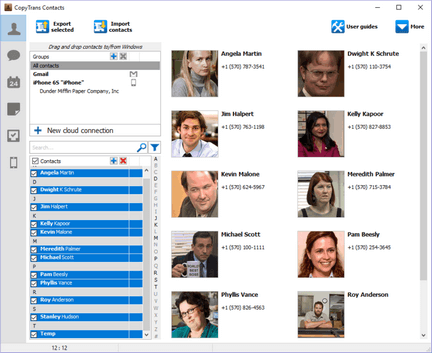 ---
Back up and print iPhone messages
Back up your SMS, iMessages, WhatsApp, Viber, and Line conversations to your computer in just a few clicks. CopyTrans Contacts also saves all attachments like photos, videos, GIFs, voice messages and more. You can export the messages in different formats like PDF, Word, Excel, Plain Text, CSV or HTML. You can easily read, print, and share those conversations.
---
Manage iPhone calendars
View all your events on your PC screen and easily back up, transfer, add, edit, and remove calendars or events. Manage different cloud calendars, copy events directly from one cloud service to another and transfer calendars and events to and from Outlook.
---
Back up iPhone notes
With CopyTrans Contacts you can export all your iPhone and iCloud notes with all the attachments to your computer. Import or edit your Gmail or Yahoo notes with just a few clicks!
---
Connect iCloud, Gmail, and more
With CopyTrans Contacts you have the choice to manage sensible iPhone data offline or connect to the cloud and enjoy managing different cloud services in one place.
---
Featured in
An app that allows to back up, edit, add and group iPhone contacts. It's the only all-in-one app that I found (so far) to manage iPhone contacts from a PC.
When you want to actually manage contacts beyond just adding a name or phone number, the iPhone's or iPad's relatively small screen and lack of a keyboard can be very limiting. That's where CopyTrans Contacts comes in.
CopyTrans Contacts provides a one-stop-shop where you can add, delete, import, export, and otherwise manage contacts between different devices.
---
What people say about CopyTrans Contacts
This software work perfectly. thanks again.
Did a fairly good job of moving most of the address book data from the iphone to a PC. Several categories of data were not transferred . However all email addresses were transferred. Work but not home phone numbers were transferred.
Worked great.. saved me hours of time
Good easy to use system dose what you need it to do