Back up your iTunes library to a hard drive
Create incremental iTunes library backups
Transfer your iTunes library to a new PC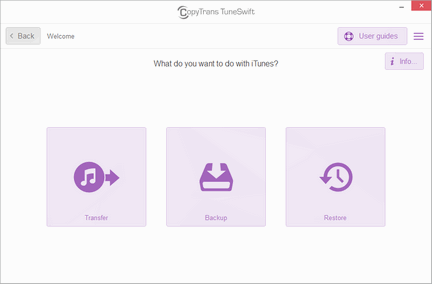 Back up your iTunes library
Create an exact copy of your iTunes library in one click and keep it safe in case you lose iTunes after a Windows update or in a PC crash. Make regular incremental backups instead of full backups to save disk space on your PC.
---
Restore your iTunes music library to a PC
CopyTrans TuneSwift restores the iTunes backup you made on your old PC to your new PC. You'll get an exact copy of the iTunes library you used to have on your old machine including your music, videos, films, podcasts, etc.
---
Transfer your iTunes library to an external drive
Not enough disk space on your PC? Migrate your entire iTunes library to another disk or to an external drive to free up space.
Ready to switch from an old PC or from Windows 7 to Windows 10? CopyTrans TuneSwift will transfer your iTunes library to a new computer.
---
Featured in
CopyTrans TuneSwift is a program that promises to put me and the rest of you, out of our misery. No, not kill us, but solve the aforementioned problem with iTunes.
---
What people say about CopyTrans TuneSwift:
Worked well for me when transferring my iTunes library into my new PC.
An excellent experience with moving all my music from my old PC to the new, with no upsets to my iPod. Highly recommended, because Apple is usually a pain!
Moved all I Tunes content very easily. Simple and straight forward. Very good program. Dave
These guys are smart! Their interface takes a little getting used to, but it works just fine! They have a FREE program call CopyTrans Manager that is AWESOME (and it sucked me in). I used it and for transferring music between my PC and the iTunes "Music" on my iDevices (all of them, I have an iPod, an iPad, and and iPhone) and they all have some music on them right now WITHOUT HAVING TO MESS WITH MY ITUNES ON MY PC!!! AND FREE!!! Just transfer MP3's from My Computer to iDevice. Then I checked out their other programs. Right now the only one that I can REALLY USE is the CopyTrans TuneSwift program that is a very easy to use backup program for your "iTunes". It allows me to backup the entire iTunes (database and music which I have stored on separate drives, the Music Library is on a BIG drive, the database that keeps track of it is on my C: drive) to a single file! It allows you to restore the backups. It can update the backups with just the changes so the backup doesn't take so long if you make changes to your iTunes and want to refresh your backup, this way you don't have to do a full backup to get it all backed up again. Of course, it does full backups too! So I am VERY HAPPY! This is going to be useful because I have a lot of music and want to load up my iPad then back it up, then load up my iPad then back it up, etc. and then I can just restore any of the backups when I want. Each backup could have different music. Really neat! My only worry is that the software expires or becomes unavailable at sometime since their interface is somewhat different. I may ask the developer if there is any chance of that because I want to use this software FOREVER! I have a HUGE investment in my music and music devices and these two programs MAKE MY DAY (OVER AND OVER AND OVER!!!). THANKS!