Back up your iTunes library to a hard drive
Create incremental iTunes library backups
Transfer your iTunes library to a new PC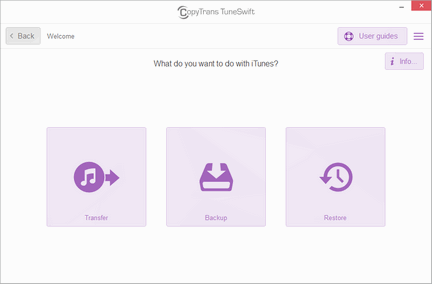 Back up your iTunes library
Create an exact copy of your iTunes library in one click and keep it safe in case you lose iTunes after a Windows update or in a PC crash. Make regular incremental backups instead of full backups to save disk space on your PC.
---
Restore your iTunes music library to a PC
CopyTrans TuneSwift restores the iTunes backup you made on your old PC to your new PC. You'll get an exact copy of the iTunes library you used to have on your old machine including your music, videos, films, podcasts, etc.
---
Transfer your iTunes library to an external drive
Not enough disk space on your PC? Migrate your entire iTunes library to another disk or to an external drive to free up space.
Ready to switch from an old PC or from Windows 7 to Windows 10? CopyTrans TuneSwift will transfer your iTunes library to a new computer.
---
Featured in
CopyTrans TuneSwift is a program that promises to put me and the rest of you, out of our misery. No, not kill us, but solve the aforementioned problem with iTunes.
---
What people say about CopyTrans TuneSwift:
After countless hours of browsing and trying different ways to move my iTunes library to a new PC, and coming close to the point of insanity, I stumbled upon Tune Swift. It was easy and worked perfectly! Thank you Copy Trans, for saving me time and my sanity!
I have transferred my iTunes library a few times in the past. Always a complicated process. This time the source laptop was on its last legs. I was worried that all my music would be lost, since I no longer has the original MP3s. CopyTrans made it easy and worked perfectly.
Client purchased new PC, had iTunes on old box, needed to transfer iTunes content to new box, CopyTrans is the best software I have used and not simply for this task, what I am trying to say is their works as promised unlike most vendors who crank out products in a wild alpha state and expect the clients to finish the product. I have used this software more than a handful of times and have never had a single issue, the buttons are large and labeled so no one could mistake button "A" from button "B". I have been in the industry 20+ years and software has steadily declined over the years but not this product. Makes migrating iTunes to a new box very easy.
functionality prefect - easy to use
This app was life changing. I was able to transfer years of accumulated music and audio books from my old computer to the new. CopyTrans was easy and made me feel smart!