CopyTrans TuneSwift
Transfer, back up and restore iTunes library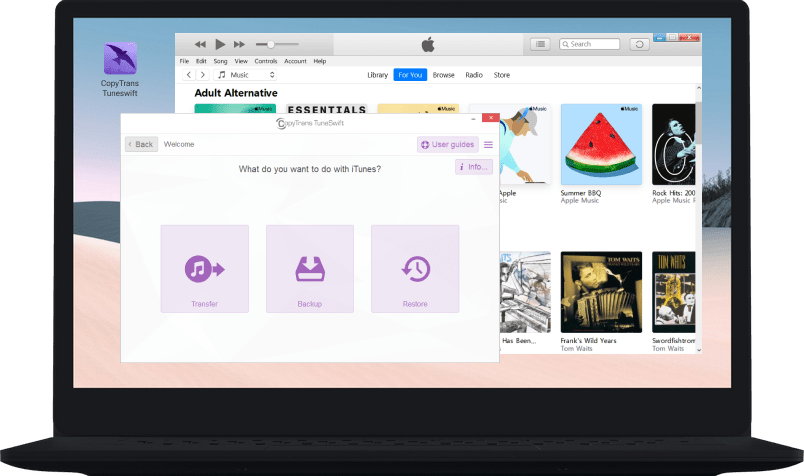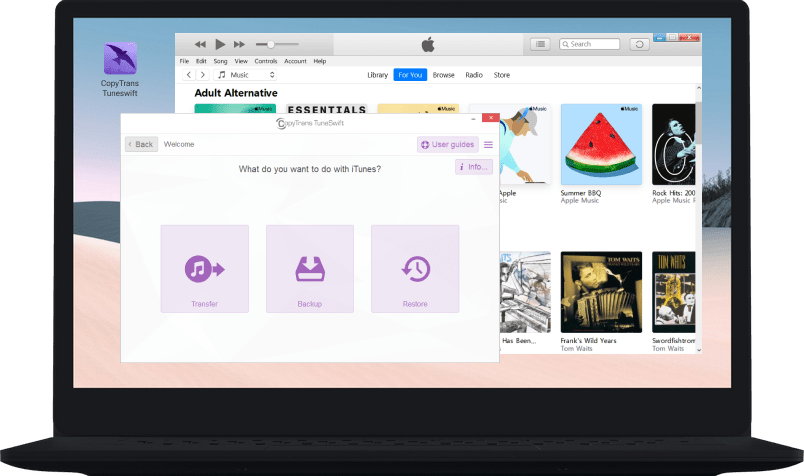 Back up your iTunes library
Create an exact copy of your iTunes library in one click and keep it safe in case you lose iTunes after a Windows update or in a PC crash. Make regular incremental backups instead of full backups to save disk space
on your PC.
---
Restore your iTunes music library to a PC
CopyTrans TuneSwift restores the iTunes backup you made on your old PC to your new PC. You'll get an exact copy of the iTunes library you used to have on your old machine including your music, videos, films, podcasts, etc.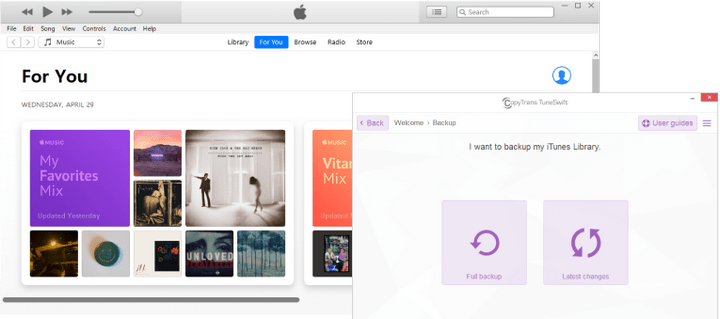 Transfer your iTunes library
to an external drive
Not enough disk space on your PC? Migrate your entire iTunes library to another disk or to an external drive to free up space. Ready to switch from an old PC or from Windows 7 to Windows 10? CopyTrans TuneSwift will transfer your iTunes library to a new computer.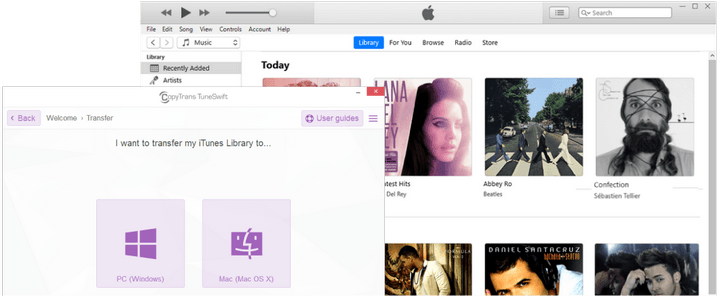 Featured in
Here are some publications about us

"CopyTrans TuneSwift is a program that promises to put me and the rest of you, out of our misery. No, not kill us, but solve the aforementioned problem with iTunes."
Guiding Tech
read in full

"Whether you're upgrading computers or just doing a little digital housekeeping, you'll need to move or backup your iTunes media library. You could do it manually, or you could save yourself plenty of headaches and hassle and use CopyTrans TuneSwift instead."
PC World
read in full

"CopyTrans TuneSwift is a way to move your iTunes library to a new computer."
CNet
read in full
Previous
Next
---
What people say about
CopyTrans TuneSwift:
4.0 out of 5 based on 646 User Reviews
"
It now works great for Win 10 and Win 11
"
"
My advice to all who are trying to move to a new computer their Itunes. Do not waste your time reading endless instructions on the internet or Apple web site. What you will get if you do that is a sub-set of your tracks, only those you bought from Itunes and nothing else what you may have imported. You will also loose all your play lists etc. Easier to start from scratch really. Spend these few dollars and you will have a perfect copy of your library on your laptop or new PC within 30 minutes (it takes a bit of time because it compresses it before transfer and then restores into the new folder). All your play lists will be there and it will just work. This is money well spent, definitely!
"
Secure & always compatible
Safety and Security
CopyTrans TuneSwift is renowned as a secure and stable application that is, like all other CopyTrans programs, free from ad, spy- or malware.
Compatibility
CopyTrans TuneSwift was designed for Windows 11, 10, 8.1, and 7.