Back up your iTunes library to a hard drive
Create incremental iTunes library backups
Transfer your iTunes library to a new PC or Mac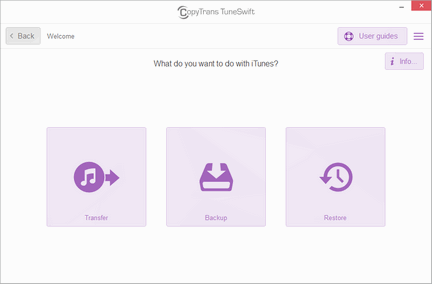 Back up your iTunes library
Create an exact copy of your iTunes library in one click and keep it safe in case you lose iTunes after a Windows update or in a PC crash. Make regular incremental backups instead of full backups to save disk space on your PC.
---
Restore your iTunes music library to a PC or Mac
CopyTrans TuneSwift restores the iTunes backup you made on your old PC to your new PC or Mac. You'll get an exact copy of the iTunes library you used to have on your old machine including your music, videos, films, podcasts, etc.
---
Transfer your iTunes library to an external drive
Not enough disk space on your PC? Migrate your entire iTunes library to another disk or to an external drive to free up space.
Ready to switch from a PC to a Mac or from Windows 7 to Windows 10? CopyTrans TuneSwift will transfer your iTunes library to a new computer.
---
Featured in
CopyTrans TuneSwift is a program that promises to put me and the rest of you, out of our misery. No, not kill us, but solve the aforementioned problem with iTunes.
---
What people say about CopyTrans TuneSwift:
Second time I have used it on new computers to transfers my wife's iTunes files, works a treat, quick and simple to use. What more can I say!
Published 6 days ago
WOW! What a surprise - to take a chance on a product found by an on-line search and find out it does exactly what it said it will do. I downloaded CopyTrans Tuneswift on my old PC and followed the simple instructions and let it do its thing - downloaded my 1,000+ songes onto a 32gb thumbdrive. . Then I downloaded it onto my new PC, plugged in the thumbdrive and followed the instructions. Now I have my iTunes back exactly as it was before! How easy was that! More than worth the price. And now I even have a backup of all my songs.
Published 1 week ago
I was skeptical at first because of the amount of music I have. Making the backup on my old PC with only USB 2 took hours. The restore process on my new PC was much faster as it has USB 3. Looking forward to making incremental backups as I add more music to my iTunes. It was well worth the money spent.
Published 1 month ago
I was a little unsure about how to use the product & what to do but I was able to find directions which walked me through the process & it worked like it said it would. I was very happy with the result especially to find that my many audiobooks got transferred as well as my music & playlists. It did say that some books couldn't be transferred and I'm not sure why but overall I was very happy and felt it was worth the small price I paid. P.S. I had worked with a Dell tech to try to get these transferred & after over an hour with him he was only able to help with the music & than even not so well.
Published 1 month ago
Simple to work with. Good experience.
Published 1 month ago