Back up your iTunes library to a hard drive
Create incremental iTunes library backups
Transfer your iTunes library to a new PC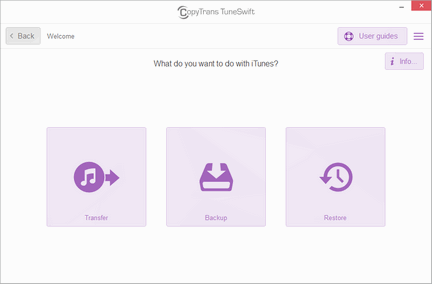 Back up your iTunes library
Create an exact copy of your iTunes library in one click and keep it safe in case you lose iTunes after a Windows update or in a PC crash. Make regular incremental backups instead of full backups to save disk space on your PC.
---
Restore your iTunes music library to a PC
CopyTrans TuneSwift restores the iTunes backup you made on your old PC to your new PC. You'll get an exact copy of the iTunes library you used to have on your old machine including your music, videos, films, podcasts, etc.
---
Transfer your iTunes library to an external drive
Not enough disk space on your PC? Migrate your entire iTunes library to another disk or to an external drive to free up space.
Ready to switch from an old PC or from Windows 7 to Windows 10? CopyTrans TuneSwift will transfer your iTunes library to a new computer.
---
Featured in
CopyTrans TuneSwift is a program that promises to put me and the rest of you, out of our misery. No, not kill us, but solve the aforementioned problem with iTunes.
---
What people say about CopyTrans TuneSwift:
I've been using various programs from the CopyTrans suite almost as long as I've had an iPhone. The programs are simple and work well.
Very Impressive. A few clicks and my entire library was on the new machine. Well worth the cost in terms of saved time and frustration.
It was nice and easy to get my music from my old computer to my new one.
I needed to transfer iTunes from my old PC to my new PC. I read all kinds of instructions in various forums and kept getting more and more confused. I stumbled upon CopyTrans TuneSwift while searching. I read about it, along with all of the reviews, and decided to give it a try. It sounded to easy, and too good to be true. It worked like a charm! All of my music and playlists are now on my new PC. I can't believe how easy it was.