Add music to your iPhone
Create and edit iPhone playlists
Edit track titles and artwork
Works with iPhone, iPad, and iPod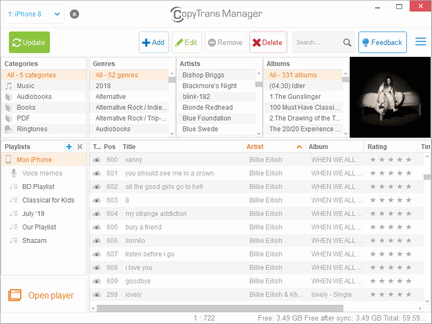 Transfer music from a computer to an iPhone
You can simply drag and drop the tracks from your computer directly to your iPhone using CopyTrans Manager. You can put songs, videos, ringtones, podcasts or books to any iPhone, iPod or iPad without synchronising it with iTunes.
---
Customize your music library
Edit track titles, music genre, album titles and artworks in just a few clicks. Take full control over meta-tags, ratings, and even lyrics of your favorite songs.
---
Manage your playlists
With CopyTrans Manager you can add, delete or change the order of the songs. You can also detect and delete duplicates in just a few clicks.

New The latest version of CopyTrans Manager is compatible with Apple Music! You can now create playlists out of your Apple Music tracks directly from your computer.
---
Featured in
CopyTrans not only speeds up the process of transferring music to and from your iPhone, but it removes a couple of annoying limitations enforced by iTunes too. If you need to use an iPhone alongside a Windows PC, there's really no better option.
Are you sick of iTunes? Would you like to use a lighter, faster tool to handle the contents of your iPod or iPhone? CopyTrans Manager is the answer to your needs.
CopyTrans Manager is a utility designed for people who are looking for a quick and efficient alternative to using iTunes for transferring data from Windows PCs to iOS gadgets.
---
What people say about CopyTrans Manager
This app is very easy to use and does exactly what it's supposed to do. It's well designed, quick and efficient. I highly recommend!
Benn using this product for years and love it!! Needed a easy way to add my own music from drives to my phone and ipods and this was it. Im very happy with this product!!!
Insanely better than itunes. CopyTrans Manager Loads faster and syncs faster than itunes.
At least for copytrans manager (Music) it is an excellent option for those who travel a lot and don't always have their office computer to put music on the phone. As for the other programs I think they are a bit expensive but that's another subject... Congrats on copytrans manager, definitely reccomend!
I've spent hours this weekend fighting with iTunes on my PC and this program just solved the problem in 15 minutes. Thank you for creating such an easy-to-use, efficient program to interface my iphone with my PC. THANK YOU!!!