Quite often people are looking for an effective solution to transfer photos from iPhone to PC. Luckily, we have an app that offers 2 quick and efficient ways to transfer photos from iPhone to computer in just a few clicks without iTunes.
Follow the guide below to learn how to download photos from iPhone to computer and:
keep the original quality of photos & videos;
preserve date the shot was taken, location, and filters;
transfer both HEIC and JPEG photos.
The method also works with iPad and iPod devices that support photos.
How to download photos from iPhone to computer | Guide
Before you choose how you want to transfer photos from iPhone to PC, you need to have CopyTrans Photo – a tool that will perform the iPhone photo transfer:
Install the program. If you need help installing CopyTrans Photo, please refer to the installation guide.

Run CopyTrans Photo and connect your iPhone. iPhone or iPad photos will be displayed on the left-hand side of the main program window. Your PC folders will appear on the right:
Now that you are all set, select one of the options:
Backup all iPhone photos to computer
To download all iPhone photos and albums at once, click on the "Full Backup" button in the top-left corner of the app.

From the newly-appeared window, select the location on your PC where the iPhone photos should be transferred, then click OK.

Wait until the photos are transferred and the backup is completed.

The iPhone photos are now transferred to the computer folder of your choice!
BONUS: CopyTrans Photo preserves your folder structure, so all the albums you've created on your device will be transferred to the PC as they are.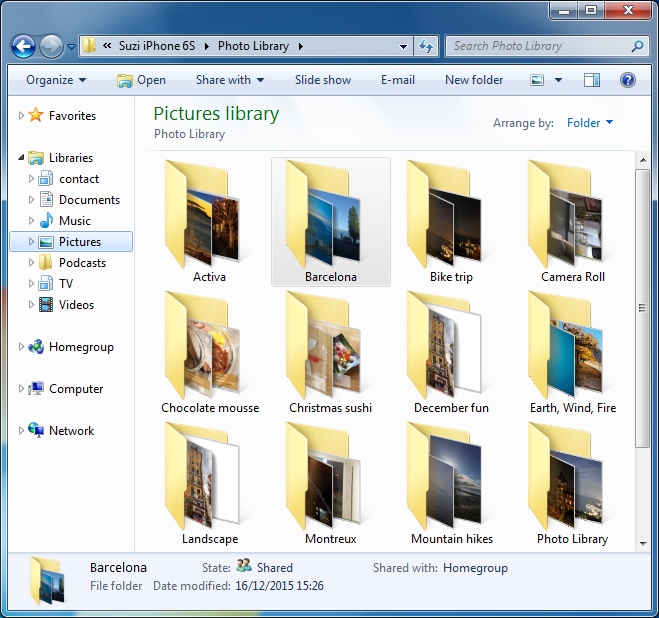 How to transfer iPhone photos to PC | YouTube tutorial
Transfer selected photos from iPhone to computer
Alternatively, you can select the photos you want to transfer from Camera Roll. You can also choose one of your photo albums on the left to transfer it from iPhone to PC.

TIP: To select multiple photos inside the album, press and hold the CTRL key while clicking on the photos one by one. To select all photos from a particular iPhone album press CTRL + A.

Select a PC folder from the pane on the far right: this is where your photos are going to be imported.

Now drag and drop the selected photos from the left to the right side of the app to transfer them to computer.

Finally, click on the "Apply changes" button that will download photos from iPhone.

Your iPhone photos are now transferred onto your PC. It's that easy!
---
For users on iOS 11 and above
Apple introduced a new default photo format in iOS 11 called HEIC (High Efficiency Image Coding). If you are using any of the recent iPhone models starting from iPhone 7, you will most likely have some of your photos transferred in HEIC format.
To view your HEIC pictures on Windows, use CopyTrans HEIC for Windows – a simple plugin that allows you to open and view HEIC files with Windows Photo Viewer and Windows Explorer.
View and open HEIC files on Windows