Hello,

For the last few months, I've got a lot of sensitive photos and videos I'd like to keep private. I mean, I'm really concerned about showing my friends some nice photos and accidentally scrolling by a private picture. How to hide photos on iPhone?

Best regards,
Charlotte
Most of us have heard about nude celebrity pictures that made their way online due to iCloud leaks. Even though the scandal broke out several years ago, there is an ongoing debate about privacy.
Instead of keeping fingers crossed 🤞 or thinking it can't happen to you 🙄, let's focus on how to hide pictures on iPhone and keep them private.
This article will cover the most popular questions on iPhone hidden photos:
◾ How do I hide Photos on my iPhone without deleting them?
◾ Do hidden photos go to iCloud?
◾ How to find hidden photos on iPhone?
◾ How to lock hidden photos on iPhone?
◾ Can you hide the hidden album on iPhone?
◾ How to hide videos on iPhone?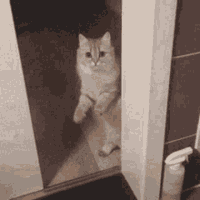 As software developers, we are committed to protecting privacy and would like to give you 3 basic security tips before we move on to more fundamental suggestions:
Always password-protect your iPhone.

Setting a password enables hardware-level encryption for all data on your iPhone. Check out this Apple's guide on how to set and use a passcode on your iPhone.

Don't share your Apple ID or account security details with anyone else, even family members.

NOTE: Apple never requests this information. Learn what to do if you think that your Apple ID has been compromised.

Don't store your pictures in cloud services.

If iCloud Photos is enabled, it will automatically upload new photos to the cloud as they are taken. But if you're not comfortable with this or just want a little more privacy, then these instructions on how to turn off iCloud photos are for you.
So, let's take a closer look at different methods to hide pictures on iPhone, their pros and cons. Select what applies best to you:
How to hide pictures on iPhone
in a private album | native iOS method
Starting with iOS 11, hidden photos are removed from the photo library in:
◾ All photos and albums;
◾ Widgets.
❗ Many users are wondering how to put a password on hidden photos. That's where the major drawback of the native iOS method stems from.
The hidden album can be easily accessed by anyone who has access to your iPhone as there is no option to Face ID or passcode protect the folder and restrict access to it.
If you happen to accept the major drawback of the native iOS method, follow these simple steps to hide pictures on iPhone:
Go to the Photos app and select the picture(s) you need to hide.

In the bottom left-hand corner, tap the Share icon and choose Hide in the dropdown menu.

Confirm Hide Photo.
The selected photos will be added to the Hidden album at the bottom of your screen under Utilities.
If you're not satisfied with just relocating photos to the Hidden album, Apple has an option to actually hide the folder itself.
However, for now, when someone leaves their iPhone out, a malicious user knows exactly where to go to find the "good" photos instead of trying to swipe through a ton of photos in the main album.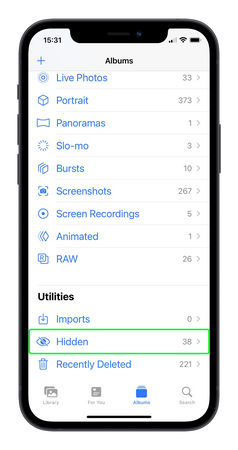 Having iCloud Photos enabled, many users are asking "Do hidden photos go to iCloud?" The answer is yes, they do. Although they won't be displayed in the main photo field, so you wouldn't see anything Hidden without going to the hidden folder.
---
⚡ To sum up, we highly recommend that you avoid storing anything confidential on cloud-based services. The Hidden folder is a bit of a strange creature as its function is not to show selected photos in other albums (Recents, Smart Albums, Manually created albums, or all photos).
How to lock photos on iPhone
using the Notes app
❗ Using this method can keep your photos safe from prying eyes. However, it will be time consuming to hide quite a few photos within notes and later delete them from the Photos app.
Before we show you how to lock photos on iPhone in the Notes app, let's check if you have password settings enabled for your notes:
Open Settings;

Select Notes;

Click Password and choose the account*.

If the password hasn't been set yet, you'll be prompted to create it.
*There are 2 options to store notes: either in iCloud Notes or locally on your device.
If iCloud Notes is enabled, it will automatically upload new notes to the cloud. This also means that if someone has access to your Apple ID, they could gain access to your notes. The sad fact is, not a single device or service is safe from hijacking.
💡 We highly recommend that you store your sensitive notes locally on the device for security purposes.
To enable this option, go to Settings > Notes > "On my iPhone" account and flip the toggle on.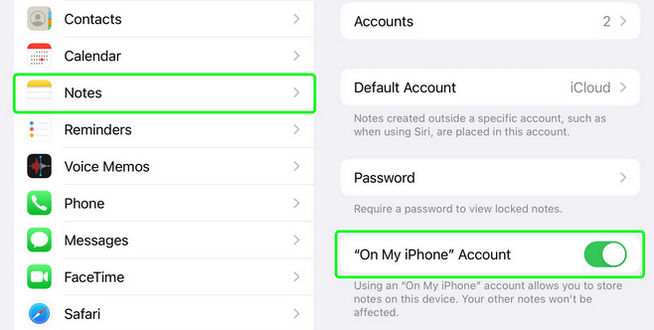 Once you open your Notes app and navigate to folders, you will find the On My iPhone folder there.
Here is how to password protect photos on iPhone using notes:
Go to the Photos app and select the picture(s) you need to hide.

In the bottom left-hand corner, tap the Share icon.

Choose Notes in the upper menu and set up parameters of your note (name and description if needed).

Select the Save to field to choose between saving a note locally on the device or to iCloud.

Click Save in the upper right corner.

Once you add all the photos you want to hide to the note, go to the Notes app and open the note you've just created.

In the top right corner, tap on the three dots to see More and select Lock.

Finally, enter your password to lock this note and click OK.

Now you need to return to the Photos app and delete the photos you've just locked within notes; otherwise they will be visible.

How to keep photos private on iPhone

As evident as it sounds, the best way to hide pictures on iPhone is not to store compromising files on the device. The longer they stay on the iPhone and the more private they are, the greater the chance they will slip away.

If you're here to back up compromising iPhone photos to PC and delete them quickly and efficiently, we know a tool to help — CopyTrans Photo:

✔ Preview all images on PC,

✔ Sort your photos by name, date, or size,

✔ Select the ones you want to back up to PC,

✔ Then quickly delete photos you no longer need.

In contrast to iTunes, CopyTrans gives you more visibility and control over your iPhone photos. See how it compares to iTunes:

Follow these simple steps to back up iPhone photos to PC and delete them afterwards:

Download CopyTrans Photo and install it:

Download CopyTrans Photo
*100% clean and safe

If you need help installing CopyTrans Photo, please refer to the installation guide.

Launch CopyTrans Photo and connect your iPhone to the PC. If you need help with drivers, we got you. You will see your iPhone photos on the left and PC photos and folders on the right.

You can select some of your images or all of them at once (by pressing CTRL+A simultaneously) as well as all your photo albums and copy photos from iPhone to PC with a simple drag-and-drop.

Then, click the green Apply button and you're all set!

Now you can now go through all photos and select the ones you want to delete.

Tips:
◾ Scale photos in the interface using a slider in the bottom left corner.
◾ To select individual photos, hold down CTRL while clicking on each one.
◾ To select all photos in an album, navigate inside and press CTRL+A.

Right-click on the photos and click Delete. Or use the Delete key.

Click Apply changes, and the photos will leave your iPhone for good.

Some other marvelous features of CopyTrans Photo:

⚡ transfers photos and videos between iPhone and PC preserving the original quality and EXIF data;
⚡ displays all your device videos and photos in one place;
⚡ works offline;
⚡ and is compatible with the latest iOS, iTunes, and Windows versions.
Try for free!

Conclusion

Using the native iOS method to hide pictures on iPhone is not a reliable method to lock really sensitive data. You can use the Notes app to hide pictures in case there are not many of them and you are ready to delete them from the photo gallery manually afterwards.

If you really want to keep compromising photos private, go old school — transfer them to a PC or external hard drive and delete afterwards from the iPhone. With CopyTrans solutions, you can manage your photos on PC more efficiently. If you have more questions or suggestions for us, shoot a comment!