Hello,
Yesterday I had my Apple ID compromised. I got an email that someone logged into my account using a Mac device, but I only own a Windows PC. Today I found some files were deleted and I'm concerned about my iPhone security. How to change Apple ID password and save my data?
Once you've had your Apple ID hacked, a hacker can change your password, remotely erase or lock your iPhone, or even make purchases with it! So, I'm sure you have some questions:
❓ How can I see where my Apple ID is being used?
❓ What can someone do with my Apple ID?
❓ What can someone see if they log into your Apple ID?
❓ Can someone connect to my iPhone without me knowing?
❓ What to do if iPhone is hacked?
❓ How do I get rid of someone else's Apple ID on my iPhone?
In this article, we will try to answer all your questions and we will help to solve this problem!
As soon as you start having a bad feeling about your Apple ID, you do need to act quickly. Our guide will give you a helping hand and show you how to secure your iPhone from hackers. Choose one of the sections below:
---
What is my Apple ID
Apple ID is an authentication method used to access all Apple Services. It includes your payment and security details.
With Apple ID you can:
🔸 Track and protect your iPhone with
Find My
🔸 Sync photos, contacts, messages and more to iCloud
🔸 Make App Store purchases
🔸 Sync settings on all your Apple devices, etc.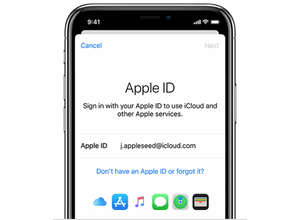 ❕ Apple ID is, no doubt, a very important account that contains your personal information, – therefore, you should keep a close eye on its security.
Even if you've fallen victim to bad luck and you've had your Apple ID hacked, keep on reading for solutions!
---
Apple ID hacked
Many users are wondering: "Can iPhones get hacked?". The sad fact is, not a single device is safe from hijacking. No matter how powerful the Apple procedures are, the weak link in device security is almost always the end user.
Signs your Apple ID was compromised
We've prepared a short checklist to help you identify a high risk of Apple ID having been compromised:
You received a notification that your Apple ID sign-in was performed from a new device (for example, "Your Apple ID was used to sign in to iCloud on a Mac PC");
You received an email from Apple that your Apple ID password was recently changed, but you didn't make any changes;
Your device was locked or placed in Lost mode without your consent;
Your text messages or files were deleted;
You've been charged for the apps from App Store that you didn't purchase;
Your Apple ID is not working.
The consequences of hijacking vary from minor to major damage. Keep on reading to learn why it is of utmost importance to take action straight away.
What may happen if someone hacks your Apple ID
1. Your personal information will be accessed
Once hackers get your credentials, they hold the cards – it means they can manage information in the same way you do. So, they can:
◾ Read and send emails;
◾ Access contacts;
◾ View calendar appointments;
◾ View photos and videos (if iCloud Photos is enabled);
◾ Access files in iCloud Drive;
◾ Read notes;
◾ Restore iCloud backup of your iPhone to another device.
2. Hackers can track your location
If Find My is enabled on your device, hackers can access your location in real time.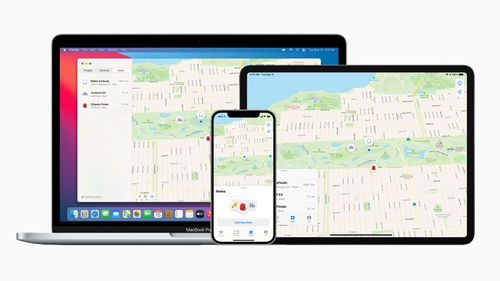 3. Hackers can make purchases from the App Store, iTunes Store or Apple Books using your payment card
If you have linked your credit card to the account in iTunes or App Store, unauthorized access can result in purchases you haven't made.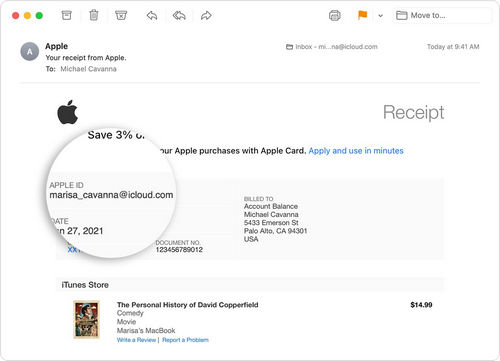 4. Your iPhone can be erased remotely
It is as easy as one-two-three for a hacker to wipe all personal data and erase your iPhone remotely having your Apple ID at hand. This will completely delete your photos, contacts, messages etc. Without a backup, you won't be able to recover your iPhone.
💡 Make sure you have a recent backup of your device. If not, we recommend that you back up your iPhone straight away. Once your Apple ID is locked, you can't back up your iPhone using iCloud or iTunes. Here is a reliable alternative!
5. You can be blackmailed
Lost Mode in Find My on icloud.com lets you lock your device to avoid unauthorized access. If hackers get your Apple ID, they can easily exploit this option and blackmail you.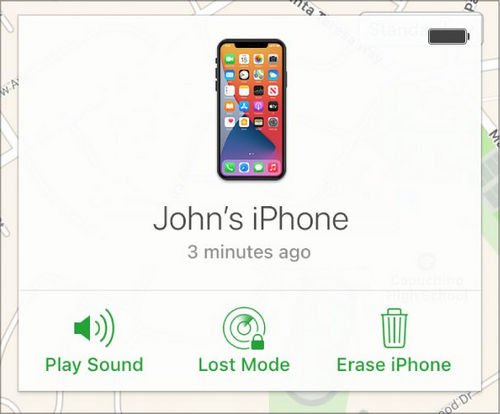 Looks like a match? It's high time to act. Grab our first aid kit!
---
Protect your account information
Now let us take a closer look at the most efficient ways to gain control of your Apple ID and review your personal information.
Great job! Move on to the next step.
Change Apple ID password and review personal data
Follow the steps below to learn how to change Apple ID password and review security information in your account:
Change Apple ID password to a stronger one.

When setting up a new password:
✔ make sure it contains at least 8 characters;
✔ use both uppercase and lowercase letters;
✔ use at least one number.

Turn on two-step verification to secure your login process.

Update personal information in your account including:

◾ Full name;
◾ Primary email address;
◾ Alternate email addresses, rescue email addresses;
◾ Phone numbers;
◾ Devices associated with your Apple ID.

Update security questions and answers.

Contact Apple Support if you receive a purchase notification for a product you don't remember purchasing. Then, contact your bank and ask them to reissue your credit card.

If you still think your account has been compromised after following the steps above, contact Apple Support.
iPhone security tips
Now it is time to learn how to secure your iPhone from hackers and avoid any security issues related to Apple ID in future. Check out a list of most common reasons why someone can hack your iPhone:
Someone else knows your password and can sign in with your Apple ID. It is not safe to share your Apple ID, even with family members.

You don't have access to the email address or phone number associated with your Apple ID.

You click malicious links and enter your credentials. If not sure how to identify phishing attempts, refer to the tips to avoid scams.

You're not using two-factor authentication.

Your security questions and answers can be easily guessed.
IMPORTANT!
❌ Never provide any account security details to anyone else. Apple will never ask you for this information.
---
Apple ID not working
If you faced the issue of Apple ID not working even though you entered the correct password, it means your Apple ID password has already been changed by a hacker. If you can't regain access, you will have to erase your iPhone, which deletes your data and settings, including the passcode.
Don't worry, you will be able to restore your data if you backed up your device previously.
Some of you may argue "what if I have never backed up my iPhone or the backup is so old that it is of no value to me"?
Well, here is our solution to back up and restore iPhone in a safe way without using Apple ID – right here, right now. Let's see how it works!
1. Back up your data first
You shouldn't use iTunes or iCloud. The reason is that when you restore the backup using iTunes, the locked Apple ID account is also restored to iPhone and you can't log in to the new Apple ID.
If you want an application that is specifically designed to perform backups, we have the product you need – CopyTrans Shelbee.
Unlike iTunes, CopyTrans Shelbee will:
✔️ do full or incremental backup;
✔️ allow to choose the folder to save backup;
✔️ validate backup made;
✔️ compatible with iTunes backup;
✔️ support encrypted iPhone backup;
✔️ restore full iPhone backup or just some selected data;
✔️ allow you to save your apps;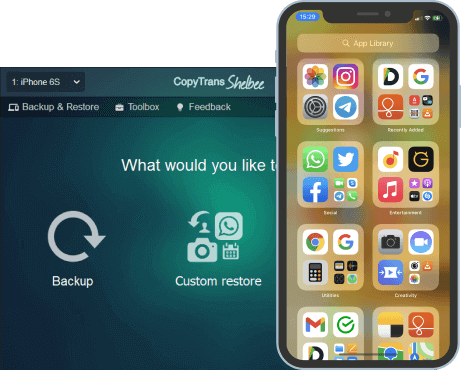 💡 For detailed instructions please refer to our compehensive guide on how to back up iPhone without iTunes.
2. Restore iPhone to factory settings
Once you backed up your iPhone, remove the password using DFU mode. This action will erase all data and settings from your iPhone. After the process is completed, you will be able to restore the information you need from a backup file.
3. Restore iPhone from a backup
After the restore process is complete, you can proceed with putting your data back on your iPhone with the help of CopyTrans Shelbee.
Download CopyTrans Shelbee from the following page:

If you need help installing CopyTrans Shelbee, please refer to the installation guide.

Start CopyTrans Shelbee and connect your iPhone via USB cable. Click Custom restore.

Click the pencil icon to select which backup you want to restore your data from.
After you've chosen the right backup, click Next.
Wait until the loading process finishes.
Select the data type you wish to restore. For example, you can choose to restore only photos. Just select Photos, then click on Next. You can also choose to restore contacts, calendars, notes, WhatsApp and more in the same way.

❌ Do not select "Accounts" and "App data / settings".

Click Next.
CopyTrans Shelbee will ask you to choose where you want to save the backup of your device in case something goes wrong during Custom restore. Select the destination and click Start.
Wait until the restore process finishes.
That's it! Your device will now restart.
💡 Learn more about the perks of restoring with CopyTrans Shelbee.
4. Extract iCloud contacts, notes and calendars from old backups
If you had backed up iPhone via iTunes before your Apple ID was hacked, you may be able to extract iCloud contacts, notes, and calendars from that backup. Use CopyTrans Backup Extractor to extract data from a backup. CopyTrans Backup Extractor is a program that retrieves data from iTunes and iCloud backups.
Advantages of CopyTrans Backup Extractor
✔️ compatible with different backups: iCloud, iTunes, CopyTrans Shelbee or other programs;
✔️ find all the backups automatically;
✔️ save notes, messages and chats and all the attachments;
✔️ free version allows you to see what does backup have;
Here is all that you need to do:
Download and install CopyTrans Backup Extractor:
Download CopyTrans Backup Extractor
The program will then start searching for backups on your computer.

Here are all the backups available to you on PC.

Choose the backup and you will see the list of all the data saved in the backup.

Now you can select all the data you want to save on your PC and then click Extract.

Wait a little and everything will be saved on your PC.
You will not be able to access your iCloud backup if your Apple ID is compromised because you need your Apple ID password.
But in many cases, iTunes backups include contacts, notes, and calendars stored in iCloud. Unfortunately, there is no other way to recover iCloud data (iCloud photos, iCloud Drive files, emails, etc.).
CopyTrans Backup Extractor will successfully:
Extract photos from iPhone backup in .HEIC, .PNG and .JPEG formats
Extract videos from iPhone backup in .MOV and .MP4 formats
Extract contacts from iPhone backup in .VCARD format (separate files)
Extract text messages from iPhone backup (SMS, iMessages, WhatsApp, LINE) in .PDF (with attachments that are placed in a separate folder)
Extract notes from iPhone backup in .HTML format
Extract calendars from iPhone backup in .ICS format
Get CopyTrans Backup Extractor
💡 For detailed instructions please refer to our compehensive guide on CopyTrans Backup Extractor.
---
Code to check if phone is hacked
We have prepared a code to check if phone is hacked. Sounds cool? Simply type in a code and you'll know if someone has hacked your device.
| | |
| --- | --- |
| Code | What it is used for |
| *#62# | To check if any redirection |
| *#21# | To check if any call diversion |
| *#61# | To check if call forwarding |
| *#06# | To display your IMEI code |
| ##002# | To automatically undo all redirection codes |
---
We hope the methods described in the article will help you avoid damage of Apple ID hacked and protect your personal information. Let us know your experience in the comments section below!