CopyTrans Backup Extractor allows you to extract photos, messages, contacts, calendars, and notes from your iPhone backup directly to your computer. There's no need to restore the whole backup on an iOS device anymore.
This article summarizes the key functions of CopyTrans Backup Extractor.
Find iPhone backups on your computer
If you can remember backing up your iPhone but not the exact destination folder, CopyTrans Backup Extractor will automatically locate all the backups on your computer for your convenience. All you have to do is follow these simple steps:
First, download CopyTrans Backup Extractor:

Download CopyTrans Backup Extractor

Install and run the program. If you need help, refer to the installation guide.
Once the software is launched, the search for iPhone backups will start automatically. If you want to skip this step and select the backup folder manually, click "I know where my backup is".

CopyTrans Backup Extractor will then display the list of all the backups found on your PC sorted by date. If for some reason you don't see the backup you need on the list, you can enter the directory manually:
Finally, you will see the name of the device, as well as the time and date of the backup. Clicking on the round button with a folder icon will open the backup in File Explorer, allowing you to move or delete it.
View the backup content and size
About encrypted backups
If you clicked on the backup you need, and you are asked to enter a password, it means this backup is encrypted.
Encrypted backup is a backup that is protected with a password. This is a very useful feature that keeps your personal data safe.
You created this password earlier, while making a backup with iTunes, CopyTrans Shelbee or other programs. So, to extract data from an encrypted backup, simply enter the password you had created when you first made the backup.
If you forget your password you won't be able to restore an encrypted backup. But don't worry: we have a guide on what to do if you forget your iPhone backup password.
View the backup content and size
Once the backup search is complete, you will see the list of available backups.
First, click on the backup that you need.
Then you'll see the data types that are part of the selected backup: photos and videos, contacts, messages, notes and calendars as well as their number and size.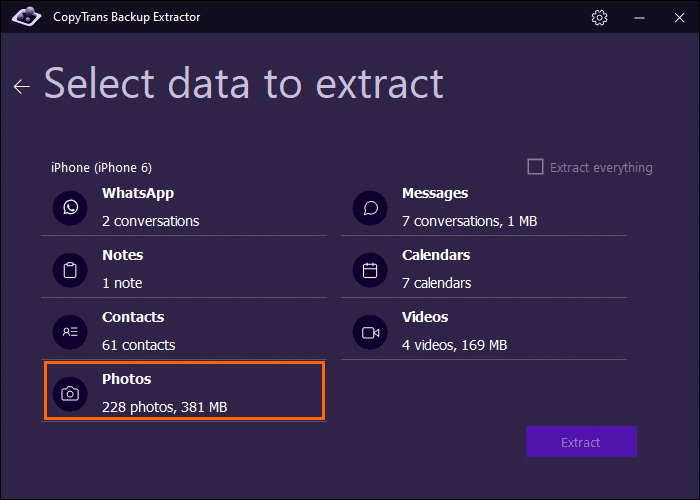 Extract backup data to a PC or external hard drive
Extract backup data to a PC or external hard drive
If you have accidentally lost your data but still have backup files on your computer, CopyTrans Backup Extractor will restore it directly to your PC without the need to use your device.
Simply choose the data you want to restore and then select the folder you want to extract to. This can be a folder on your PC or an external hard drive.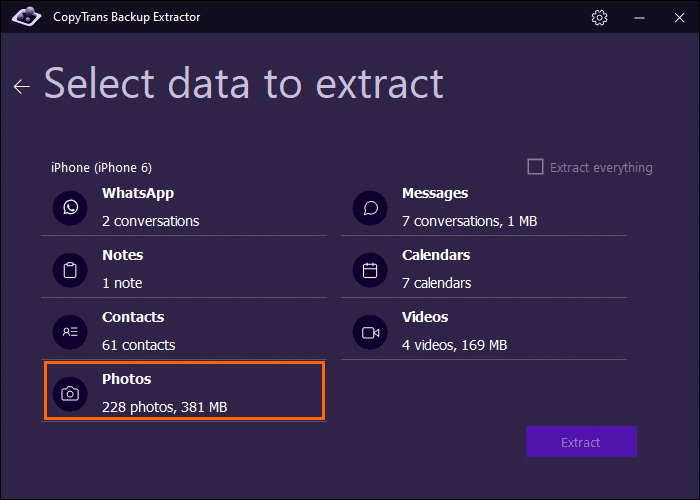 Then wait for the extraction process to finish. On average, 5 GB of photos get extracted in less than 5 minutes!
Finally, once the operation is complete, you can go back by clicking OK and choose other data available in this backup or open the folder to find the recovered files.
File formats extracted from backups
File formats extracted from backups
Below you can find the file formats CopyTrans Backup Extractor works with. CopyTrans Backup Extractor will successfully:
Extract photos from iPhone backup in .HEIC, .PNG and .JPEG formats
Extract videos from iPhone backup in .MOV and .MP4 formats
Extract contacts from iPhone backup in .VCARD format (separate files)
Extract text messages from iPhone backup (SMS, iMessages, WhatsApp, LINE) in .PDF (with attachments that are placed in a separate folder)
Extract notes from iPhone backup in .HTML format
Extract calendars from iPhone backup in .ICS format
Compatibility
CopyTrans Backup Extractor supports all backup types of iOS 10, iOS 11, iOS 12, and iOS 13 devices. It will also successfully handle encrypted backups, whether created by iTunes, CopyTrans Shelbee, or any other third-party software (provided that you still remember the password).
The software is compatible with Windows 7, 8.1, and 10.
Limitations
For now CopyTrans Backup Extractor doesn't support iCloud backups.