Let's say you are trying to restore your old iPhone backup to a shiny new iPhone 14. You open iTunes, try to restore, but iTunes says: "Enter the password to unlock your iPhone backup".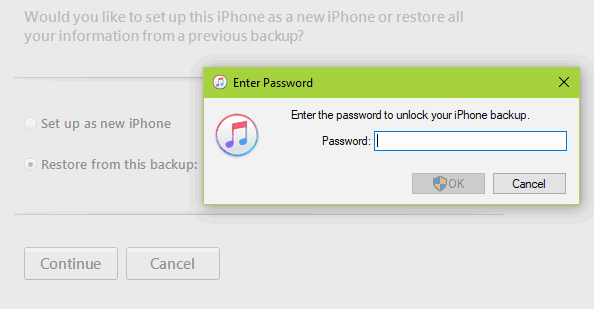 I tried my passcode but it didn't match. I didn't set any iPhone backup password, you silly iTunes! What is the default password for iTunes backup? Where did it come from?
Neither you nor iTunes have the answers. Don't worry, we do! Just follow the steps in this easy guide to fix the "iTunes could not restore the iPhone because the password was incorrect" issue.
💡 Consider using a password manager so you never forget your iPhone backup password again (or any password, for that matter). This is a great article on how to choose a password manager.
First thing first, check your iOS device version.
Let us couponize you – don't miss your discount at the end of the guide 😉
Can t remember encrypted iPhone backup password
Reset it in iOS 11 and later
If you have iOS 11, consider yourself lucky! Since iOS 11, Apple made it possible to reset your iPhone backup password. Honestly, this is something Apple should have done since they introduced iPhone backup encryption. Oh well. We are not here to judge.
Go to Settings > General > Transfer or Reset iPhone.
Tap Reset All Settings, enter your passcode.
Tap Reset All Settings to confirm. This will reset your settings and your Apple Pay cards will be removed. No data or media will be deleted.

Your iPhone backup password is reset! This means that all future iPhone/iPad backups will not be encrypted unless you set up a backup password again. You can set a new backup password using CopyTrans Shelbee or using iTunes.
You can find the encryption option in CopyTrans Shelbee by navigating to Backup > Full backup and clicking the Encryption button.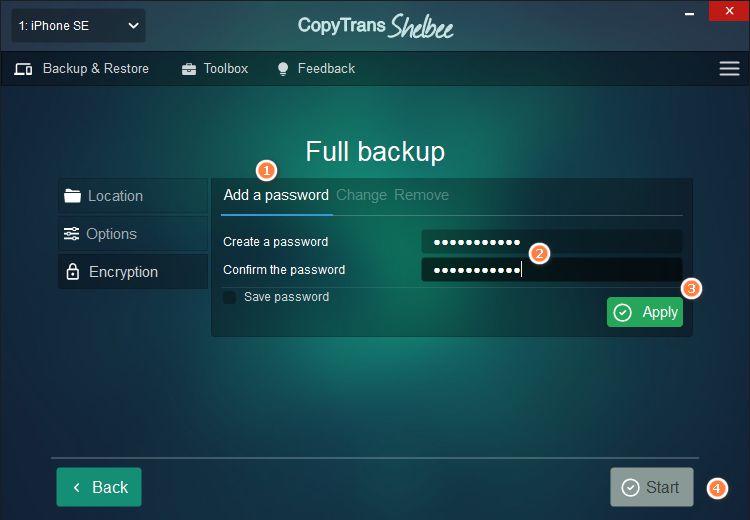 It is easy as ABC to secure the iPhone backup with a password:
(1) click the "Add password" tab;
(2) create and confirm your password;
(3) click "Apply";
(4) effectuate the backup by clicking "Start".

Free download
🧡 What CopyTrans Shelbee can do for you:
– Choose any folder to store your backup, as well as change the default backup folder set by iTunes.;
– Add a password protection at any time to encrypt your backup;
– Choose between a full Backup or only latest changes backup;
– Set up reminders when it's time to do a backup;
– Restore selected data;
– Restore apps to any iOS device with ease even if they have been removed from the App Store after **;
– Restore data from a corrupted iTunes backup.
Check out our comparison table that lists the features of CopyTrans Shelbee, iTunes and iCloud. Makes it pretty straightforward, doesn't it?
CopyTrans Shelbee
iTunes
iCloud
Full backup
Yes
Yes
Yes
Select backup type:
full vs lates changes
Yes
No
No
Encrypted backup
Yes
Yes
No
Check backup integrity
Yes
No
No
Check for password issues
Yes
No
No
Choose backup folder
Yes
No
No
Move default backup location
Yes
No
No
Backup to external drive
Yes
No
No
Backup apps in .ipa format
Yes
No
No
Backup Password,
Wi-Fi settings,
browsing history
Yes
*only with encrypted backup
Yes
*only with encrypted backup
Yes
Full restore
Yes
Yes
Yes
Restore selected data
Yes
(only contacts or messages, etc)
No
No
Restore of backup saved on PC
Yes
Yes
No
WhatsApp Restore
Yes
Yes
*restore ALL data, not only WhatsApp
Yes
*restore ALL data, not only WhatsApp
Apps restore
(no longer exist in App Store)
Yes
*apps must be backed up before deletion
No
No
Restore Password,
Wi-Fi settings,
browsing history
Yes
*only with encrypted backup
Yes
*only with encrypted backup
No
Restore from iCloud backup
No
No
Yes
Download CopyTrans Shelbee
Reset your iPhone backup password in iOS 10, 9 and earlier
If you have iOS 10 or earlier and don't want to update to iOS 11, the only way to reset your iPhone backup password is to reset your iPhone to factory settings, which will lead to data loss. Fortunately, some of your data can still be saved.
Let's start with what definitely won't help if you forgot iPhone backup password:
Uninstalling and reinstalling iTunes;
Deleting the existing backup and starting a new backup hoping to start "from scratch";
Trying on another PC or Mac. You will see that the "Encrypt iPhone backup" checkbox will always be checked;
Digging into the "Manifest.plist" file as suggested by some unreliable websites.
Note that encryption takes place on the device itself. After you set up the password all your data is encrypted. You are the only person who knows the password to unlock your iPhone backup. Even an Apple representative cannot recover it.
Sad news: there's no magic reset button like in iOS 11 to reset your backup password. But there are still things you can do.
Brute forcing
You can try brute forcing your backup using special software. A brute force attack is when you let a machine (or, in most cases, multiple machines) test all possible password combinations one by one. Sometimes it can take weeks to find the right combination. It all depends on the difficulty of the password.
Guessing
If you don't want to let the machines do the job, the only option left is do it yourself. You can try some techniques to remember your forgotten iTunes backup password or to simply guess what it can be. Did you know that nearly 20% of passwords are the birth date of their creator?
Here are some ideas:
Eliminate the most common combinations like "Password1", "qwerty123", "iloveyou", 1234 or 987654321.
Try the password associated with your Apple ID. This is the one you are asked to enter each time you install an app from the App Store or when you connect to iCloud.
Try the password you use to log in to your admin/user account on your laptop.
Try the passcode you use to unlock your iPhone.
Try the names and phone numbers of people you are close to. Your favorite TV series? Your address? Your childhood nickname?
Try the blank/empty password, especially if you used sketchy software in the past. Some unreliable software can set a blank password for you (surprize).
If your usual password is longer than 15 characters, try a cut off version of it. There was a bug in one of the iOS 10 versions, where the iPhone backup password was truncated to the first 15 characters only.
Going through iCloud
If you still can't remember encrypted iPhone backup password, you can go the iCloud backup way. This will send all your data to Apple servers, but if you can't care less about it, just enable this feature. You won't need your iPhone backup password when you restore from iCloud.
Go to Settings > Your Name > tap iCloud.
For iOS 10.2 and earlier the iCloud tab is located in the Settings list. Then tap iCloud Backup and activate it.

Make sure you are connected to a Wi-Fi network, then tap Back Up Now. FYI, the iCloud backup happens automatically when your device is turned on, locked, connected to Wi-Fi and plugged into a power source.
Please note that before you can restore your data from an iCloud backup, you must erase all its contents first.
Also, if your iPhone data takes more than 5GB of space, you will need to pay some extra money. For example, 200GB are currently charged at $2.99 per month.
Saving and restoring data locally (without iCloud)
Good news: you can backup and restore iPhone data that's available for direct access (without having to make a backup) thanks to CopyTrans software. First, you export your iPhone or iPad data to your PC, then import it to the new device. Here's what you can back up and restore:
Contacts, calendars, and notes* with CopyTans Contacts. Once your iPhone is connected, CopyTrans Contacts will detect encryption and ask you to enter the backup password to load your messages and data stored in the cloud accounts (iCloud, Google, Yahoo, Outlook). Click "Cancel":

Photos and videos from Camera Roll with CopyTrans Photo.
Music with CopyTrans (to the PC) and CopyTrans Manager (back to iPhone).
Your app documents like PDF, Excel, Doc, ePub etc. with CopyTrans Apps.
Unfortunately, it's impossible to back up or restore your SMS, iMessage, WhatsApp and Viber without the iPhone backup password.
*You will be able to import notes to the new device only if it has iOS 10 or earlier installed. Starting from iOS 11, Apple has restricted the use of notes, unfortunately.
What's next?
Once the encryption is disabled, it's important not to give up thinking "Screw this, I'll never set passwords for my backups!" Remember, encryption is used to protect sensitive data like:
Stored passwords
Wi-Fi settings
The history of visited websites
Data from the Health app
There is a simple and effective trick to create a secure password:
Take from four to six random words that don't go together grammatically, like "correct horse battery staple" or "snow jellyfish running open". Note that "red riding hood" or "i love my cat" are terrible passwords because the words go together well and are commonly used.
CopyTrans 7 Pack
Special offer
CopyTrans 7 Pack is a bundle of simple apps for a better iPhone + Windows experience. Transfer photos between iPhone and PC, export and import contacts, manage iCloud photos, back up and restore iPhone, and much more…!
✔ Activate on 5 PCs;
✔ Manage 5 devices;
✔ Full iPhone management;
✔ 2 years of free updates;
✔ No subscription;
✔ $108 off.
* The offer includes an additional $3 discount and is only valid when purchasing CopyTrans 7 Pack for private use.