There are many reasons why you might want to encrypt iPhone backup. First of all, encryption provides better device protection and security.
Another reason is related to company device usage terms. Users with an MDM (Mobile Device Management) client configured on their iPhones, iPads, or PCs cannot fully use CopyTrans Contacts and CopyTrans Shelbee. This is because some companies' security policies require employees to set up a backup password, but this password hasn't been configured on the device yet.
Learn how to set up a password for your iOS backup:
Encrypted backups
What does encrypt backup mean?
One can easily secure data using iPhone backup encryption password.
iPhone encrypted backup may contain:
✔ iPhone passwords for Wi-Fi;
✔ email accounts;
✔ websites;
✔ call history;
✔ and some apps.
Save your iPhone backup encryption password in a safe place after creating it. Next time you restore your data, you'll be asked for this password and you cannot restore unless you enter the correct one.
CopyTrans Shelbee and iTunes cannot help you recover a forgotten password. If you don't remember the password, use our backup password recovery tips.
Encrypt iPhone backup
with CopyTrans Shelbee
CopyTrans Shelbee is iPhone backup software for your Windows PC that you can use to add, remove or change iPhone backup encryption password.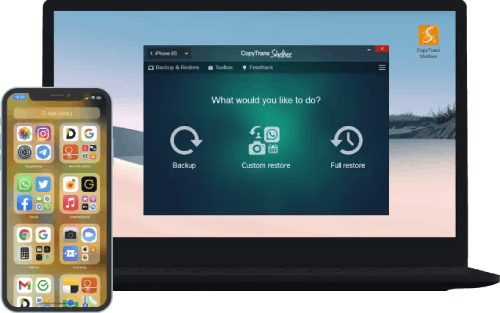 💚 What CopyTrans Shelbee can do for you:
– Add a password protection to encrypt your backup;

– Choose any folder to store your backup;

– Choose between a full backup or only latest changes backup;

– Backup and restore apps;

– Selectively restore items.
Free download
Follow the steps below to add the password:
Download CopyTrans Shelbee from the following page: Download CopyTrans Shelbee

Navigate to Backup > Full backup and click the "Encryption" button.


Add a password. To secure your iPhone backup with a password, (1) click the "Add password" tab, (2) create and confirm your password, (3) click "Apply" and (4) initialize the backup by clicking "Start".

Check out our comparison table that lists the features of CopyTrans Shelbee, iTunes and iCloud. Makes it pretty straightforward, doesn't it?
CopyTrans Shelbee
iTunes
iCloud
Full backup
Yes
Yes
Yes
Select backup type:
full vs lates changes
Yes
No
No
Encrypted backup
Yes
Yes
No
Check backup integrity
Yes
No
No
Check for password issues
Yes
No
No
Choose backup folder
Yes
No
No
Move default backup location
Yes
No
No
Backup to external drive
Yes
No
No
Backup apps in .ipa format
Yes
No
No
Backup Password,
Wi-Fi settings,
browsing history
Yes
*only with encrypted backup
Yes
*only with encrypted backup
Yes
Full restore
Yes
Yes
Yes
Restore selected data
Yes
(only contacts or messages, etc)
No
No
Restore of backup saved on PC
Yes
Yes
No
WhatsApp Restore
Yes
Yes
*restore ALL data, not only WhatsApp
Yes
*restore ALL data, not only WhatsApp
Apps restore
(no longer exist in App Store)
Yes
*apps must be backed up before deletion
No
No
Restore Password,
Wi-Fi settings,
browsing history
Yes
*only with encrypted backup
Yes
*only with encrypted backup
No
Restore from iCloud backup
No
No
Yes
Download CopyTrans Shelbee
iTunes backup password
Open iTunes.

Connect your device to your computer. Your connected device icon will be shown in the upper left-hand corner of the iTunes window.

Open the Summary tab and select "Encrypt [device] backup" in the Backups section.
This is how to encrypt iPhone backup. We hope the methods described in the article will help you back up your data in a safe and smooth way.
CopyTrans 7 Pack
Special offer
CopyTrans 7 Pack is a bundle of simple apps for a better iPhone + Windows experience. Transfer photos between iPhone and PC, export and import contacts, manage iCloud photos, back up and restore iPhone, and much more…!
✔ Activate on 5 PCs;
✔ Manage 5 devices;
✔ Full iPhone management;
✔ 2 years of free updates;
✔ No subscription;
✔ $108 off.
* The offer includes an additional $3 discount and is only valid when purchasing CopyTrans 7 Pack for private use.