If you are here, it probably means that you were trying to use CopyTrans Shelbee or CopyTrans Contacts and got a prompt for entering your iTunes iPhone backup password. Maybe you're even sure you have iTunes backup password never set. If this is indeed what happened, this short guide is for you. It will explain what the password is, where it came from and what to can be done about it.
Backup password
Backup password is a combination with which the iPhone is encrypted. Encrypting your device allows it to back up sensitive data, such as passwords, Wi-Fi settings, website history, and health data. Note that it is not the same as passcode (the combination you enter to unlock the iPhone) or your Apple ID.
I don't recall setting a password. What gives?
iTunes doesn't show you the backup is encrypted until it is time to restore. When restoring iPhone from backup what password is it asking for? You may have set the password long ago. The first time you encrypt your backup, the combination is saved on your device. From now on, it is regarded as a default backup password.
If you want to validate your backup and check the backup password upon creation – use CopyTrans Shelbee.
How to see if my device is encrypted?
To check whether your device is encrypted, manage your password settings, decrypt iTunes backup:
Launch iTunes and connect your iPhone to it.
Click on the iPhone icon at the top-left corner of the iTunes window.

You will see info about your device and its backups, indicating the time of the last backup and password management options. You can then see whether your backup is password-protected (there will be a check next to "Encrypt local backup"). You can uncheck the box, but it will require you to enter the backup password first (Surprise!).
CopyTrans Contacts and iPhone backup password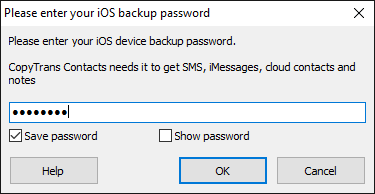 When you connect your device to CopyTrans Contacts, the program starts loading your contacts, text messages, attachments, etc. Sometimes it loads them from a backup you made earlier. If your device is encrypted, CopyTrans Contacts won't be able to load any backed-up content, as it has to be decrypted first. So, the program will ask for a password to unlock your iPhone backup.
If you remember your iPhone backup password, please enter it so that the app can load the data. You can also check "Save password" if you would like CopyTrans Contacts to remember your password for the next time. If you don't, the simplest option would be to reset the password and try loading your data again. It is highly recommended to have a new encryption and store your password in a safe place (for example, in a password manager).
CopyTrans Shelbee and iPhone backup password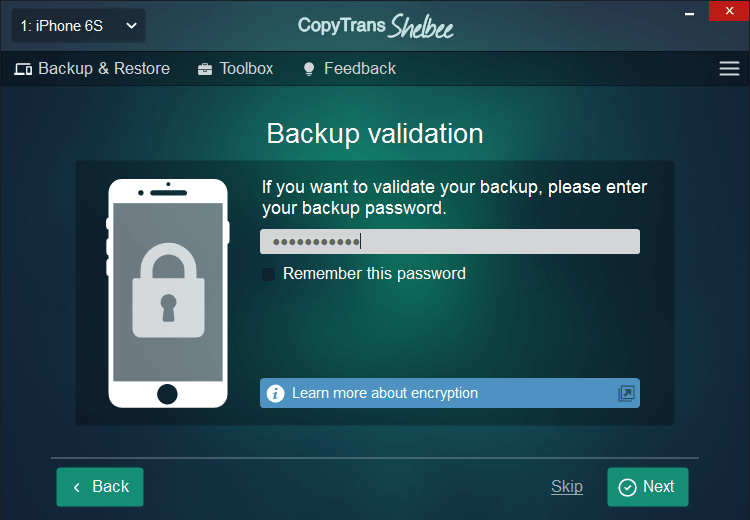 Download CopyTrans Shelbee
CopyTrans Shelbee may ask you to enter the password in two cases:
You are trying to back up your iPhone. In this case, CopyTrans Shelbee is asking for a password for validation purposes. In contrast to iTunes, CopyTrans Shelbee validates your backup upon creation, making sure you can restore later. The actual encryption always happens on your iPhone, not in the program. Shelbee then gets the files and tries to decrypt them with the password you give, also checking the integrity of the backup.

In this case, if you forgot the combination, you can simply reset your iPhone backup password and try again.

You are trying to restore data to your iPhone. While restoring, CopyTrans Shelbee needs the password to decrypt the data in the backup. If you forgot the password and you still have the device you used to back up, just reset your password and make a new backup. If you do not have the source device, the only option you have is to remember the password combination. The good news is, there may be a chance to recover it. Check out our tips on how to remember the iPhone backup password.
CopyTrans Backup Extractor and iPhone backup password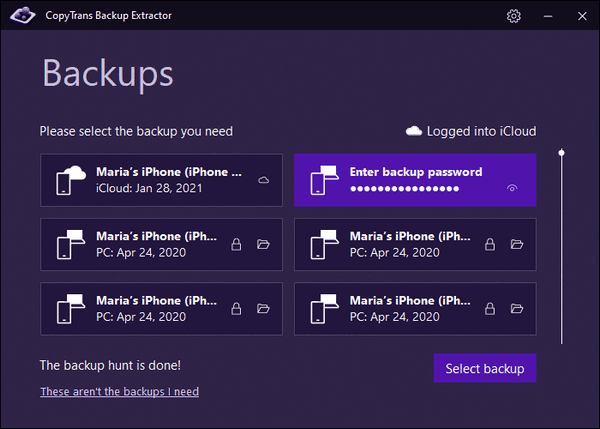 Download CopyTrans Backup Extractor
CopyTrans Backup Extractor will ask you for a password if you try to access an encrypted iTunes backup.
If you remember your password, please enter it so that the app can load the data.
If you don't remember the password, you can just choose an iCloud backup (marked with a cloud icon in CopyTrans Backup Extractor). iCloud backups are not encrypted with a password.
Alternatively, you would have to reset your password and make a new backup, or try to remember the password combination.
iTunes iPhone backup password
How to reset
If the best option for you is to reset your backup password, here is how to do it:
On your iPhone, go to Settings -> General -> Reset and choose "Reset All Settings". You will need to enter your passcode and confirm the action several times.

Voila – you're all re-set! Resetting your backup password will not take the password off old backups, but will allow you to make new ones without it.
If this guide didn't help you, feel free to reach out to our support team at copytrans@copytrans.net. Please cover the following points:
– the name of the program that you are using;
– what you were trying to do with it;
– what happened in the process.
As a rule, we also request our customers to generate and send us log files – this way, we will find a solution much faster!