Data loss can be a huge problem, so backing up your iPhone is always a good idea and your responsibility. The most popular way is to back up iPhone to iTunes. However, backing up iPhone to iTunes can be frustrating for some users – it is a time-consuming process. You never know exactly if iTunes is taking long because this is the required time, or because something went wrong (iTunes won't tell you if your backup is corrupted, and you've been waiting for hours for nothing). To help you with the frustration, we decided to investigate and find the answers to the following question: how long does it take to back up an iPhone? Why does it take so long, and how to make it faster? Let's start!
Part 1. How long does it take to backup an iPhone?
Normally, it takes from 30 mins to 2 hours to back up your iPhone. The process depends on different conditions, such as:
how full is your iPhone storage: if there is almost no GB left, your backup might take ages or even never happen. The device needs some free space to process the copying and encryption of your data. The easiest way to free up some space is to transfer some of your photos and heavy videos to PC before backup.
model of your iPhone: different models have different storage capacities.
your iOS version: if you didn't update your iPhone, an obsolete version might be harder for iTunes to back up.
So, for example, if you are using a 64 GB device, then it should only take a few minutes for the job to be done, but with the 256 GB model, the timeline may extend up to two hours.
However, sometimes iTunes can surprise you, and take ages to finish the backup. For example, we recently had such a use case on our support mail: iPhone 13 Pro Max with 256 GB storage has only 48 GB of free space left, and backing up to iTunes takes over 24 hours! To help our customers, we are going to explain why it happens and what can help. Keep on reading >>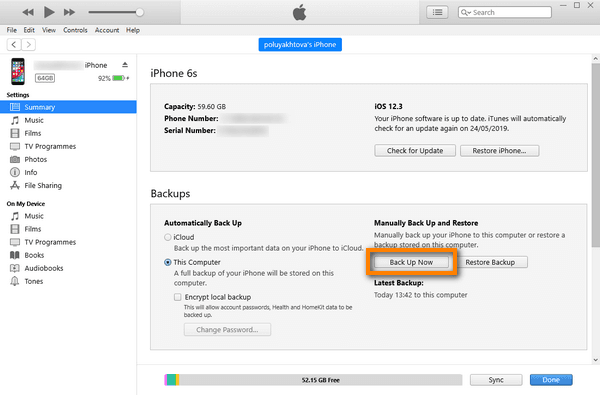 There are 6 ways to do iPhone backup >>
---
Part 2. Why is my iPhone backup taking so long?
So, why is my iPhone taking so long to backup? Here are the things that are easy to check and may have a huge impact on the functioning of your iPhone:
iPhone model

The latest devices transfer data faster than the older ones, as they come with better features and improved data transfer processes.

iTunes version

If you don't update your iTunes, it may cause a problem when backing up your latest model of iPhone. iTunes also updates its drivers which are crucial for connectivity between your Apple device and Windows PC. If you get problems connecting your device to iTunes or it doesn't get recognized by your PC, check this information.

Heavy media files

This is one of the main reasons why we do backups – we don't want to lose precious photos and videos. With time, iPhone Galerry becomes heavy. Also, don't forget that modern devices take high-resolution images. The more files in high quality you have, the more time it will take for iTunes to finish the backup. You can make the task easier by copying some media files to PC.

Not enough disk space

Lack of space on your PC can also prolong the backup process. If your iPhone is 99% full, your backup may even freeze. You can free up some space before starting.

Too many data-heavy apps

When cleaning useless data on your iPhone, don't forget about apps. Deleting unused apps is quite obvious. However, don't forget that a lot of apps (for example, messaging apps like WhatsApp and Telegram) generate cache and system files that might weigh several GBs. By the way, iTunes doesn't back up apps.

You are initializing a new device for the first time

When you just bought your new iPhone and connect it to iTunes for the first time, it will take time to settle everything. Just be patient. All the subsequent backups won't take so much time.
---
Part 3. How to speed up iPhone backup?
In this part, we will try to find the best way to fix the iPhone backup taking forever issue. So, let's do it!
Fix 1. Temporary disable antivirus
Some computer security applications, such as firewalls and security guards, may interfere with iTunes backups. If this occurs, turn off your antivirus for some time. Here you can find out how to configure your firewall.
Fix 2. Remove unnecessary data from your iPhone
Before connecting your iPhone to PC, go through your files and delete everything that you find unnecessary. Sure enough, this will help iTunes speed up. To make it easier, you can visualize and delete iPhone files from your PC.
Fix 3. Check if your USB cable and port are not broken
The solution may be as simple as that. Check the USB cable and USB port you use to be sure that they are not broken. It is also important to use the original Apple cable. It should have an annotation saying "Made For iPhone/iPad/iPod (MFi)" and a special MFi logo stating that the product is certified.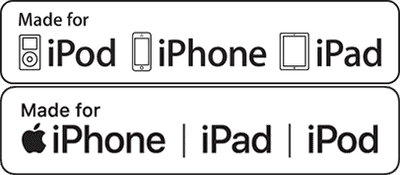 Fix 4. Remove heavy apps that you don't need
If you've noticed that there are a lot of apps that you don't use, this is the perfect time to erase them.
Fix 5. Check for iTunes Update
One more reason why an iPhone backup takes so long is an old iTunes version that is not up to date with your iPhone with the latest iOS. Check for iTunes updates and make sure to install the latest iTunes version.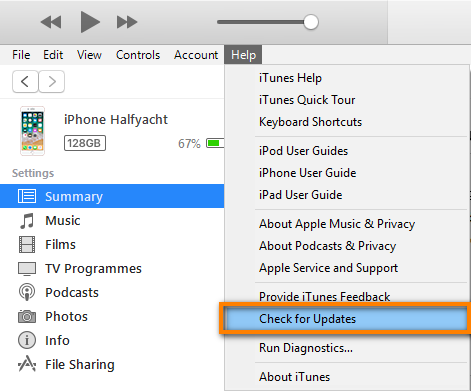 Fix 6. Create regular iTunes backups
We recommend doing differential backups – it will save you time and disk space. In this case, iTunes doesn't recreate the whole backup each time but only adds new files over the previous backup. It means that the more often you back up your iPhone, the fewer new files iTunes adds to the main backup. Keep all your data safe!
Fix 7. An alternative backup method when all the fixes above didn't help
These fixes should help with accelerating your iPhone backup. However, in many cases, the best thing to fix iTunes is to avoid it. iTunes was supposed to facilitate user's life and become an intermediate between Apple devices and PC. Instead, it has become a bulky and buggy instrument that is not as convenient as it was imagined. It often provokes iPhone crashes, corrupted backups, or simply loses your songs after multiple syncing with all your devices.
This is the main reason why we have created Copytrans Shelbee – this tool really takes care of your data. You can do full or incremental backups (the app will notify you if something went wrong and will recover your data from a safe copy) and restores: also full or selective ones. It also has some amazing features that iTunes can't afford – you can choose where to back up your data (for example, to an external hard drive) or save scores from your favorite gaming apps. No reason to stick to old ways – give yourself a try with CopyTrans Shelbee and do a free backup of your iPhone right now.
We all know, that iTunes backups are not ideal, and iTunes itself has some CONS:
❌ you can't find the backup folder
❌ iTunes backup occupies a lot of space
❌ iTunes backup can be corrupted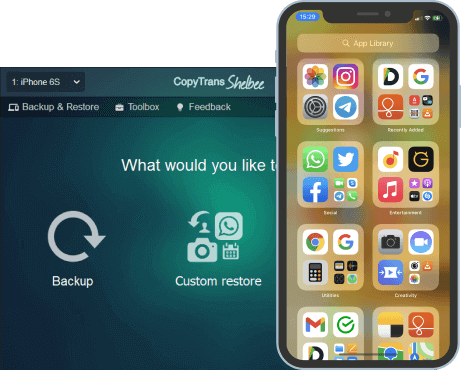 Unlike iTunes, CopyTrans Shelbee will:
✔️ do full or incremental backup;
✔️ allow to choose the folder to save backup;
✔️ validate backup made;
✔️ compatible with iTunes backup;
✔️ support encrypted iPhone backup;
✔️ restore full iPhone backup or just some selected data;
✔️ allow you to save your apps;