It is generally recommended to backup iPhone every two weeks. This way, you can prevent massive data loss in case things go not-quite-as-you-expected… Backups are a great help if your iPhone gets broken, damaged, stolen or if you decided to switch to a newer iPhone. If you found yourself asking "How to backup iPhone", check out the 8 ways below.
You can choose to read the complete guide or select one of the methods below:
⚡ Let us couponize you – don't miss your discount at the end of the guide 😉
---
How do I back up my iPhone
What is backup
A backup, or data backup is a copy of your cellphone or PC data stored in an alternative location that can be used to protect you against data loss.
Data loss can be the result of the following factors:
❌ hardware or software failures;
❌ data corruption;
❌ virus or malware attack;
❌ accidental data erasure.
💡 Performing regular backups is of primary importance in this regard. Backing up iPhone every 2 weeks is a reliable way to prevent massive data loss in case something goes wrong.
How long does it take to backup an iPhone
Many users are wondering: "How long does iPhone backup take?" When using iTunes or iCloud, it usually takes up to 2 hours to backup iPhone for the first time depending on several factors:
◼ data types;
◼ amount of data;
◼ your internet connection;
◼ PC operational capabilities.
On every subsequent backup every 2 weeks, it should run for about 30 minutes every time.
💡 Overall, iTunes is faster than iCloud because the backup is stored locally on your computer, whereas iCloud backups are stored on remote cloud servers.
However, no matter how powerful Apple mechanisms may sound, some users claim that using iCloud or iTunes services to back up data and other information takes longer than expected. Lets us take a closer look at the iPhone backup taking forever issue.
iPhone backup taking forever
There are a couple of common reasons why your iPhone backup is taking so long, here they are:
◼ Your internet connection is unstable;
◼ You have too many heavy-data apps to back up;
◼ You're trying to back up too many media files like photos or videos.
💡 Below you may find some useful tips to strengthen the process by speeding it up:
Backup iPhone more frequently;

Clean up your device and delete unused apps on iPhone;

Use iTunes/iCloud alternatives to backup iPhone.
---
How to backup iPhone to computer
using special software
Since iCloud and iTunes consume both time and effort, many iPhone users are seeking other easier and quicker options on how to backup iPhone to computer.
If you want an application that is specifically designed to perform backups, we have the product you need – CopyTrans Shelbee.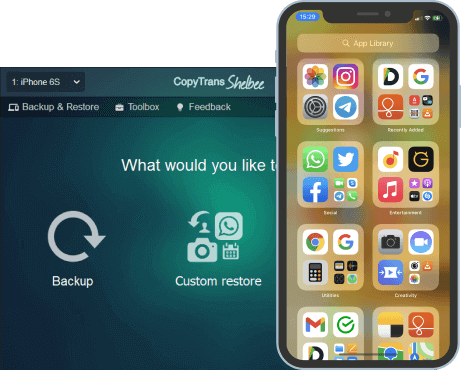 Use CopyTrans Shelbee to back up your iPhone:
🔹 Choose any folder to store your backup, as well as change the default backup folder set by iTunes.;
🔹 Validate integrity of the backup file after each backup*;
🔹 Add a password protection at any time to encrypt your backup;
🔹 Choose between a full Backup or only latest changes backup;
🔹 Set up reminders when it's time to do a backup.
* Unlike iTunes, CopyTrans Shelbee validates integrity of each backup after it is done. Let's say you have done 10 consecutive backups over a period of time, attempt #3 was corrupted in the process, but you were never made aware of this, that means that the rest of them were done in vain. Restore attempt will give you an error message. We make sure this does not happen.
How to back up your iPhone with CopyTrans Shelbee
CopyTrans Shelbee will allow you to backup Settings, Messages, Camera Roll and much more. If interested, you can see the full list here.
How to back up my iPhone? In this guide, we will only cover creating a full backup with CopyTrans Shelbee. You can also backup the latest changes only (you need to have at least one full backup for that).
To backup iPhone (and also to backup iPad) with CopyTrans Shelbee:
Download and install CopyTrans Shelbee:

If you need help installing the program, refer to the installation guide.

Run CopyTrans Shelbee and connect your iPhone. Choose Backup -> Full Backup.

Select the folder where you want to place your backup. By default, iTunes saves your backups to C:\Users\*your user name*\AppData\Roaming\Apple Computer\MobileSync\Backup.

⚡ With CopyTrans Shelbee, you can choose any folder!
⚡ You can move iTunes default backup folder and transfer all previous backups there.
⚡ You can save a backup to external drive.

If you want to backup your apps, check "Save the apps". You will need to log in to the App store and have a stable internet connection.

⚡ Your apps will be backed up from the App store in .ipa format. CopyTrans Shelbee will also back up app data, but only if the app developer allowed that.

If you chose to back up apps, log in to the App Store.

If you see this screen, it means you have an iOS backup password. The program will use it to validate the integrity of the backup, making sure you can restore later. iTunes would backup at once, but not restore until you've inserted the right password. What password again?

⚡ Encrypted backups include passwords, Wi-Fi settings, etc. More about encrypted backups from Apple.
⚡ If you don't remember your iOS backup password, you can reset it.

Wait while CopyTrans Shelbee performs the backup. Do not disconnect the device and be patient. Backing up is a complex procedure and may take a significant amount of time, especially if you chose to backup your apps: the process happens over the internet, which takes extra time.

Success! Your data is waiting for you in the folder of your choice. That is how to backup iPad and iPhone
Now that your backup is ready, you can restore it to your iPhone fully or partially anytime using CopyTrans Shelbee. You can even extract the data to your PC using CopyTrans Backup Extractor. Also, next time you can make an incremental backup, saving only the latest changes and space on your hard drive.
---
Back up iPhone
Below is a summary of the most popular methods used to backup iPhone, also including the software offered by CopyTrans, CopyTrans Shelbee.
🖥️ iTunes
🐝 CopyTrans Shelbee
☁️ iCloud
Requirements
iPhone and lightning cable,
uses PC space
iPhone and lightning cable,
uses PC space
iPhone and Wi-Fi,
uses iCloud space
Full backup
✔️
✔️
✔️
Incremental backup
(with latest changes)
✔️
*you can't choose the type of backup
✔️
*choose the type of backup
❌
Encrypted backup
✔️
✔️
❌
Check backup integrity
❌
✔️
❌
Check for password issues
❌
✔️
❌
Choose backup folder
❌
✔️
❌
Move default backup location
❌
✔️
❌
Backup to external drive
❌
✔️
❌
Backup passwords, Wi-Fi settings, browsing history
✔️
*backup should be encrypted
✔️
*backup should be encrypted
✔️
Backup apps in .ipa format
❌
✔️
❌
Full restore
✔️
✔️
✔️
Selective restore (only photos, only messages, etc.)
❌
✔️
❌
---
iCloud backup
Aside from specialized software, one of the most popular ways to backup your device is through iCloud backup.
🙂 Now, the advantage of this method is that it is quick, you can perform it from anywhere and, should trouble come, the data will be accessible directly from the Apple servers.
☹ The flip side of the coin is your personal data will be stored on the Apple servers, and the free 5GB of iCloud storage will fill up pretty quickly. Not okay with paying for more iCloud storage? Use either of the other two methods or read our guide on how to be economical with iCloud storage.
If iCloud backup is the solution for you, here are the steps:
To backup iPad to iCloud, make sure you have an active internet connection.
On your iPhone, go to Settings → your Apple ID (sign in if not already signed in) → iCloud → iCloud Backup.

You will see a backup summary screen with the date and time of your last backup. Press Back Up Now to backup iPhone to iCloud.

Wait until iCloud completes the backup; be sure not to disconnect your iPhone from the internet.

Your iCloud backup is ready! That is how to backup iPhone with iCloud
💡 If you want to schedule regular backups to iCloud, make sure you enable iCloud Backup in Settings → your Apple ID → iCloud → iCloud Backup. Once the switch next to iCloud Backup is on, your iPhone will be backed up automatically every day. You will, of course, need to make space for regular backups in your iCloud, which would probably mean upgrading your iCloud storage plan, especially if you have a big storage capacity on your iPhone.
❗ Important
If you switch on automatic iCloud backups, your phone will stop making automatic backups every time upon connecting to iTunes. Jump to the right section to run a manual backup with iTunes.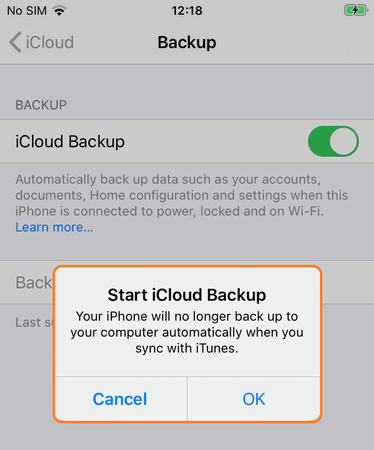 ---
iCloud backup taking forever
Let's be honest: iCloud backup is not perfect. A lot of people still go with it, though, because it is wireless and automatic.
When backing up iPhone via iCloud, one may find iCloud backup taking forever or even failed.
If you find iPhone backup taking hours, follow our solutions below to complete the process:
Restart your iPhone: it will refresh the system to avoid many bugs;

Check your internet connection: it should be stable and fast as poor internet performance considerably slows down iCloud backup process.

Disable large apps and files backup: you have an option to select and deselect what to back up.
💡 If the issue still persists, you can use an alternative option – CopyTrans Shelbee, a reliable tool to back up iPhone wherever you want on your PC, so that you won't have to worry about storage limitations.
---
iTunes backup
iPhone users are known to have a "love and hate relationship" with iTunes: partly because of its speed, partly because of its functionality, and partly because some people just want to hate iTunes. Nothing personal… The fact is, iTunes backup is still the only offline solution Apple offers to backup your iPhone.
😊 On the positive side, the backup is always at hand, and the data is safe and sound on your PC.
☹ The possible disadvantage is that iTunes doesn't validate your backup upon creating it, meaning you can discover that the backup is corrupted or encrypted the very moment you need it to restore your data. If you wish to validate your backups upon creation, we offer a technical solution of our own development, CopyTrans Shelbee. To give it a try, scroll upwards for a guide on how to use the tool.
Here are the steps on how to backup iPhone to iTunes:
Launch iTunes and connect your device to the PC.
Choose Trust Computer on your iPhone and enter your passcode to confirm.

In iTunes window, go to File → Devices, then click on Back Up to initiate the process.

The top iTunes bar will then change and become an indicator of the backup progress.
Important fact
If you want your iTunes backup to include your saved passwords, Wi-Fi settings, website history and health data, you will need to encrypt your backup – if it doesn't have a password already. To check whether your device is encrypted and manage your password settings:
Click on the iPhone icon at the top iTunes panel.

You will see info about your device and its backups, indicating the time of the last backup and password management options. You can then see whether your backup is password-protected (there will be a check next to "Encrypt local backup") and run a backup or restore.
---
How to back up my iPhone
Backup iPhone photos to PC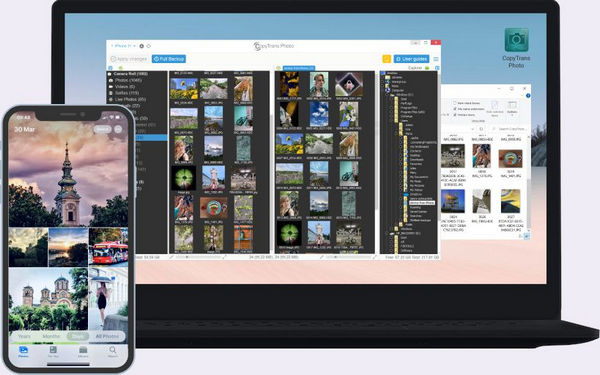 If photos carry the most weight (both figuratively and literally) on your iPhone and you want to backup iPhone photos to PC and don't want to pay for iCloud storage, we have developed the product for you – CopyTrans Photo. It will backup your iPhone photos and videos to computer preserving the metadata.
Advantages of CopyTrans Photo
✔️ Transfer photos and videos between iPhone and PC
✔️ Save EXIF data
✔️ Make a full backup
✔️ Convert HEIC to JPEG on the fly
✔️ Work with the new Apple ProRAW format
✔️ Work offline
---
Backup my phone
Backup iPhone music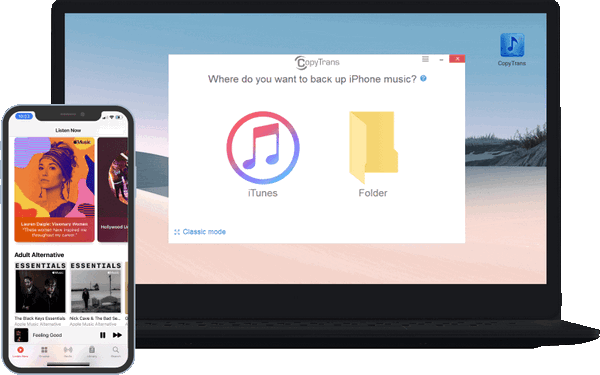 If you only need to backup your music library to either iTunes or just a convenient location on your PC, we know how to help you, since we have designed our own app, CopyTrans, specifically for this purpose. The application will allow you to backup your entire iPhone/iPod/iPad music library (including playlists and meta info) to iTunes or any folder on your PC.
Advantages of CopyTrans
✔️ Save all the music library to you PC in a few clicks
✔️ Choose separate songs, playlists, or the whole library
✔️ Manage songs, books, audiobooks, ringtones, and playlists
It can also help to export selected tracks. CopyTrans comes in handy as a supplement for traditional full backups, since they almost never include music.
---
How to backup iPhone contacts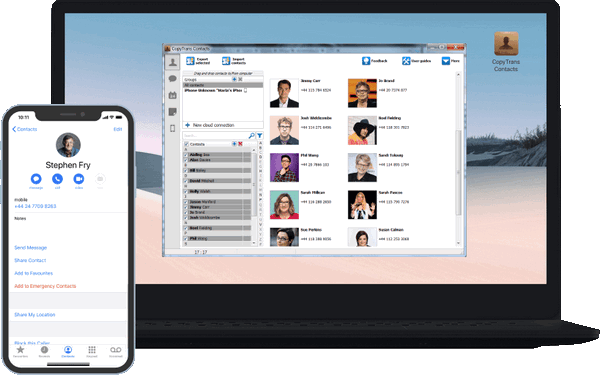 If you are looking for an easy way to backup iPhone contacts – have a look at CopyTrans Contacts!
Advantages of CopyTrans Contacts:
✔️ Save contacts in a few clicks;
✔️ Work with different formats: .xlsx; .vcf; .csv;
✔️ Manage all iPhone, iCloud, Outlook and Gmail contacts;
✔️ Transfer iPhone messages to PC in different formats;
✔️ Manage iPhone and iCloud calendars;
✔️ Easy-to-use, intuitive interface.
Backup iPhone contacts!
---
Cloud storage providers
Cloud drives are not, strictly speaking, complex backup solutions – they will not allow you to save your settings, passwords, messages, etc. They will, however, serve you well to store your files – documents, presentations, images, videos, and much more. The advantages of cloud drives are that they are usually quick, cost-effective and you can always choose a payment plan that suits you better. On the other hand, you become dependent on the drive's servers – if they shut down, the data becomes inaccessible. Other risks include data leakages and vendor lock-ins (when you can't transfer your data to another cloud drive). To compensate for the drawbacks, we recommend also making a traditional backup to your PC (with iTunes or specialized software – CopyTrans Shelbee).
Some drives that enjoy the most popularity are:

One of the most popular solutions with iPhone users, despite that it only allows you 2GB of free space. However, you can boost the storage available in Dropbox by completing small "challenges". It is an ideal solution for storing lightweight docs, PowerPoint presentations, photos and videos. What makes the service special is the "remote wipe" feature, allowing you to delete the data off your device should it be lost or fall into the wrong hands.

A solution much favoured by businessmen, OneDrive will now allow you 5GB of free storage before purchasing an upgrade plan. Conveniently enough, OneDrive is sometimes pre-installed on Windows, making it a good starting point to get familiar with cloud drives. If you are a Mac user, it is possible to get OneDrive from the App Store. Additionally, OneDrive has the "Personal Vault" feature, which means storing your files in the area with increased security layer.

Google Drive is a great solution if you can't get by 5 or let alone 2GB of free storage. It offers 15GB of storage space for free, but note that this will be shared across all Google services, such as Google Photo and Gmail account. If not sure about Google limitations, see what files count towards your storage limit. Google Drive is a preferred choice with teams because of how easy it is to share and collectively edit data. It is also much loved by Android users.
---
Conclusion
Here we've prepared an ultimate summary for you.
To backup your iPhone:
iTunes: On PC, Start iTunes > choose File > Devices > Back Up.
iCloud: Go to iPhone Settings > your name > iCloud > iCloud Backup > Back up now.
CopyTrans Shelbee: Start > Backup > Full > start backup > choose folder > encrypt backup > Start.
We hope that this article has served you well to help perform the type of backup you need. Backing up iPhone is never a bad idea, and knowing how to do it properly ensures protection against data loss at all times. Do not forget to make both online and offline backups as they complement each other. If the worst has come to the worst, here is an article on how to restore your iPhone from a backup.
CopyTrans 7 Pack
Special offer
CopyTrans 7 Pack is a bundle of simple apps for a better iPhone + Windows experience. Transfer photos between iPhone and PC, export and import contacts, manage iCloud photos, back up and restore iPhone, and much more…!
✔ Activate on 5 PCs;
✔ Manage 5 devices;
✔ Full iPhone management;
✔ 2 years of free updates;
✔ No subscription;
✔ $108 off.
* The offer includes an additional $3 discount and is only valid when purchasing CopyTrans 7 Pack for private use.