When you choose how to back up your iPhone, Apple offers you two official ways – iCloud and iTunes. And both of these options are a reliable and easy way to protect your information. Especially if you deleted something important, restoring from the iCloud backup can resolve the problems. But restoring from iCloud is more challenging and can be confusing because it will erase all the data on your device before recovering.
In fact, iCloud doesn't offer you an option to make a selective restore from the backup. What does it mean? It means that you can't restore ONLY photos and videos or any other data you need. Your iPhone will loose all the data that was created after the date the iCloud backup was made.
If you still hoping that with an official Apple method it is possible to restore some data without overwriting the whole iPhone, then the answer is NO. There is no official way to skip the deletion. But lucky for you, in this article, we will explain to you how to restore from iCloud backup without reset and also the official way to restore iCloud backup with reset!
---
Restore from iCloud backup WITH iPHONE RESET
Apple offers a way to restore all the data from iCloud backup on your iPhone, but this method will erase all the current data and settings on your device! If you don't want to loose all the data you need, download everything that is important for you before resetting your iPhone:
So, let's start and restore the iPhone.
Disadvantages of restoring iCloud backup in settings:
❌ This method will make you lose all the data from your iPhone, especially if an iCloud backup file is not the latest.
❌ There is no preview and you can't check what exactly is saved in the backup.
❌ It will take some time to restore from iCloud backup.
On your iPhone go to "Settings" > "General" > "Transfer or Reset iPhone" > "Erase All Contents and Settings".

It will restart iPhone. And now you can start to restore iCloud backup.

On the "Apps and Data" screen, select "Restore from iCloud Backup" and sign in with your Apple ID and password.

Select "Choose backup", and find the backup you need. Wait until the restoration is finished.
We think this method is not ideal and has its big disadvantages, that is why we offer you a better and easy solution: restore photos from iCloud with CopyTrans Backup Extractor with NO reset. Just follow the steps below.
---
How to restore from iCloud backup without reset
Still struggling and thinking about how to restore your iCloud backup? If you would prefer to save all the data from the iCloud backup to your PC, then you would better use CopyTrans Backup Extractor. It's a perfect tool to find iCloud backups and then save them on your computer. This method allows you not to reset your iPhone.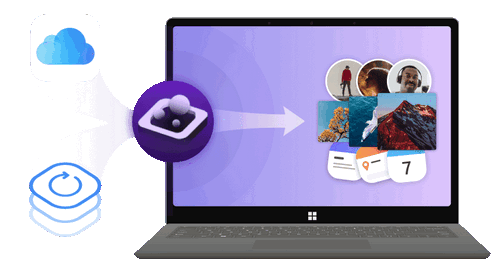 ✔️ find all the backups automatically;
✔️ save all the backup data on your PC
✔️ compatible with different backups: iCloud, iTunes, CopyTrans Shelbee, or other programs;
To restore iCloud backup on your PC you should:
Download and install CopyTrans Backup Extractor.

Run the program. To access iCloud backups, choose the option "Log in to iCloud for more backups".

The list of all backups including iCloud backups will appear (backup with the cloud icon). Choose the one you need.

Now is the time to select the data you wish to save. There is also an option "Extract everything". Then click on "Extract".

Now wait till all the data will be extracted on your PC.

That's it! All the data is saved.
---
Restore photos from iCloud without reset
One of the main features of iCloud backup is to save all the photos and videos in iCloud and reduce your iPhone storage. But if you don't see the photos saved in your iCloud backup, that means that the function "iCloud Photos" is enabled and all the media is saved in iCloud directly. When you need to get these pictures from iCloud, then here the problems arise. But CopyTrans Cloudly will resolve the issue as it helps to manage all the iCloud photos and videos and save them on your PC.
Advantages of CopyTrans Cloudly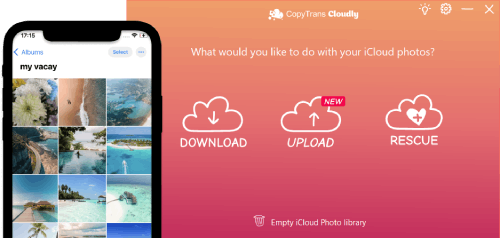 So, follow these steps to restore photos from iCloud backup without reset.
Download and install CopyTrans Cloudly.

Log in to your iCloud account and in the main window choose "Download".

Choose the folder where to save the photos and click "Go!"

Wait till the download is completed and find all the photos backed up on your PC. You can find more information on how to download photos in our guide.