In today's digital age, we capture countless moments through our smartphones and store them in the cloud. Apple's iCloud platform has become a popular choice for safely storing and accessing our treasured photos. However, many users are unsure about how to download photos from iCloud. If you find yourself in this situation, fret not!
This comprehensive guide will walk you through the step-by-step process of downloading photos from iCloud, ensuring that you can easily retrieve and enjoy your precious memories at any time. Whether you're looking to access old photos or transfer them to a new device, read on to discover how to get photos from iCloud and keep them close to your heart.
iCloud is a great tool for backing up your photos and other data, but it's not perfect. If you are still wondering how to download all photos from iCloud onto your PC, you might face a few problems you need to know before proceeding:
✘ iCloud Photos aren't loading on your PC
✘ Dates change when moving iCloud photos to a PC
? Why won't iCloud for Windows install on my PC?
? Why are my photos taking so long to download from iCloud?
But please don't worry! We are here to solve all these problems and explain how to get pictures from iCloud.
Choose how to upload photos from iCloud and jump to the method you prefer:
---
How to download photos from iCloud
with CopyTrans Cloudly
CopyTrans Cloudly is designed as an alternative to iCloud for Windows. This software is intuitive, easy to install, and allows you to recover all your photos and videos saved on iCloud. The best part is that it doesn't create duplicates, so you can stop and then resume the download at any time!
Advantages of CopyTrans Cloudly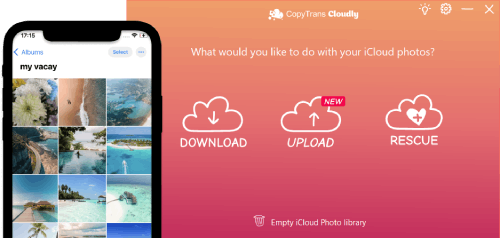 Restore permanently deleted videos and photos from iCloud on PC
Download all iCloud photos in a few clicks
Save your iCloud photos to an external hard drive
Upload all your photos and videos in one click
Add photos in JPG, HEIC, or PNG format to iCloud
Keep your album structure
So, how to download photos from iCloud to PC? Just follow these steps:
Download and install CopyTrans Cloudly

Get CopyTrans Cloudly

Run CopyTrans Cloudly. You will see a login screen. Enter your Apple ID and password.

Wait until your iCloud Photo Library is loaded. You will see the main app screen after. To download iCloud photos to PC, click on Download:

Select which folder you want to download your library to:

TIP: if you have a question: how to backup iCloud photos to an external drive, then CopyTrans Cloudly can help you with it too.

Voila! All you need to do now is wait until all your photos and videos are downloaded.
YouTube guide
---
Download photos from iCloud
Or check out our comparison table:
| | | | |
| --- | --- | --- | --- |
| | CopyTrans Cloudly | iCloud.com | iCloud for Windows |
| Downloading all photos | Downloads everything at once | Downloads only 1000 items at a time | Downloads everything at once |
| Preserving album structure | Yes | No | No (downloads by year) |
| Downloading originals | Yes | Yes | Not always |
| The incremental download of new photos (without creating duplicates) | Yes | No | No |
| Deleting all photos | Deletes everything at once | Deletes only 1000 items at a time | No |
| Retrieving permanently deleted photos | Yes | No | No |
| Speed (depends on the Internet connection speed) | 15-30 minutes for every 5 GB | Eternity | 1,5-3 hours for every 5 GB |
| Viewing and selecting photos before downloading | No | Yes | No |
| Using on a Mac | No | Yes | No |
| Uploading photos to iCloud | Yes | Yes | Yes |
! Keep in mind that this is a tutorial for Windows users. If you have a Mac, please refer to the guide for macOS users.
---
Download photos from iCloud
from iCloud backup
If for some reason, you cannot find your photos in iCloud, there is still a chance they might be waiting for you in some backup on or off your PC. To help you here, we developed a product called CopyTrans Backup Extractor. The program will search for iCloud and iTunes backups automatically and download iCloud photos to PC. Here is how to proceed: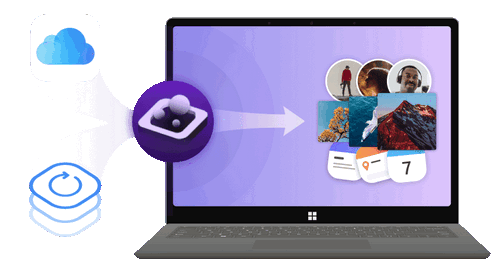 ✔️ find all the backups automatically;
✔️ save all the backup data on your PC
✔️ compatible with different backups: iCloud, iTunes, CopyTrans Shelbee, or other programs;
Download and install CopyTrans Backup Extractor:

Choose Log in to iCloud for more backups on the welcome screen.

There you are! After a short search, CopyTrans Backup Extractor will display all your backups, both on PC and in iCloud. iCloud backups are marked with a cloud icon, while PC backups have a folder icon next to them.

Choose the backup that contains your photos. If the backup is encrypted, enter the backup password to proceed. Click on Photos.

Finally, select the folder you want to extract the photos to and wait for the process to complete. Voila! You can now click on Open containing folder to see all of the extracted photos.

Your photos are successfully out of the backup! If you want to have these photos on your iPhone, here is a guide on how to transfer photos from your computer to your iPhone.
---
How to get photos from iCloud
via iCloud.com
How to see photos in iCloud? On iCloud.com you can quickly see the overview of the photos you have in iCloud. You can also use it on your Mac, unlike the other two alternatives. However, iCloud.com is of no use to you if you want to download or delete all of your photos and videos and not spend an eternity on them.
Disadvantages
✘ no way to download or select all photos at once
✘ has a limit of choosing 1000 items
Advantages
✓ you can view and select photos
Anyway, let's start with the instructions:
Go to the iCloud browser version and log in using your Apple ID.

Once logged in, click on Photos.

Now you can view all your photos via the browser.

Select each photo and tap on the cloud icon in the top right corner to download images one by one from your iCloud account to the computer.
Note: If you have less than 1000 photos in iCloud, you can easily download all the photos by pressing Ctrl + A, then clicking on the "Download" button. If you have more than 1000 photos, however, it becomes a bit more tricky. You will have to track which 1000 photos you have already downloaded, then select another 1000, and so on. CopyTrans Cloudly you can download everything at once 🙂

You can also select multiple photos in iCloud by selecting moments. Click on the small plus sign in the top right corner of one of the moments. Voila! All the pictures in your moment are selected. You can download photos from iCloud to PC.

Once your photos and videos have been downloaded, you will have to extract them from the folder your browser downloads files to (for me, it is This PC >> Downloads). The browser version of iCloud doesn't give you the option to download all your photos and videos to a folder of your choice.
TIP:
Once the downloading process is finished, you can delete all your photos from iCloud and forget about them forever or continue using them. I haven't been a fan of iCloud Photo Library since the time I ran out of space on both my iCloud and iPhone and couldn't do much about it. I didn't know about CopyTrans Photo at the time, so I had to manually download each photo to my PC since, back then, iCloud didn't support selecting multiple photos.
Anyway, to delete all the pictures from your iCloud, you'll have to select all your photos one by one again (or by selecting entire moments as explained above) and click on "Delete". Before deleting, make sure all your photos have been saved to your computer.

---
How to get pictures from iCloud
with iCloud for Windows
iCloud for Windows is a nice tool provided by Apple that lets you download iCloud photos to PC in bulk. It also lets you upload photos to iCloud (in case you're interested in that).
The drawbacks are:
✘ it doesn't preserve the album structure of your iCloud Library
✘ cannot boast stability
✘ may not download all the photos in the original quality
✘ iCloud for Windows just doesn't install or returns unknown errors
It will, however, help you download your photos. So, here are the instructions:
Download the iCloud for Windows tool and install it onto your computer.

Open iCloud for Windows from the Start menu.

Tap on Options and select everything you need. Click on Done to download iCloud photos.

Then click on Apply and close the main window.

Next, open the system tray and click on the cloud icon.

How to back up iCloud photos? Hit Download Photos to initiate the process.

Your photos are now being downloaded to C:\Users\&USER NAME&\Pictures\iCloud Photos\Downloads
If you have iCloud Photo Library enabled on your iPhone or iPad, you can simply select all photos and send a link to download them from your computer. Here's how:
Go to your iPhone and tap on the Photos app. Click on Select in the top right corner.

Tap, hold, and swipe to select all pictures.

After you've selected all the photos you need, click on the Share button in the bottom left corner.

Swipe left on the bottom icons to get to the icon you need, then select Copy iCloud link to get photos from iCloud.

After this, simply paste this link somewhere (send it to your email, for example) and click on it from your PC. Make sure you aren't signed in to iCloud in your browser. Click on Download and it will transfer iCloud photos to PC

Click on Download again. The photos will be downloaded in a .zip archive. You can extract them to a folder of your choice after the download is completed.
---
Conclusion
It is a common problem: you have an iPhone, but you can't download photos from iCloud to your PC. It seems like there are no solutions on the internet. However, in this article, we have shown you 4 different methods with all their pros and cons, and one of the options is CopyTrams Cloudly – a program that allows users to download all their photos from iCloud with just a few clicks. With CopyTrams Cloudly you don't need any special skills or knowledge about computers – everything is very easy and intuitive!
Download CopyTrans Cloudly