iCloud is a very handy service that allows you to store your photos in the clouв and sync your photos across Apple devices. But, as your photo library expands, you may need to delete photos from iCloud to free up storage space or just clean up the mess.
So, how do you delete photos from iCloud? This article will show you how to delete iCloud photos in 3 ways. By default, your device syncs photos to iCloud, where you have about 5 GB of free storage, which gets used up quickly. If you are uncomfortable with entrusting your photos to any cloud service, or if you simply don't want to pay for iCloud storage anymore, this article will show you how to delete pictures from iCloud and downgrade your iCloud storage plan.
Don't forget to back up your photos to PC from time to time so that you don't lose them if something happens to your iPhone. Anyway, let's get started!
Before you start:
Choose the method you prefer below:
We also thought that you might be interested in:
The quickest solution will delete your photos from iCloud in just three clicks:
Start CopyTrans Cloudly.
Log in to your iCloud.
Click on "Empty iCloud Photo Library".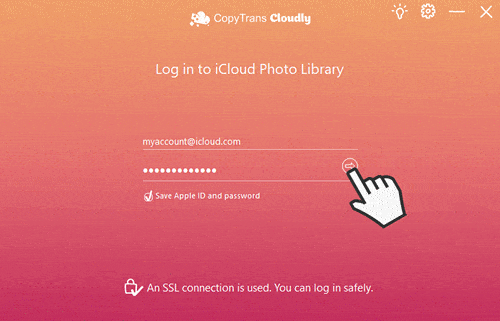 ---
How to delete photos from iCloud but not iPhone
If you want to remove photos from iCloud but keep them on your iOS devices, make sure to disable iCloud Photos first.
Go to Settings -> Apple ID (your name at the very top) -> iCloud -> Photos -> Toggle off "iCloud Photos".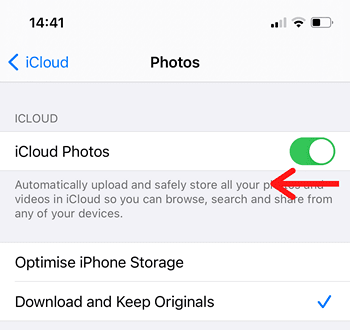 Now, when you remove photos from iCloud, they will stay on your iPhone.
---
Delete all photos from iCloud
To help you mass-delete photos from iCloud, we have developed a program of our own: CopyTrans Cloudly. Download and install the program.
Choose CopyTrans Cloudly to manage your iCloud photos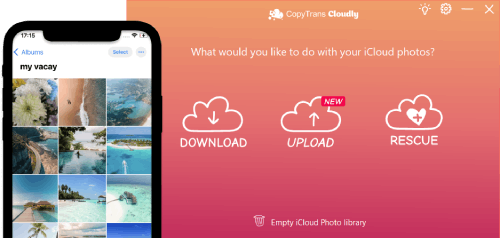 Delete all iCloud photos in one go
Restore permanently deleted iPhone photos from iCloud on PC;
Upload photos and videos from PC to iCloud in different formats;
Download iCloud photos in albums just as you have organized them
Run the app. Enter your Apple ID and password.

Wait until your iCloud library is loaded. To delete all the photos and videos from iCloud, click on "Empty iCloud Photo library".

Confirm that you want to delete ALL your photos and videos from iCloud by ticking the checkbox.

Important: Your photos and videos will be deleted from all devices synced with the current iCloud account. To safeguard yourself against any unwanted loss, you can disable iCloud Photos on your device.

Voila! All you need to do now is wait until all your photos and videos are deleted.
We compared the strengths and weaknesses of all three methods described in this article and created a table for you to decide which one suits you best.
Makes it pretty straightforward, doesn't it?
| | | | |
| --- | --- | --- | --- |
| | CopyTrans Cloudly | iCloud.com | iOS |
| Deleting all photos | Deletes everything at once | Deletes only 1000 items at a time | Have to select manually |
| Speed | Instantly | 1000 at a time | Eternity |
| Retrieving permanently deleted photos | Yes | No | No |
| Downloading all photos to PC | Yes | 1000 at a time | No |
| Uploading photos to iCloud | Yes | 1000 at a time | Only from Camera Roll |
| Uploading videos to iCloud | Yes | No | No |
| Viewing and selecting photos before deleting | No | Yes | Yes |
---
Delete multiple photos from iCloud (not all at once)
Use icloud.com
👎 The biggest drawback of this method is that you can't delete more than 1000 pictures at once.

If you do not want to delete all the photos at once, select photos for deletion manually at icloud.com.
Go to icloud.com and log in using your Apple ID and password.


Click on "Photos".


You will see all the photos and videos stored in your iCloud. Select the one(s) you want to delete and click on the trash bin icon.


You can also delete photos by moments. Choose a moment and click on "Select" (1). Now you can click on the trash bin icon (2) and delete the entire moment.

---
Use your iPhone
It is also possible to delete iCloud photos directly from your device (iPhone/iPad) if you have iCloud Photos enabled.
To make sure your iCloud Photos is enabled, go to Settings > tap on your name on the top > iCloud > Photos. The switch next to iCloud Photos should be on.

Go to your Photos app, tap "Select" in the top-right corner, and then select all the photos you want to delete.


Click on the trash bin icon in the bottom-right corner. Don't forget to delete your photos from the Recently Deleted folder as well 🙂
---
How to delete from iCloud
YouTube tutorial
Get CopyTrans Cloudly
---
How to delete photos from iCloud
Conclusion
Deleting photos from your iCloud is an easy process that allows you to manage and organize your Photo Library. Now you know 3 ways of removing iCloud photos while still keeping them on your iPhone. Remember to use the appropriate deletion method that suits your needs, whether it's removing individual photos, albums, or deleting everything. Additionally, take advantage of the backup options available to ensure the safety of your precious memories.
By regularly deleting unnecessary photos and videos and organizing your collection, you'll free up valuable iCloud storage space. Happy organizing and deleting!