iPhones are known to be rather reliable devices. However, there are situations when iPhone performance slows down: apps are frozen, Wi-Fi keeps disconnecting, etc. In this case, iPhone reset is an option to test. However, it's important to understand how this affects your iPhone data for not to loose anything important. What happens after you reset your iPhone? Read this guide, and after that you'd be able to reset iPhone settings without any doubt.
---
What happens if you reset your iPhone
When you access iPhone settings, you see that you have two options: Reset all settings and Erase All Content and Settings. Here are the main differences that explain how these options affect your data and which one to choose in your case.

What does "Reset All Settings" do
This means that your personal information such as contacts, photos, and messages will remain intact, but all your settings and preferences will be reset to their original settings.

💡 Tip: Make a safe copy of your data before resetting your device. Save your most precious photos and videos to your PC with just one click, with CopyTrans Photo.
How to "Reset All Setting" on iPhone:
On your iPhone, go to the "Settings" app

Click on the "General" and scroll down till "Transfer or Reset iPhone"

Finally, click on "Reset", then "Reset All Settings".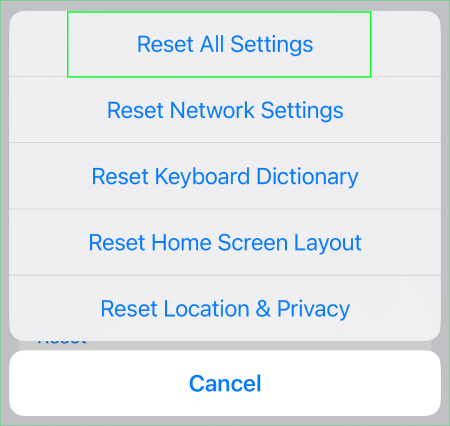 💡 Tip: you can remove a particular type of settings depending on your needs.
When to choose "Reset All Settings"
Resetting your iPhone's settings is a good way to troubleshoot and remove any bugs, malware, or errors from your device. While other solutions may work in some cases, resetting all of your settings may be the only option you have left. The best part about it is that you can do so without losing any of your data. So if you're dealing with common issues on your phone, consider resetting all of your settings as a solution.
This can help resolve issues such as:
Wi-Fi connectivity problems
app crashes
frozen screen
other software-related glitches
Another reason why one may choose to reset all settings on iPhone is to improve device performance. Over time, as you install and uninstall apps, make tweaks to settings, and update your device, some settings may become outdated or incompatible with your current setup. As a result, your iPhone may:
slow down
drain battery faster
experience other performance issues
Lastly, resetting all settings can be useful when you want to customize your device from scratch. If you've recently acquired a second-hand iPhone, you may want to reset all settings to remove any personal information of the previous owner and start afresh. Similarly, if you want to personalize your device but don't know which settings to tweak, resetting all settings can give you a clean slate to work with.
Should I reset or restore iPhone?
Reset reverts your iPhone back to factory state and cleans your settings. Restoring iPhone recovers your last backup while erasing all your current device data.

---
What does "Erase All Content and Settings" do
When you choose to Erase All Content and Settings on your iPhone, all of your personal information, apps, and settings will be deleted from the device. It will essentially restore your iPhone to its factory settings, making it as if you just purchased it.
💡 Keep in mind that if you have any important data, such as contacts, photos, or app information that you want to keep, make sure to create a backup before erasing your iPhone's content and settings. This will allow you to restore your iPhone using the backup and regain your important data.
How to do "Erase All Content and Settings"
Go to "Settings" app and then select "General"

Choose "Transfer or Reset iPhone" at the end of the list, then tap "Erase all Contents and Settings"

Enter your Apple ID password, then wait for all content to be safely removed from your device.
When to choose "Erase All Content and Settings"
Selling or giving away the device:

If you are planning to sell or give away your iPhone, it is smart to erase all content and settings to protect your privacy and personal data. This step ensures that the new owner cannot access any private information like photos, messages, and payment details.

Performance issues or troubleshooting:

If your iPhone is consistently experiencing performance issues, such as slow response times or frequent crashes, resetting the device to its factory settings can help. Erasing all content and settings restores the iPhone to its original state, as it was when you first bought it, which can often fix software-related issues. Don't forget to back up your iPhone data just in case.

A fresh start:

In some cases, you may simply want to start over with your iPhone, whether to reorganize your apps, declutter your files, or remove unwanted settings or configurations. Erasing all content and settings provides a clean slate, allowing you to set up your device as if it were brand new.
Important to do before resetting your iPhone
Before Erasing all Content and Settings
As we already mentioned, when you erase all content and settings, all the data from your iPhone will be deleted. Now we will explain to you how to prepare your iPhone and make a backup in a few clicks using CopyTrans Shelbee.
You may ask us, why not use iTunes? Here are some well-known disadvantages of iTunes backups:
❌ iTunes backup can be corrupted
❌ you can't find the backup folder
❌ iTunes backup occupies a lot of space
But with CopyTrans Shelbee you won't face these problems, you can easily back up your iPhone in a few clicks. Here you can find the steps you need to do to back up your iPhone.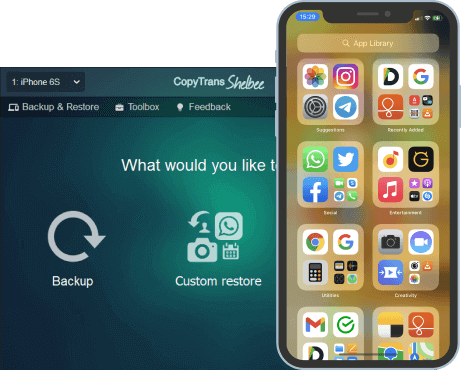 Unlike iTunes, CopyTrans Shelbee will:
✔️ do full or incremental backup;
✔️ allow to choose the folder to save backup;
✔️ validate backup made;
✔️ compatible with iTunes backup;
✔️ support encrypted iPhone backup;
✔️ restore full iPhone backup or just some selected data;
✔️ allow you to save your apps;