Let's be honest: iCloud backup is not perfect (we wrote about its pros and cons before). A lot of people still go with it, though, because it is wireless and automatic. To back up to iCloud, the following simple conditions must be met:
iPhone is connected to a Wi-Fi network;
iPhone is charging;
iCloud has enough free space;
iPhone screen is locked.
However, you might have already encountered an annoying popup when iCloud backup failed: "Not Enough Storage. This iPhone cannot be backed up because there is not enough iCloud storage available." The free 5 GB of iCloud space that Apple offers is largely inadequate for storing iPhone and iPad backups.
This article explains how to manage your iCloud storage and back up iPhone without iCloud or iTunes.
iCloud backup failed
Not enough iCloud storage
Let's start with the most common problem: you can't back up to iCloud because you don't have enough iCloud storage.
Keep in mind that iPhone memory and iCloud storage are not the same thing.
If you run out of space in iCloud, you will see the following message: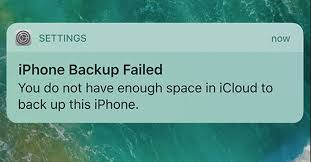 By default, Apple generously (sarcasm alert!) gives you 5 GB of free space in iCloud. Most often this is not enough to back up the contents of the entire iPhone, including photos, videos, messages etc. What solution does Apple offer? Pay for additional iCloud space!
Even though the price is not actually that high, we are sure you still have better spending options. One way to solve this problem without buying anything from Apple is to free up some iCloud storage space.
But first, it will be useful to find out how much space your next backup will take and how much iCloud storage space is still available to you.
Here's how to see how much iCloud space your backups take:
On iOS 11 and above: go to Settings > Your name > iCloud > Manage Storage > Backups.
On iOS 10.3: go to Settings > Your name > iCloud > iCloud Storage > Manage Storage.
Here's how to check how much free space in iCloud storage you have:
On your device, go to Settings > Your name > iCloud.
Manage iCloud storage
How to clear iCloud storage
Now you know how much data you can delete from iCloud. So, let's get started! We have an article on how to free up iCloud space, but here are some main points, too:
Delete old iCloud backups

To free up more iCloud space, delete all your old backups, i.e. backups from devices that you no longer use. To do that, on your iPhone go to Settings > Your name > iCloud > Manage Storage > Backups. Choose the backup and tap on Delete Backup.

Delete other data from iCloud storage

You have deleted some backups, but the error message persists? Delete large files you don't need. Go to Settings > Apple ID > iCloud > Manage Storage. There you can get rid of the data that takes up too much space.
NOTE: As a rule, the greatest "consumers" of your iCloud space are photos and videos. iCloud Photos feature, often enabled by default, means that all the photos taken with your iPhone will be stored in iCloud storage.
Download and delete all photos from iCloud
To download all photos you have in iCloud at once, use CopyTrans Cloudly:
Download CopyTrans Cloudly

Run CopyTrans Cloudly. You will see a login screen. Enter your Apple ID and password.

If you have two-factor authentication enabled, make sure to allow the connection on your device:


Enter the code you received on your device:

Wait until your iCloud library is loaded: you will then be taken to the main screen. To download all photos from iCloud, click on Download:


Select the destination folder:

TIP: You can also back up your iCloud photos to an external drive to save up space on your PC.

Voila! All you need to do now is wait until all your photos are downloaded.

Now that you've downloaded all the photos and videos, you might want to delete everything from iCloud.
To delete all photos from iCloud, click "Delete":


Now you will need to confirm that you want to delete ALL your photos from iCloud by ticking the checkbox.

Important: your photos will be deleted from all the devices associated with this Apple ID.

Voila! All you need to do now is wait until all your photos are deleted.

Learn more about advantages of using CopyTrans Cloudly as compared to iСloud.com and iCloud for Windows:
| | | | |
| --- | --- | --- | --- |
| | CopyTrans Cloudly | iCloud.com | iCloud for Windows |
| Downloading all photos | Downloads everything at once | Downloads only 1000 items at a time | Downloads everything at once |
| Preserving album structure | Yes | No | No (downloads by year) |
| Downloading originals | Yes | Yes | Not always |
| Incremental download of new photos (without creating duplicates) | Yes | No | No |
| Deleting all photos | Deletes everything at once | Deletes only 1000 items at a time | No |
| Retrieving permanently deleted photos | Yes | No | No |
| Speed (depends on the Internet connection speed) | 15-30 minutes for every 5 GB | Eternity | 1,5-3 hours for every 5 GB |
| Viewing and selecting photos before downloading | No | Yes | No |
| Using on a Mac | No | Yes | No |
| Uploading photos to iCloud | Yes | Yes | Yes |
Back up only the data you need
By default, all of your app data is saved to iCloud upon every backup. But do you really need a backup for each app? If not, you can turn off backups for this specific app and furhter reduce iCloud backup size.
Just tap Settings > Apple ID > iCloud> Manage Storage >Backup, select your device and disable backup for unnecessary applications.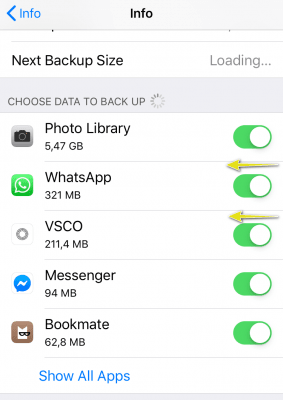 Note: All your devices with the same Apple ID are sharing the same storage space. For example, if you have iPhone and iPad which are linked to the same iCloud account, your 5Gb of free iCloud storage will be shared between the two. If your Apple ID is linked to several devices, don't forget to organize your iCloud storage for other gadgets as well.
There was a problem enabling iCloud backup
Unlike iCloud, CopyTrans Shelbee can back up iPhone wherever you want on your PC and you won't have to worry about storage limitations. Just choose any location with plenty of free space.
How to back up iPhone without iCloud: YouTube video guide
Step-by-step text guide:
Download CopyTrans Shelbee from the following page: Download CopyTrans Shelbee

Run CopyTrans Shelbee and plug in the iPhone. Click on "Backup".

NOTE: CopyTrans Shelbee is a dedicated iOS backup utility. It will never ask you to "erase and sync" when least expected as iTunes would.

Select "Full backup".

Now it's time to choose a convenient backup location. Neither iTunes nor iCloud will give you a choice. To select the backup location, click on the green pencil symbol on the right.

TIP: Be sure to select a drive with enough free space. iOS backups often take up several GBs. You can also uncheck the "Save the apps" checkbox because the apps take quite a lot of space. Also, make sure that you have a strong internet connection for a faster back up.

You can encrypt your backup: your iPhone needs it to save Wi-Fi passwords and other sensitive data. You can skip this step if you wish.

Also, you can choose to save the apps: you will then be asked to sign in to Apple Store. You can also skip this one 🙂

NOTE: Unlike iTunes, CopyTrans Shelbee will never overwrite your previous iPhone backup without permission.

The iPhone backup begins. CopyTrans Shelbee will perform a full backup of iOS settings, messages, contacts, apps, app documents, calendars, photos and videos from Camera Roll. Wait for the backup to finish. Learn more about what CopyTrans Shelbee backup includes.

Once the backup is finished, click "Done".

The backup made is saved to the folder of your choice.
You can use CopyTrans Shelbee to restore from the backup at any time.
iCloud backup greyed out
"I want to back up to iCloud. I go to Settings > Apple ID> iCloud >iCloud Backup, but "iCloud Backup" is greyed out! What should I do?"
The quickest alternative solution would be to back up using iTunes or other apps like CopyTrans Shelbee.
This will buy you some time while you are trying to fix the main problem and ensure the safety of your data. It is highly recommended to use both online and offline backup methods, as they complement each other.
While many users have faced this "greyed out issue" after an update, there is still no word from Apple confirming that the update is actually the cause. If it is, Apple will probably try to fix it soon. If it isn't, there are a couple of other things that might cause the issue:
Apple servers (or part of them) are down;
iPhone is not connected to Wi-Fi;
iPhone has a configuration profile installed;
You are accessing your iCloud backup over a restricted network, such as a company network.
Try these steps to make sure you've done everything:

Restart your iPhone

We have a guide on how to restart your iPhone.

Make sure you've turned off airplane mode

This is a rookie mistake, but it never hurts to check. See if the airplane mode is on in the iPhone settings.

You can also disable it from the Control Center. To do so, on iPhone X or later with iOS 12 or later, swipe down from the upper-right corner of the screen. On other devices, swipe up from the bottom of the screen. Then tap the airplane icon.

Log in to your iCloud account again

In some cases, logging in again fixes iCloud connectivity issues. Tap Settings > Apple ID > Sign Out. Then tap "Sign in to iPhone" in the Settings and follow the instructions.

Check if iCloud has enough free space

To check how much iCloud space you have, go to Settings > Apple ID > iCloud.

Try to back up later

Just check on the issue a bit later to see if that was a server problem.

Delete your configuration profile on iPhone

Configuration profiles are commonly used on devices provided to company employees. You may be asked to install a configuration profile that was emailed to you or downloaded from a web page. Such profiles can cause Wi-Fi and configuration issues.

You can check the installed profiles in Settings > General > Profiles. You can also delete the profile there.

Turn off content and privacy restrictions

Go to Settings > Screen Time > Content and Privacy Restrictions. Then disable "Content and Privacy Restrictions".

Reset network settings

Resetting network settings resolves network-related issues such as being unable to connect to Wi-Fi. Tap Settings > General > Reset > Reset network settings.

Reset settings

Another way to fix iCloud backup failure is to reset iPhone settings altogether. The system settings (Wi-Fi network password, etc.) will be deleted, but the files on the iPhone (application data, etc.) will stay untouched.

Go to Settings > General > Reset > Reset All Settings. Back up to iCloud after the iPhone restarts.

Turn on iCloud backup via iTunes

Connect your iPhone to PC and launch iTunes, then click on the iPhone icon and select iCloud. After that, disconect your iPhone from PC and make an iCloud backup as usual.

Update iOS to the latest version

Sometimes the problem is caused by an old iOS version. To update your iOS, go to Settings on your iPhone, tap on General > Software Update > Download and install. If you see the message "Your software is up to date", you have the latest version.
iTunes backup session failed
You're trying to back up your iPhone to Windows PC, but whatever you do, it tells you the backup session failed? Well, most issues that cause iTunes backup errors occur either on the side of your iPhone or your PC. Follow our troubleshooting steps to resolve the issue:
Before backing up, restart your iPhone and reboot your computer;
Temporarily disable your antivirus;
If it still fails, reinstall iTunes. You can delete iTunes using the Windows control panel, then download a new version from Apple.com.Your media library won't be affected.
Instead of backing up with iTunes see how to back up iPhone without iTunes or iCloud.
Conclusion
This is how to effectively manage your iCloud storage in case iCloud backup failed and back up iPhone without iCloud or iTunes. If you have any related questions, leave them in the comment section below.