Diamonds may be a girl's best friend, but WhatsApp is where she stores her friendly chats. Gender questions aside, messengers are an important part of our lives, and no one wants to part from their message history. Life is unpredictable, though, and if you are here it means that you are looking for ways to recover deleted WhatsApp messages. You might have lost them because:
You reverted back to factory settings, thus losing all the data
You bought a new iPhone and deleted WhatsApp from your older device
You accidentally pressed "Clear all chats" in WhatsApp settings
Your iPhone was lost or broken
In principle, recovering your deleted WhatsApp messages is like pulling a rabbit out of a hat: there are programs that might do the trick, but the rabbit must already be in the hat, or the magic won't work. What I want to say is, you need backup files on your PC or cloud services to restore your deleted WhatsApp messages. But even if you are not sure where your backups are, not to worry! We will offer a solution.
So, this guide takes you through all ways to restore your WhatsApp chat available to iPhone users:
Find and extract your WhatsApp messages
If you are not sure whether you made any backups at all or don't remember what services you used and where you put the files – please follow our lead. We have a program named CopyTrans Backup Extractor that will help you find all available backups on your PC and restore the contents (even if you don't have the device anymore). CopyTrans Backup extractor can also help if your backup is corrupt and cannot be read by iTunes. For other possible actions to take if your iPhone backup is corrupt, please see our guide.
Using CopyTrans Backup Extractor goes in 6 simple steps:
To get started with CopyTrans Backup Extractor, download it on your PC:

Download CopyTrans Backup Extractor

For installation instructions, follow the installation guide.

Launch the program and wait for the backup hunt to be complete. It will take a few seconds. You will then see the list of all the backups available, including iTunes backups. If you would like to see your iCloud backups as well, see how to search for iCloud backups with CopyTrans Shelbee.

Select the required backup. If the backup is encrypted, enter the backup password. Sometimes iTunes encrypts the backup automatically with iPhone backup password: in this case, try to remember which combinations you were likely to use to encrypt your device. Read this article by Apple to learn more about iOS backup password.

Select WhatsApp messages from the list of components, then click on "Next" and select the folder. Your message will be extracted there in pdf extension.

Wait for the extraction process to finish. The speed of extraction depends on the number of messages and may take up to a few minutes.

Voila! Your messages are extracted and are waiting for you in the folder you chose.
Recover deleted WhatsApp messages from iTunes backup
If you are used to backup your iPhone regularly using iTunes, then you have an option to restore from iTunes. To do so,
Launch iTunes on your computer.
Connect your iPhone to your PC and wait for iTunes to recognize the device.
In the top-left corner of the app, choose File → Devices → Restore from Backup.

You will see a menu, containing all the backups available with date. Choose the backup you need and press "Restore".
Watch out: using this method will overwrite other types of data on your iPhone: contacts, calendars, notes, settings and messages of different type, throwing you back to the point of last backup. If you want to be able to restore WhatsApp messages only, use one of the other two methods.
Also, sometimes it happens that iTunes cannot read the backup, showing the following message:

It happens because iTunes does not validate backup upon creation. If you have encountered this problem, read this guide on how to deal with corrupt iPhone backup.
Extract WhatsApp messages from iCloud to PC
Good news – CopyTrans Backup Extractor will now allow you to search for backups both on your PC and in iCloud. Here is how to discover your iCloud backups:
If you haven't done so already, download and install CopyTrans Backup Extractor:

Download CopyTrans Backup Extractor

Install and run the program. If you need help, refer to the installation guide.

On the welcome screen, choose "Log in to iCloud for more backups".

Enter your Apple ID and password.

If you have 2-factor authentication enabled, you will also need to insert a verification code sent to your device.

There you are! after a short search CopyTrans Backup Extractor will display all your backups, both on PC and in iCloud. iCloud backups are marked with a cloud icon, while PC backups have a folder icon next to them. You can now extract files from backup to PC, following the standard steps.
Recover deleted WhatsApp messages from iCloud backup
This method is very effective if you need to move WhatsApp from an older to a newer iPhone, or if you have accidentally deleted the messages, but have a recent backup with iCloud. If you no longer have the iPhone with messages and the latest backup was made too long ago, we recommend choosing one of the two methods above.
To check when the last iCloud backup was made, take your iPhone, launch WhatsApp → Settings → Chats → Chat Backup. You will see the date of the latest backup on the screen.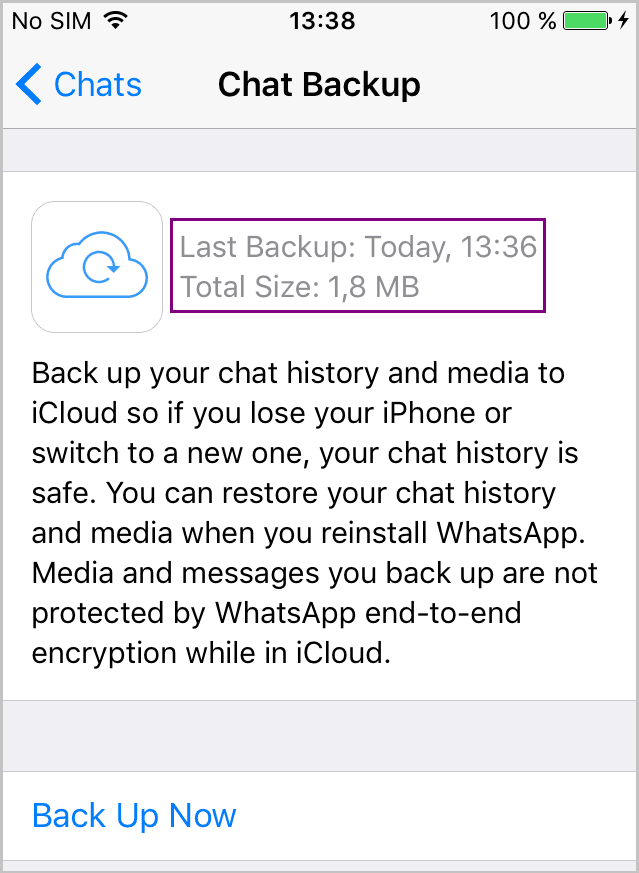 And so the restoration begins:
After making sure you have recently made a backup with iCloud (see above), delete WhatsApp from your device.

Sign into your iCloud account with your Apple ID ("Settings" → "Sign in to your iPhone" iOS 10 and above, Settings → iCloud for less recent iOS versions).

Install WhatsApp again launch it. Tap "Agree & Continue" to accept the terms of service and enter your phone number (it must be the same as before: you can't restore chat history from a different number). Enter the validating code. You will then be offered to restore your messages from iCloud. This is a one-time offer! Press "Restore Chat History".

Your messages have been restored!
If you would like to transfer more than just WhatsApp messages – for example, settings, photos and apps – we recommend the program called CopyTrans Shelbee, which can make a full or custom restore to devices.

Ways to recover deleted WhatsApp messages: summary table
These are the basic ways that you can restore deleted or lost WhatsApp messages if you have an iPhone. Use the first way if you are not sure when you last made your backup or whether you have it at all. Use iTunes or iCloud methods if you are used to backing up regularly and are sure of when you made the backup.
Functions
CopyTrans Backup Extractor
iTunes
iCloud
Read corrupt iPhone backups
Restore backup to computer without the iPhone
Restore WhatsApp messages to your iPhone
Possible with
CopyTrans Shelbee
iOS custom restore (restore individual components without overwriting settings, calendars, notes, etc.)
Restore WhatsApp messages from iCloud backup
Thank you for reading our guide! Now that you know better, do not forget to back up your iPhone regularly.