Diamonds may be a girl's best friend, but WhatsApp is where she stores her friendly chats. Gender matters aside, messengers are an important part of our lives, and no one wants to part from their message history. Life is unpredictable though, and if you are here, it means that you are looking for how to restore WhatsApp messages to iPhone.
To recover deleted WhatsApp messages, you do need a backup from iTunes or iCloud. If you don't know how to search for backups, let us help. Unfortunately, you can face some problems when recovering deleted WhatsApp messages. For example:
❓ Are deleted WhatsApp messages gone forever?
❓ Why WhatsApp Cannot restore chat history?
❓ How can I recover deleted WhatsApp messages without app?
❌ WhatsApp Does Not Restore Photos from Backup
But please, don't worry! We have a great solution for you, in fact, 4 options. Just find a best way to restore WhatsApp chats after deletion:
---
Recover WhatsApp deleted messages
Summary table
These are the basic ways that you can restore deleted or lost WhatsApp messages if you have an iPhone.
CopyTrans Shelbee if you have a backup and you are ready to restore on your iPhone
CopyTras Backup Extractor if you are not sure when you last made your backup or whether you have it at all.
Use iTunes or iCloud methods if you are used to backing up regularly and are sure of when you made the backup.
---
Recover deleted WhatsApp messages iPhone
If you've found an iTunes backup on your PC, you're in luck: you can now restore it to another iPhone.
❗ Can I get back deleted messages on WhatsApp without restoring the rest of the data? – YES, you can, using CopyTrans Shelbee.
With CopyTrans Shelbee you can:
✔️ restore data from an iTunes backup;
✔️ restore selected data (only WhatsApp messages or photos, etc.);
✔️ restore from an encrypted backup.
Also:
✔️ restore apps to any iOS device with ease even if they have been removed from the App Store after ***;
✔️ back up your iPhone;
***provided you made a backup with CopyTrans Shelbee v2.1 and above before they were removed from the App Store.
Here is how to restore WhatsApp chat:
Download CopyTrans Shelbee, open it and connect your iPhone. Click on Custom restore.

Try CopyTrans Shelbee for free

➕ You can select Full Restore if you want to restore all of your data, not just Photos. In this case, skip Step 5 later.

Click on the green pencil icon to select which backup you want to restore your data from.

After you've chosen the right backup file, click Next.

Wait until the loading process finishes.

The next screen shows all types of data available for restore. Select WhatsApp, then click Next.

➕ You can select more components if you want to, so don't be shy!

NOTE

While restoring, CopyTrans Shelbee may ask you to enter the iOS backup password to decrypt the data in the backup. What is an iOS backup password?

Please note that the data you selected will be overwritten. So, if you want to restore contacts, the device contacts will be replaced with the ones from the backup. Click Next.

CopyTrans Shelbee will ask you to choose where you want to save the backup of your device in case something goes wrong during Custom restore. Select the destination and click Start.

Wait until the restore process finishes.

That's it! Your device will now restart.
Please note that you can back up your iPhone with CopyTrans Shelbee.
Advantages of CopyTrans Shelbee backup:
✔️ Can do full or incremental backup;
✔️ Allows to choose the folder to save backup;
✔️ Validates backup made;
✔️ Compatible with iTunes backup;
✔️ Supports encrypted iPhone backup;
✔️ Can restore full iPhone backup or just some selected data.
Try CopyTrans Shelbee for free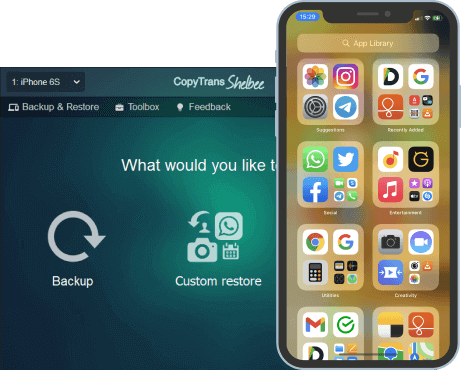 ---
WhatsApp delete message
How to restore WhatsApp messages on PC automatically
If you are not sure whether you made any backups at all or don't remember what services you used and where you put the files – please follow our lead. We have a program named CopyTrans Backup Extractor.
CopyTrans Backup Extractor can:
✔️ Find iPhone backups made with iTunes OR iCloud;
✔️ Recover deleted WhatsApp messages to PC in a readable format;
✔️ Save attachments from a conversation.
CopyTrans Backup extractor can also help if your backup is corrupt and cannot be read by iTunes. For other actions to take if your iPhone backup is corrupt, please see our guide.
So, here is how to perform WhatsApp restore to PC:
To get started with CopyTrans Backup Extractor, download it on your PC:

Download CopyTrans Backup Extractor

For installation instructions, follow the installation guide.

Run the program and log in to iCloud if you want to find more backups. Once ready, click Find Backups.


Wait for the backup hunt to be complete. You will see a list of all available backups: choose the one that contains your WhatsApp messages.

If you are restoring from iTunes backup, you may be asked for a backup password. What password?

☁️ iCloud backups will be marked with a cloud icon and they are never password-protected.

Select WhatsApp messages from the list of components, then click Next and select the folder. Your message will be extracted there in pdf extension.

Wait while all your messages are being unloaded to your PC.

Done! Your messages are waiting in the chosen folder on your PC.
---
How to see deleted WhatsApp messages in a folder
Once your WhatsApp messages were extracted to computer, you will see a success screen.
Here, choose Go to folder to open the directory with the restored messages.

You will see a folder with .PDF documents in it. Double-click on the file to view the contents of the chat.

➕ Attachments from the conversation will be saved in a folder under the same name.

Here is how to view deleted WhatsApp messages in a folder.
---
Restore WhatsApp chat
with iTunes
If you backup your iPhone regularly using iTunes, then you have an option to restore from iTunes.
⚠️ Please be warned: restoring iPhone with iTunes will rewrite all the data on your device. If you just want your messages as a text file on your computer, better use CopyTrans Backup Extractor. ⚠️
Otherwise, here is how to restore deleted WhatsApp chat through full iTunes restore:
Launch iTunes on your computer.
Connect your iPhone to your PC and wait for iTunes to recognize the device.
In the top-left corner of the app, choose File → Devices → Restore from Backup.

You will see a menu, containing all the backups available with date. Choose the backup you need and press Restore.
If your backup is encrypted, you will be prompted for a password. Here is an article from Apple about encrypted backups.
Also, sometimes it happens that iTunes cannot read the backup, showing the following message:

It happens because iTunes does not validate backup upon creation. If you have encountered this problem, read this guide on how to deal with corrupt iPhone backup.
---
Retrieve deleted WhatsApp messages
with iCloud
This method is very effective if you need to move WhatsApp from an older to a newer iPhone, or if you have accidentally deleted the messages, but have a recent backup with iCloud.
⚠️ Please be warned: restoring iPhone from iCloud will rewrite all the data on your device. If you just want your messages as a text file on your computer, better use CopyTrans Backup Extractor. ⚠️
To check when the last iCloud backup was made, take your iPhone, launch WhatsApp → Settings → Chats → Chat Backup. You will see the date of the latest backup on the screen.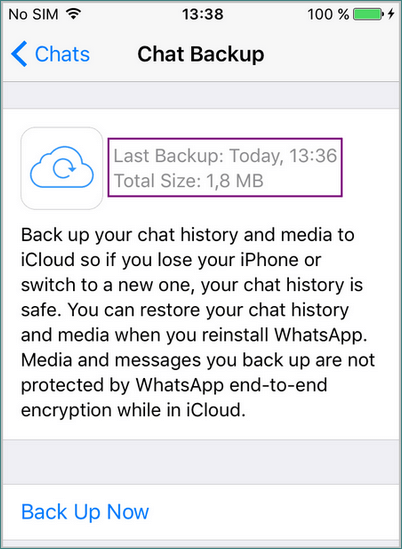 If you don't mind erasing some iPhone data, here is how to get deleted messages from WhatsApp using iCloud:
After making sure you have recently made a backup with iCloud (see above), delete WhatsApp from your device.

Sign into your iCloud account with your Apple ID ("Settings" → "Sign in to your iPhone" iOS 10 and above, Settings → iCloud for less recent iOS versions).

Install WhatsApp again and launch it. Tap "Agree & Continue" to accept the terms of service and enter your phone number (it must be the same as before: you can't restore chat history from a different number). Enter the validation code. You will then be offered to restore your messages from iCloud. This is a one-time offer! Press "Restore Chat History".

Your messages have been restored!
If you would like to transfer more than just WhatsApp messages – for example, settings, photos and apps – we recommend the program called CopyTrans Shelbee, which can make a full or custom restore to devices.
Thank you for reading our guide! Now you know how to recover WhatsApp messages to PC in all possible ways.
Do not forget to back up your iPhone regularly and you'll be fine no matter what!
---
Conclusion
We know that lose all data from your WhatsApp is a disaster! There could be a lot of important information. And then you are struggled with a question: How to recover deleted WhatsApp chats on my iPhone or PC? Don't worry, that is not a problem, when you use CopyTrans Shelbee or CopyTras Backup Extractor! Just a few clicks and your WhatsApp will be recovered on your device or PC.
Download CopyTrans Shelbee