This article explains how to transfer iPhone calendar events to iPad or another iOS device using CopyTrans Contacts.
How to sync iPad and iPhone Calendars
We will show you how to transfer Apple Calendars from one iOS device to another in two steps.
1. Firstly, you'll need to save calendars to your PC as an .ics file.
2. Then we'll import calendars from the PC to the second device.
It's super easy, you'll see!
Ok, the first stage. If you haven't downloaded CopyTrans Contacts yet, navigate to the following page:



Why is CopyTrans Contacts exactly what you need?

🪐 With it, you can export iPhone, Google, Outlook and iCloud calendars to the PC;
🪐 Manage iPhone and cloud calendars on the PC;
🪐 Transfer separate events or whole calendars from one cloud service to another (iPhone, Google, and Outlook);
🪐 Edit, add and remove all types of events.

Install the program. If you need help installing CopyTrans Contacts, please refer to this Installation guide.

Run CopyTrans Contacts and connect the first device to the PC. From the main CopyTrans Contacts window, click the Calendar icon on the left-hand side pane. Your Apple Calendar events will appear in the main program window. NOTE: If you don't see some or all of your calendars in the program window, please refer to this article: Why is my iPhone calendar not shown in CopyTrans Contacts.
From the list of your Apple Calendars, select the calendar you want to transfer to your other device and click on the Export selected button. If you need to transfer more than one Apple calendar, you can also select and export all of your calendars by clicking on All calendars. Finally, select the location on your computer where to save your calendars and click OK.
Your Apple calendars will be exported in the form of *.ics files to your PC.
Sync calendars on iPhone
And now to the second stage. Disconnect the first device from your PC and connect the second one. From the main CopyTrans Contacts window, click on the Import calendars and navigate to the location where you previously saved your iPhone calendar. Click OK.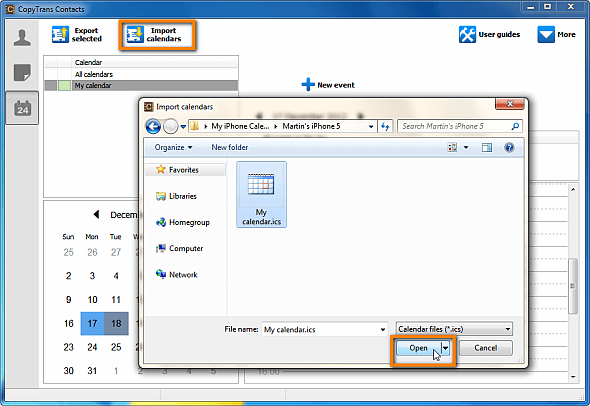 Your Apple calendars are now being imported to the device of your choice!
---
Using CopyTrans Contacts, you can:
🌝 Look through all your SMS, WhatsApp, Viber and Line chats on PC;
🌝 Export messages to computer in PDF, DOC, etc.;
🌝 Save photos and attachments in a separate folder;
🌝 Manage your contacts, notes, and calendars.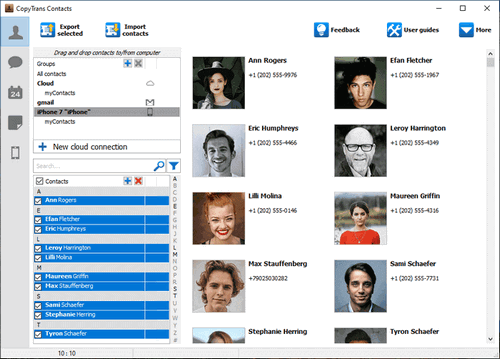 ---