If you need to transfer your Google Calendar on iPhone, but:
✘ Google Calendar not syncing with iPhone;
✘ Google Calendar not showing on iPhone;
✘ Google Calendar is displayed incorrectly on iPhone;
✘ Google Calendar is missing some events after the sync;
… we are ready to lend you a hand! We know a way to get your Google Calendar events onto your Apple device without the native sync feature, which helps work around these issues.
Let us guide you through the process of adding a Gmail Calendar on iPhone and fixing other small calendar-related issues:
---
Sync Google Calendar with iPhone
1. Firstly, we will export Google Calendar from the Google account to your PC as .ics files.
2. After that, we'll import Google Calendar to iPhone using CopyTrans Contacts. With it, you will be able to manually add calendars of your choice to the list of your Apple calendars.
Google Calendar import ics
Here's how to save your Google calendar to the PC to complete Step 1:
Log in to your Google account and navigate to Google Calendar.

Click on the cogwheel at the top-right corner and go to Settings.

Navigate to Import and Export and choose Export.

Download your calendars by clicking Export.

Now navigate to the location on your PC where you want your Google Calendar events exported. The events will be saved to a .zip file.

Right-click on the .zip file and choose to extract the calendar to a folder of the same name. You'll find your calendars in .ics format inside this folder.
---
How to add Google Calendar to iPhone
Halfway there! To add Google Calendar to iCal, import Google Calendar events you have just saved on your PC to your iPhone via CopyTrans Contacts. We suggest you use an app of our invention because it allows its users to manage their iPhone calendars from the PC and, what is more important for us now, manually sync Google Calendar with Apple Calendar.
Why is CopyTrans Contacts exactly what you need?
🌖 It can manage your iPhone and cloud calendars;
🌖 Export SMS, WhatsApp, and Viber messages to computer;
🌖 Save attachments in a separate folder;
🌖 Transfer contacts from one iPhone to another;
🌖 Transfer iPhone notes to your computer.
Install the program. If you need help installing CopyTrans Contacts, please refer to this Installation Guide.
Run CopyTrans Contacts and connect your iPhone to the PC. You will see a loading icon: the program is retrieving all your contacts, messages, calendars, and notes. Wait until the loading is finished, only then proceed with the steps.

➕ If your iPhone is encrypted, you may be asked for an iPhone backup password. What password?

Click on the Calendar icon on the panel on the left. If you have already set up calendar events on your iPhone, they will now be displayed within the main program window.

Now, click on the Import calendars button and navigate to the location where you saved your Google calendars. Then click Open.

Select a calendar to import.


Your Gmail Calendar events will now be imported to your iPhone. And done!

Using CopyTrans Contacts, you can:
🖖 Look through all your SMS, WhatsApp, Viber, and Line chats on PC;
🖖 Export messages to computer in PDF, DOC, etc.;
🖖 Save photos and attachments in a separate folder;
🖖 Manage your contacts, notes, and calendars.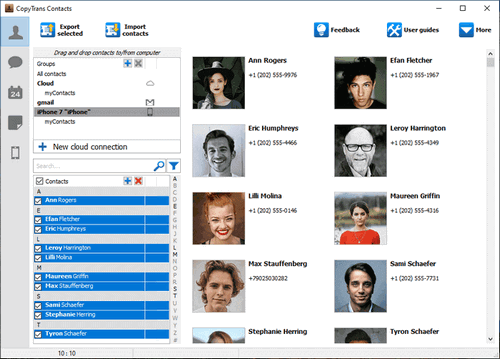 ---
How to sync Google Calendar with iPhone
If you prefer to use native Apple solutions, here's a step-by-step instruction:
Go to Settings > Calendar > Accounts > Add account.

Choose Google from the list, click Continue and enter your Google account credentials.

Choose what types of data you want to transfer from your Google account to your iPhone (in my case, it's only calendars) and click Save. Your Gmail Calendar is now associated with your iCal.


If this method is not working for you and Google Calendar not syncing with iPhone, please refer to the first part of this tutorial.
---
How to make Google Calendar default on iPhone
If you want to make a Gmail Calendar your main iPhone calendar, please follow the steps below:
Go to Settings > Calendar > Default Calendar and tick the Google Calendar on the list. Yes, that easy!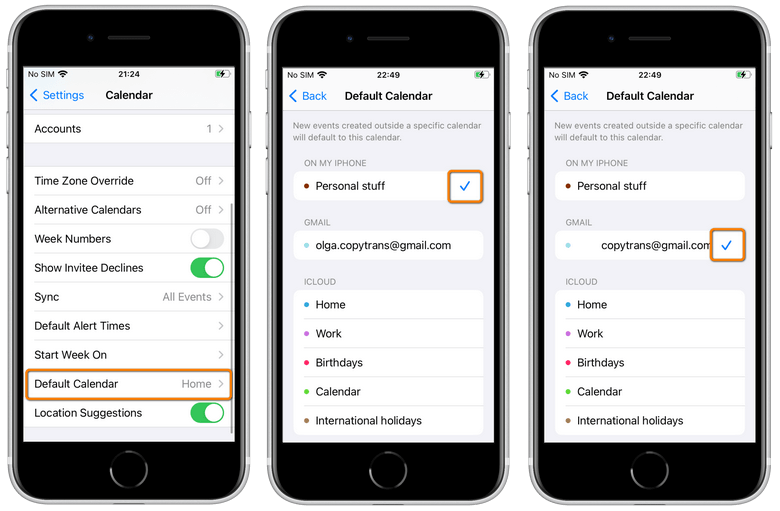 ---
Google Calendar notifications not working
Your Gmail Calendar is synced to your iPhone, and you have Google Calendar notifications set up, but they never seem to work. What happens is Apple Calendar notifications override the ones set by a Gmail Calendar. You'll have to turn off alerts on the Apple side. Doing so will allow Google Calendar alerts to be sent normally:
Open the Apple Calendar app.
Tap on Calendars at the bottom of the screen. You'll see a list of your calendars from different sources.

Tap on the Info sign next to the calendars from the On my iPhone list. Flip the Event Alerts toggle off for all of them. That should solve the issue!

NOTE: If you need to receive alerts before an event, go to Settings > Calendar > Default Alert Times.
---
Conclusion
That's it! We managed to add Gmail Calendar to iPhone without using the native sync feature and avoid issues that come with it! Hope we could help you out! If you have questions, shoot us a comment below.