This tutorial explains how to save documents on iPhone or iPad whether it be Microsoft Office documents (such as Word, Excel, and PowerPoint), .PDF, .TXT, or .EPUB docs. You can then view and edit saved documents on iPhone or transfer them to another PC. Forget about emailing the documents to yourself, we've got a better idea!
Meet CopyTrans Filey — a totally FREE app for saving word documents on iPad and iPhone.
How to save documents on iPhone
CopyTrans Filey allows you to transfer documents into different apps installed on your Apple device. After that, you will be able to view saved documents on iPhone.
On your iOS device, install any document app for iPhone or iPad that supports Word, Excel, and PowerPoint file sharing. There are many such apps, you can even use the native Pages app. I use Documents by Readdle (free) for this purpose because it supports and lets me view a lot of formats.
Next, get the free CopyTrans Filey on the PC:
Download CopyTrans Filey

Install the program. If you need help installing CopyTrans Filey, please refer to the installation guide.

Start CopyTrans Filey and connect your iDevice to the computer. You'll see all your apps that can accept documents listed in the lower section of the app.
Select a document reader app. In this case, I've selected the Documents app.
On your PC, open a new Explorer window and find a folder with your documents. Select all the documents you wish to transfer, then drag and drop them to the middle of the CopyTrans Filey window. Stand by until the transfer is complete. TIP: You can also switch between the apps at the top of the window, in the drag-and-drop section.
The selected Office documents are now readily accessible on the iPhone or iPad from within the document reader app.


✓ How to edit documents on iPhone: You can also edit Word, Excel, and PowerPoint documents saved on your iPad or iPhone. Simply double-click on the respective document in CopyTrans Filey, and it will get opened by a corresponding Office program installed on the PC. All changes made to the document will be saved.
✓ How to save Word documents on iPad: The process is absolutely the same! CopyTrans Filey supports all iPad, iPhone, and iPod Touch models running iOS 10 or above.
Now you can easily turn your iPhone into a USB drive and transfer files of any type between computers.
Opening Word documents on iPhone
Now that we've transferred Word, Excel, PowerPoint, or any other documents to the device, how to view them? I've used Documents by Readdle to save documents on iPhone, and I'll use it as an example again because of its versatility.
Where to find documents on iPhone: Navigate to the Documents app > iTunes Files > you'll see docs you've just copied to the device.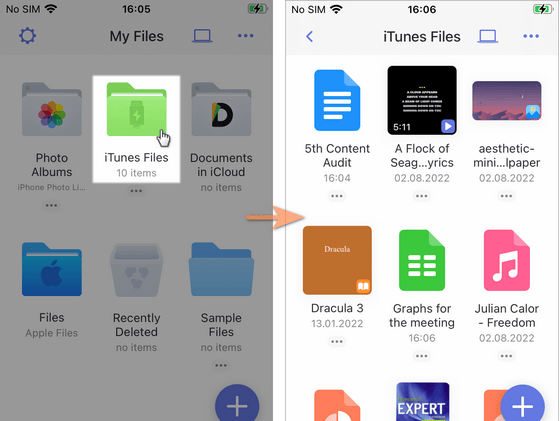 The app supports .doc, .docx, .xls, .xlsx, .ppt, .pptx, .txt, .rtf, .pdf and many more formats, so you will be able to open and view your Word doc, Excel sheet, or PowerPoint presentation without troubles.