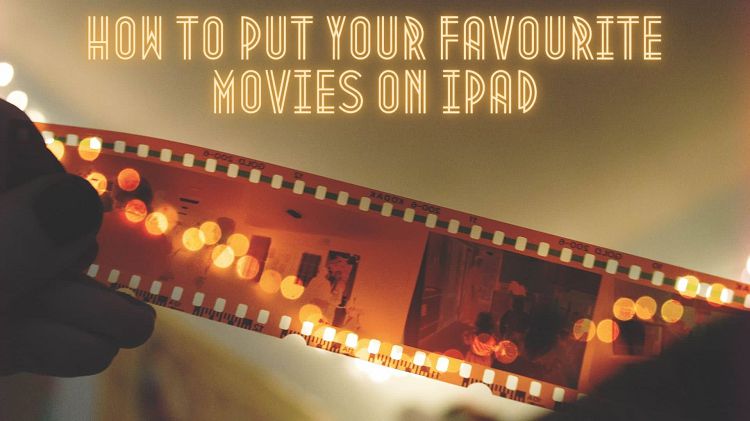 Have you ever dreamed of putting movies on an iPad in a fast and reliable way? Well, no more struggling with formats which iTunes doesn't favor or wasting time when syncing your device. Make your dream come true with our guide on how to transfer your favourite videos to iPad.
iPad is the perfect tool designed to provide its owners with truly stunning experience of playing high-quality videos. This article describes 4 ways of putting movies on iPad without iTunes. Ladies and gentlemen, enjoy the show!

How to put movies on iPad using CopyTrans Filey

A lot of people find saving movies to iPad quite a handicap when using iTunes. We came up with an easy-breezy alternative: check out our guide on how to transfer movies to iPad without iTunes using CopyTrans Filey – our latest program to move files between PC and any iOS device.
First, get the right video player app for your iPad. We use VLC for iOS (free).

NOTE: There are many other free and paid apps which can do the job, e.g. PlayerXtreme.

Download CopyTrans Filey:
Download CopyTrans Filey
Run CopyTrans Filey and connect your iPad. The iPad apps will appear in the lower-left corner of the screen. Click on the VLC app icon.

On your PC, open a new Explorer window and navigate to the location where you have your movies.

Select the movies you wish to put on iPad and drag and drop them to the middle of CopyTrans Filey window. Stand by until the transfer is complete.

NOTE: With CopyTrans Filey, you can add movies to any iOS player: just choose the right app at the top of the screen (in the drag-and-drop zone).

Once the transfer is complete, run VLC on your device: your favourite movies have been added to iPad.

NOTE: We made a little test, and CopyTrans Filey was somewhat faster transferring videos compared to the other methods in the article.
How to transfer movies to iPad using Google Drive
Are you a dedicated fan of Google Drive? Then you can use it to download movies on iPad. The strongest arguments in its favor are, of course, extended free storage space (you start with 15 GB – quite enough for a couple of favourite films) and a possibility for solo or team editing. If you want to take this road, here is how to:
First, you need to get Google Drive app for iOS.
Go to your Google Drive account and upload your videos. You can simply drag and drop the files you need in the middle of My Drive window.

Launch Google Drive app for iOS and find the uploaded video. Open the video, then select More Options by clicking on the three dots icon. Finally, tap on "Send a copy" and choose to save your video to iPad.




Your video has been successfully transferred!
How to put movies on iPad using VLC
VLC app can help you accomplish the goal in case both your PC and iOS device are on the same network. Let's see how to sync movies to iPad using VLC:
Download and install VLC app on both your iOS device and PC.
Open the VLC app for iOS and choose Network at the bottom of the screen.

Enable Sharing via WiFi.

The app will show you the IP address: insert into the address bar of a PC browser.




To transfer movies to iPad, you can either drag and drop them or click on the icon in the top-right corner.

The movies will be automatically saved to VLC.



NOTE: sometimes VLC transfer might go down the drain if an iOS device goes into sleep mode. So, for a smoother operation, make sure the display of your iPad stays on for the whole duration of the transfer. Also, VLC may prove unreliable putting movies on iPad if the files come in great size or quantity.