In this guide, we will try to explain why you can't delete photos from iPhone or any other iOS device like iPad or iPod Touch and provide working solutions.
Before we begin, please choose what applies best to you:
Can't delete photos from iPhone
There are several reasons why you can't delete photos from iPhone. There's 90% chance that it's because you have previously synced your photos with iTunes of any other third-party app. There's a certain limitation, introduced by Apple that doesn't allow you to delete synced albums directly on your phone. Luckily, we have a solution.
If this sounds right, read our guide:
How to delete synced photos from iPhone
I can't delete photos from iPhone with CopyTrans Photo
First of all, make sure that you are not using iCloud Photos. CopyTrans Photo doesn't support deletion of the photos when your iCloud Library is turned on. Here's how to disable iCloud Photo Library on your iPhone or delete photos from iCloud directly.
I can't delete photos from albums with CopyTrans Photo

You can't delete photos from albums when using CopyTrans Photo due to an Apple limitation. Photo albums that you have created right on your iOS device cannot be processed via CopyTrans Photo or removed from the device since Apple doesn't allow the connection to it. The same happens if you use iTunes. Such photos can be deleted only on your iPhone directly.

If there was an error in CopyTrans Photo, follow the steps below:
Make sure that the iPhone is unlocked and you are on the Home Screen.


Connect the iPhone to CopyTrans Photo and hang on for up to 30 seconds.

Now try deleting some Camera Roll photos. Here's a detailed guide on how to delete photos and videos from your iDevice.

If the issue persists, please restart your computer, then open "Computer" or "My Computer" where all the connected PC drives are listed and check whether the iPhone is correctly recognized. The iPhone must not appear as a camera.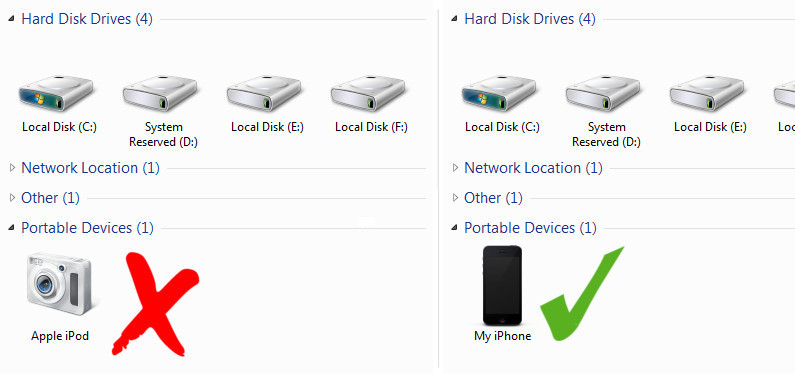 NOTE: If you don't see your iPhone at all, make sure you have at least a single photo in your Camera Roll by taking one with the iPhone. Then reconnect your device to the PC.
If your iPhone appears as a photo camera icon or another drive symbol different from the true iPhone icon seen above, follow this tutorial: My iPhone, iPod touch, iPad is not recognized or detected as a camera.
Once your iPhone or iPad is recognized correctly by the PC, you will be able to delete photos from the Camera Roll.
I can't delete photo albums from iPhone
I'm afraid that due to Apple's limitation, you can only delete albums on the same device they were created. So, if you have created them on your device, they can only be deleted directly on your iPhone.
If you have synced the albums with iTunes or any other third party app like CopyTrans Photo, please refer to a different article on how to delete photos and videos from your iDevice instead.
Hope this helps!