With the Photos app, you can edit your photos, organize them into albums, and delete those you no longer need. However, some users come unstuck when trying to delete pictures. In this guide, we will try to explain why you can't delete photos from iPhone or any other iOS device like iPad or iPod Touch and provide workable solutions to delete photos from iPhone.
---
I can't delete photos from iPhone
There are several reasons why you can't delete photos from iPhone. Here are the three main issues and how to handle them.
1. Why cant I delete photos from Photo Library?
The chances are that the iPhone won't delete photos because you have previously synced your photos with iTunes or added photos to the device with a third-party app. Most likely the photos you can't delete are located in the From My Mac section of the Photos app.
Camera Roll
contains pictures taken with your iPhone, whereas the
From My Mac
section stores photos added from your computer. For more details and useful tips refer to our support article
Camera Roll vs Photo Library
.
When you tap on a photo, you don't see a Recycle bin icon: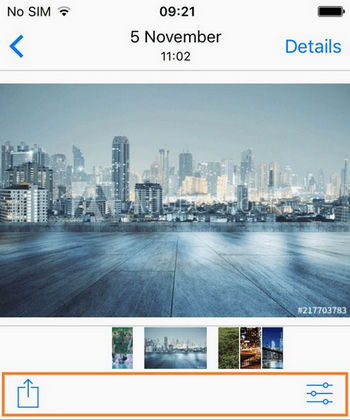 This is a limitation introduced by Apple that doesn't allow you to delete synced albums directly on your phone. Luckily, we have a solution! CopyTrans Photo is an absolute lifesaver — it can delete synced photos from your iPhone in just a few steps.
2. Why when I delete a photo it comes back?
Why do deleted photos reappear on iPhone? iCloud Photos are to blame. If you have deleted some pictures from Camera Roll while iCloud Photos were disabled on the device and then decided to enable it, an exact copy of the current iCloud Photo Library will be uploaded to your device regardless of the changes you have previously made from the iPhone. Pictures you have deleted will come back.
If you need to delete pictures when iCloud Photos is enabled, follow this guide: How to delete photos from iCloud.
If you are sure that iCloud Photo Library is disabled on your device, you have most likely encountered the third issue.
3. Why can't I delete photos when my storage is full?
If your iPhone storage is full, you might find yourself in a pickle: iPhone demands to free up some space, but it can't delete anything because it doesn't have enough space to perform the deletion. Go ahead and try to delete some of your iPhone pics from the PC with CopyTrans Photo. It offers 100 free trial actions so that you can check whether it can help you solve this problem.
For more tips scroll down.
---
How to delete photos from iPhone
CopyTrans Photo has an intuitive interface, gets things done quickly and you can see thumbnails of all the files you're operating at any moment. The process of deleting photos from iPhone is intuitive, but you can always follow our instructions on how to remove photos from iPhone below:
A new way to manage your iPhone photos
CopyTrans Photo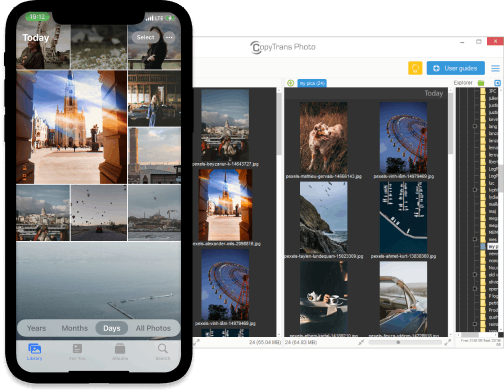 Intuitive interface: drag-and-drop transfer
Support the formats HEIC and ProRAW
Transfer photos and videos between PC and iPhone
Backup all your iPhone photos to PC at once with the Full Backup feature
Save photos without duplicates
Compatible with all iOS devices, including iPhone 14
Download and install CopyTrans Photo:

Connect your device to the PC. Your synced albums will appear on the left side of the interface, under the Photo Library category.

To delete synced photos from your iPhone, simply select them and press the Delete key on your keyboard. You can also delete entire albums.

Once you are done, click on the Apply changes button to delete photos from synced albums.
That's it! Here is how to delete photos from iPhone!
💡 If you still have other questions such as If I delete photos from iPhone, is it deleted from iCloud? or How to remove photos from iCloud?, learn some useful tips in our comprehensive guide: How to delete photos from iPhone.
---
I can't delete photos with CopyTrans Photo
Camera Roll holds photos that users take with their cameras or save from apps, messengers, emails, and websites. Even if you receive an error message when deleting photos, our overview of common problems below will mitigate frustration.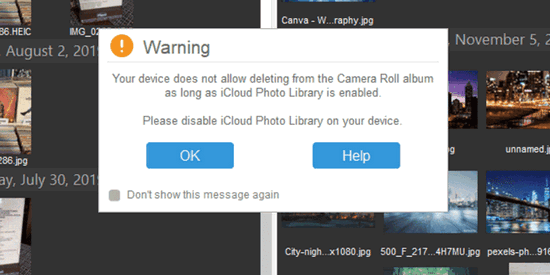 There are 3 common reasons that may prevent you from deleting photos from Camera Roll.
1. iCloud Photos is enabled on your device
To check, go to Settings > your Apple ID > iCloud > Photos. You will see whether iCloud Photos toggle is on (iCloud Photos enabled) or off (iCloud Photos disabled). CopyTrans Photo doesn't support deletion of photos when your iCloud Library is turned on. Here's more on how to disable iCloud Photos on your iPhone.
If you don't want to disable iCloud Photos, you can switch to CopyTrans Cloudly to delete your iCloud photos at once. This app is a multi-purpose tool to mass-delete all the photos from your iCloud Photo Library, upload JPG, PNG, HEIC photos to iCloud, download iCloud photos to your PC and restore permanently deleted iCloud items.
Download CopyTrans Cloudly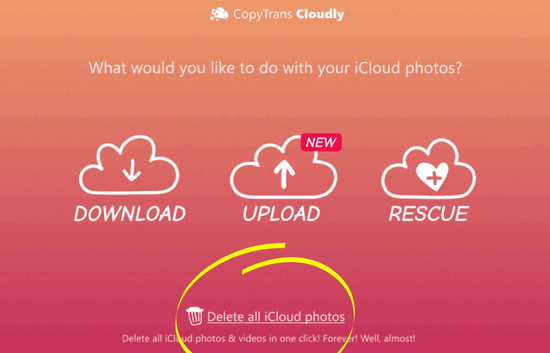 For more details on how to delete photos from iCloud please refer to this article: How to delete photos from iCloud.
2. Your iPhone is not recognized correctly
Open Computer or My Computer where all the connected PC drives are listed and make sure that your iPhone is displayed as a portable device, not a camera.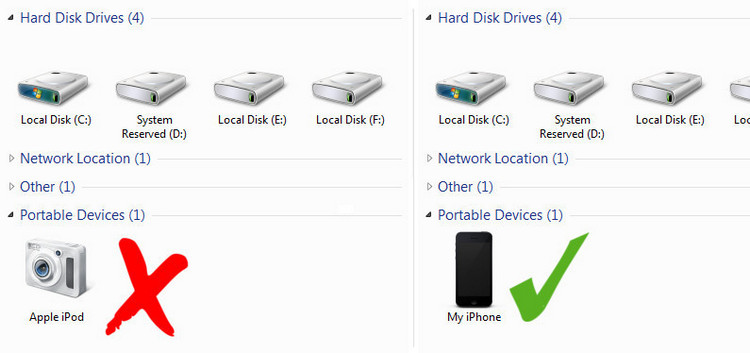 If your iPhone appears as a photo camera icon or another drive symbol different from the true iPhone icon seen above, follow this tutorial: My iPhone, iPod touch, iPad is not recognized or detected as a camera.
3. Your iPhone is not properly connected to your PC
If there was an error in CopyTrans Photo, follow the steps below:
Make sure that the iPhone is unlocked, and you are on the Home Screen.


Connect your iPhone to CopyTrans Photo and hang on for up to 30 seconds.

Now try deleting some Camera Roll photos, the screen should be unlocked.


Click on the Apply changes button to permanently delete multiple photos from Camera Roll.
4. You are trying to delete pictures from native albums
Due to an Apple limitation, albums created from within the iPhone or iPad are read-only in iTunes and CopyTrans Photo. This means that you cannot add or delete photos/videos from albums like Panoramas, Selfies, Screenshots, Live Photos, etc., or delete the albums themselves. These pictures and albums can be deleted only from within the iPhone.

Here is our guide on how to create an editable album and transfer photos to the Recents album.
---
I can't delete photos because my storage is full
Deleting photos also requires free iPhone storage. So, when trying to delete pictures, you might find yourself in a loop of photos reappearing on iPhone. Here are some unconventional tips and tricks on how to free up space on iPhone (click on the links to get detailed instructions).
iPhone storage full can't delete photos:
---
I can't delete recently deleted photos on iPhone
In an attempt to free up some storage on iPhone by deleting photos in the Recently Deleted folder some users come across an iOS bug. No matter how many times you try, those photos won't delete, and that can be confusing and frustrating at the same time.
We suggest that you restart your iPhone and delete Recently Deleted items from the settings. Here is how to delete Recently Deleted photos:
Go to Settings > General.
Select iPhone Storage. You will find the installed apps listed along with the storage consumed.
Tap on Photos.
Tap on Empty next to the Recently Deleted Album.
Wait 5-10 minutes and check again.
Managing your media libraries on your iPhone is essential to keep your device running smoothly and efficiently. By identifying the reasons why you can't delete photos from your iPhone and following the practical solutions we've provided, you can free up storage space and easily manage your media. Take the necessary steps to fix the problem and enjoy a hassle-free experience when managing your photos and videos on your iPhone.