Apple designed the iPhone, iPad, and iPod touch Camera Roll (Recent in iOS 13 and above) to only contain photos and videos you take with the device. The same holds true for default albums such as Favourites, Panoramas, Selfies, Screenshots, and Videos.
This is why it is not possible to add photos or videos from elsewhere directly to Camera Roll or its photo albums.
This article provides an explanation and a couple of solutions for people who want to lose the shackles of Photo Library and its limitations and add photos to iPhone Camera Roll.
---
Camera Roll vs Photo Library
The photos you add to your device from your PC (with iTunes, CopyTrans Photo, etc.) go to a separate folder called Photo Library. Here is the difference between Camera Roll vs. Photo Library as viewed in the CopyTrans Photo interface: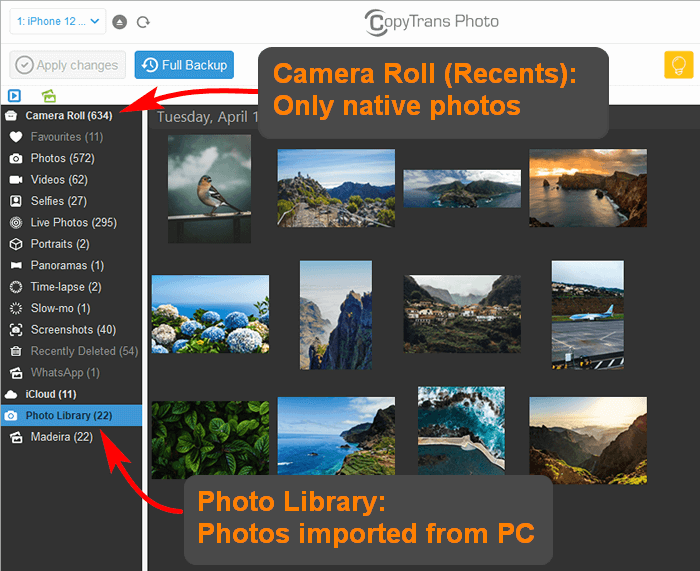 NOTE: On your iPhone, you see photos added to Photo Library in the "From my Mac" section, which is not part of Camera Roll. Also, you can't delete these images, at least from your device: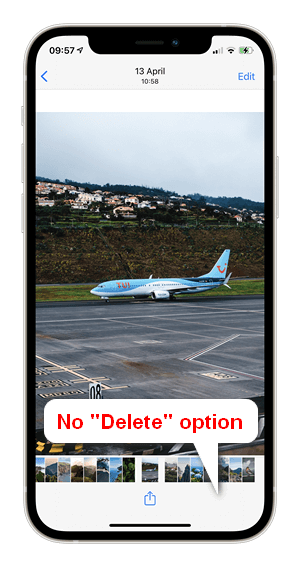 CopyTrans Photo can delete these images just fine.
Also, we know a few tricks that will help you add photos to Camera Roll in the end! Here they are:
---
Copy photos from Photo Library to Camera Roll
If your photos are already in Photo Library, here is a little trick to put them into Camera Roll:
On your iPhone, go to Photos -> Albums -> From My Mac, then select the album with the photos you need to copy to Camera Roll.

In the upper-right corner, press "Select" and choose the photos you need. There is also the option Select All.

Then select the Share option in the lower-left corner of the screen and choose "Duplicate" to add photos to Camera Roll or "Add to album" if you want them as part of a specific collection.

The photos are now part of your Camera Roll.
---
How to add photos to iPhone Camera Roll with Cloudly
There is actually a trick to add photos directly to Camera Roll, but you will need to use iCloud power for that. Here is the idea: if you could upload images from your PC to iCloud and enable iCloud syncing on your device, the photos would migrate straight to your Camera Roll. And we know just the tool to help – CopyTrans Cloudly!
Before you start uploading photos, enable iCloud sync on your device: go to Settings -> your Apple ID -> iCloud -> Photos and set the toggle switch to ON. To prevent data loss in the future, choose "Download and keep originals": this will keep the photos on your device even if you disable iCloud sync later.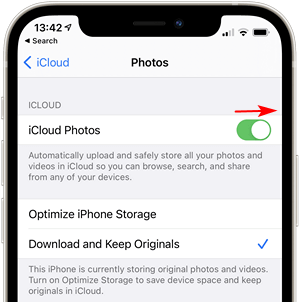 Then, upload the photos:
In CopyTrans Control Center, run CopyTrans Cloudly. If you don't have it installed, download the program here:

If you need help, refer to the installation guide.

Sign in with your Apple ID. We use an SSL connection to protect your data, so you're safe!

On the welcome screen, choose "Upload".

Select the files (HEIC, PNG, and JPEG images and MOV, MP4, and M4V video files) that you want to upload to iCloud. Once you're ready, press "Upload!"

Wait until the program carefully delivers your photos and videos to your iCloud account… There they are.

Your images sit tightly in your iCloud. If your device is synced to iCloud, the images will appear on it as well. Viva la CopyTrans!

---

---
If you plan on using CopyTrans Photo further, we recommend that you switch off iCloud sync after uploading the files. Here's how to disable iCloud Photos on your iPhone.
Now you're good to go! You can add and remove photos from Camera Roll whenever you want.