iPhone Live Photo is a special Apple feature that combines a photo and a video together. Instead of taking a simple picture, you can now have a mini video, which literally captures a moment. You can play the Live Photo, apply filters to it, choose the key photo, add Live Photo effects and much more!
We will cover every detail about the iPhone Live Photos in this guide. Jump to the section you need:
How to take Live Photos on iPhone 6?
In general, Live Photos are available for all iPhone devices starting from iPhone 6s. If you have an older model and want to take a Live Photo on iPhone 6, you can follow the guide from the iPhone hacks that suggests a method involving an iPhone jailbreak.
Alternatively, you can watch this YouTube video below:
Live Photos on iPhone 7 and later iPhones
Live Photo is a default feature in every iPhone starting from iPhone 6S, meaning that you most likely have this option available.
If you are wondering how to take Live Photos on iPhone 7 or later, it's actually pretty easy: just go to Camera and tap on the Live Photo symbol at the top. Now every photo you take is a Live Photo!
How to turn off Live Photos on iPhone
If you no longer wish to take Live Photos, there are 2 ways to turn off Live Photos on iPhone.
Stop taking Live Photos. Go to Camera and tap on the Live Photo icon at the top ribbon to make sure that you will no longer take Live Photos.

Disable animation on the existing Live Photo If you already have made a Live Photo, but no longer wish it to be animated, just click on the Edit when you view the Live Photo in the Camera Roll and disable the Live icon at the top. Don't forget to apply changes by clicking "Done" in the lower right corner.
How to play Live photos on iPhone
To see your Live Photos come alive, just press and hold on it. It's that simple!
Also, Apple made it easy to distinguish your Live Photo among others – it has a special icon in the top left corner when you browse through your library.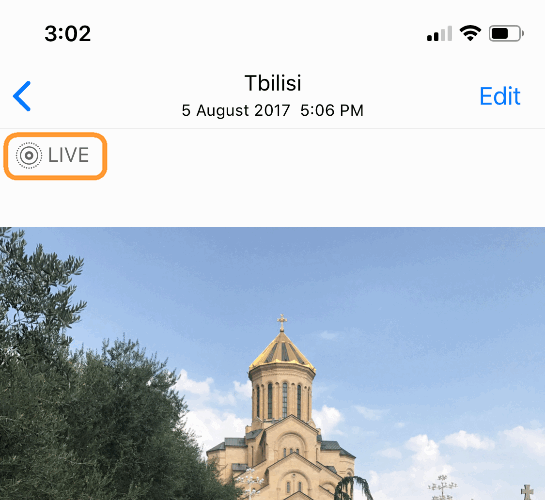 As a bonus, your iPhone or iPad keeps all the Live Photos in the special folder in Photos, which is called – you guessed it – Live Photos. In iOS 12 this folder looks like this: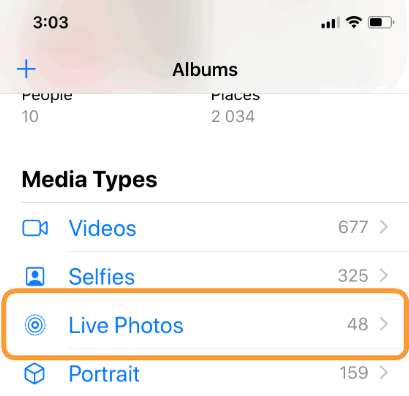 How to edit Live Photo on iPhone
In 2017 Live Photos got all the attention they deserved – iOS 11 offered a new set of tools that allows you to make your Live Photos stand out even more.
Here's what iPhone Live Photo edit can do: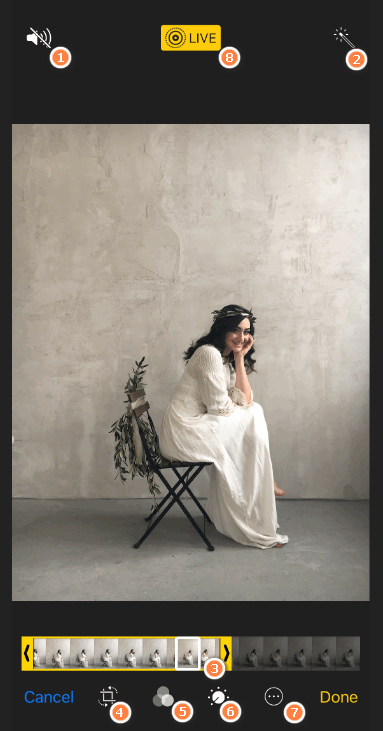 Delete sound
Enhance photo
Trim video portion of the Live Photo
Crop and rotate the image
Apply filters
Play with light, color or turn your photo black & white
Markup your Live Photo
Disable animation to convert Live Photo into a photo
And that's not all! If you swipe up while viewing your Live Photo, you will be able to choose an extra effect: Loop, Bounce or Long Exposure. That's definitely some Instagram-worthy content.
iPhone Live Photo as a wallpaper
What's the point in an animated photo if you can't enjoy it all the time? If you haven't set a Live Photo wallpaper on your iPhone yet, it's high time to do it! Here are 2 ways on how to set an animated wallpaper on your iPhone:
Go to Settings->Wallpaper->Choose a New Wallpaper. Navigate to the Live Photos folder and select the Live picture you want to set. Adjust it accordingly and enjoy!

Or, navigate directly to the Live Photo you want to use as a wallpaper and click on the share button. Next, select "Use as Wallpaper", adjust it and click "Set". That's it!
TIP: To animate a wallpaper, just press and hold your locked screen. Pretty cool, right?

How to transfer Live Photos to a computer
The latest version of CopyTrans Photo can transfer your Live Photos to PC and also copy them from the computer back to iPhone. To do so, install CopyTrans Photo on your computer and connect your iPhone or iPad.
Once your iPhone is plugged in, you'll see all your iPhone photos and videos on the left side of the screen. You will also have the pictures you keep on your computer on the right.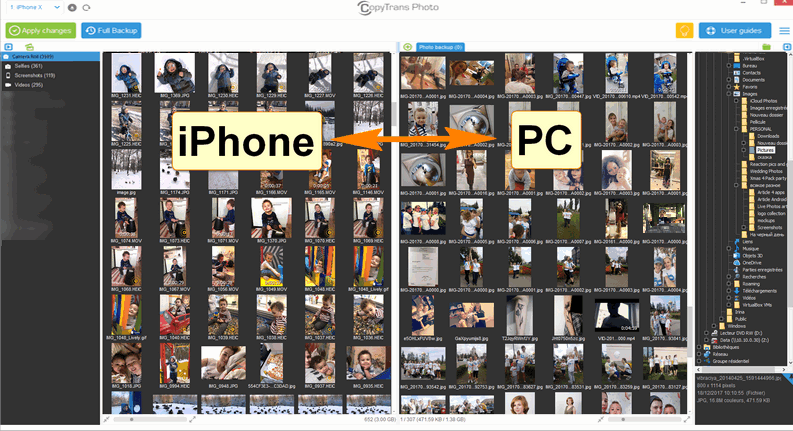 In CopyTrans Photo, Live Photos are marked with a small yellow symbol just like on your iPhone: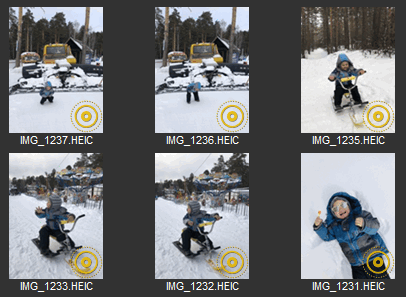 To transfer Live Photos to a computer, just drag them from left to right.
After the transfer, you will have two files for each Live Photo: the photo and the video part.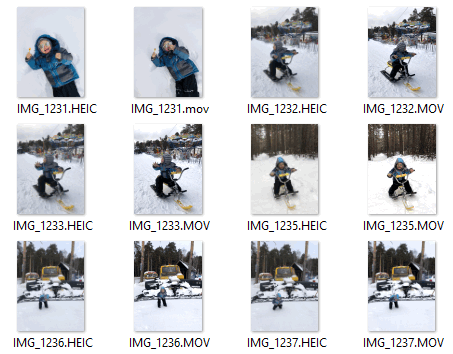 ❕ Important: Did you know that since iOS 11 all iPhones starting from the iPhone 7 take photos in HEIC format instead of JPEG by default? This new format is much better compared to JPEG in terms of file size and image quality – it literally saves your disk space.
Let's check whether your iPhone does that. Go to Settings -> Camera -> Formats: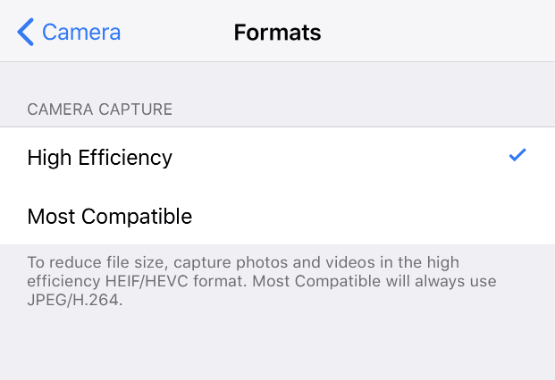 The only downside of this format is the compatibility with Windows PC: the HEIC format is not yet supported by Windows. To preserve the original format, we offer you a free Windows plugin that allows you to read the HEIC files without any third-party application (and even use HEIC photos with Microsoft Office):
Get CopyTrans HEIC for Windows
As for the transfer of your photos, I strongly recommend keeping the HEIC format which occupies 50% less space on the hard disk compared to JPEG.
In any case, you are always free to choose from the CopyTrans Photo settings menu: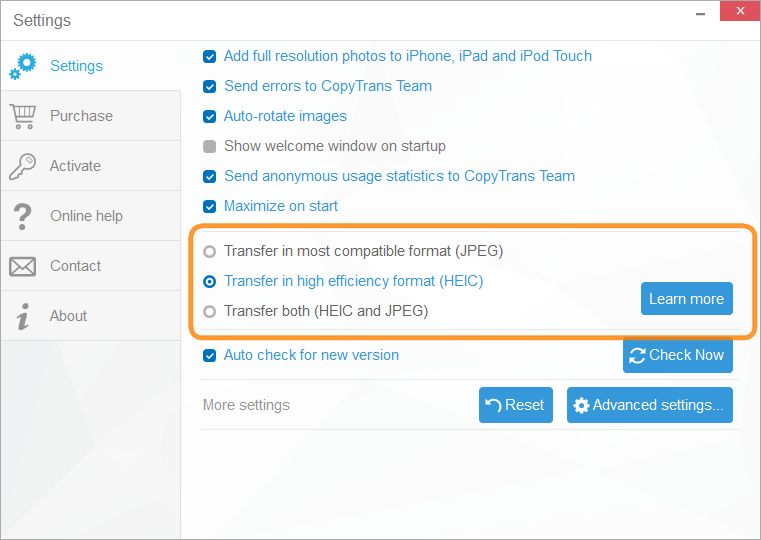 Transfer iOS Live Photos to Android
If you followed the above-mentioned tutorial and saved your Live Photos to a computer, you can easily transfer them to an Android device. Since there is no Live Photo support for Android, you can only import the photo and the video part separately – exactly why CopyTrans Photo is a must.
To transfer Live Photos to Android, connect your Android device to the PC and drag the photo/video saved on the PC into the DCIM folder on the Android phone.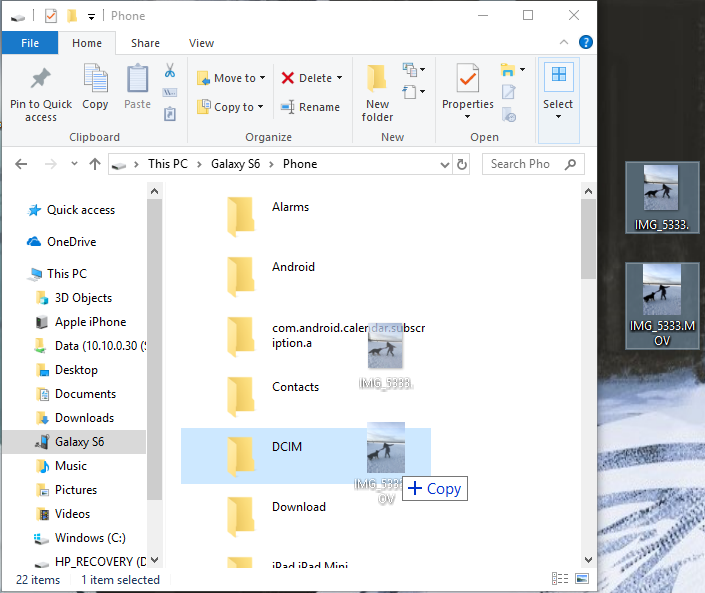 How to post Live Photos on Instagram from iPhone
For some reason, Live Photos are still not supported by Instagram. It only works for Instagram Stories – you can select the Live Photo to post, then tap & hold on it to animate.
But if you definitely need to post it to your feed, we have a trick that works!
Copy a desired Live Photo on your PC with CopyTrans Photo:

You will get two separate files on your PC – a JPEG file and a MOV file.

Delete the JPG file and copy the video file back to iPhone with CopyTrans Photo by dragging and dropping it to the right side of the interface. Now you will have a video file on your iPhone instead of a Live Photo.

This video can be easily added to your Instagram – no restrictions anymore!
Alternatively, you can use iPhone apps such as Lively or Motion Stills to make a video from a Live Photo. The downside is that the apps will place a watermark on the video, so you'll have to purchase the app to remove it.
---
I hope you enjoyed this guide! Tell us what you think in the comments.