Are you having trouble sharing photos on your iPhone? Maybe you've tried to send a photo to a friend or family member, only to meet with an error message or a failed upload. This can be frustrating, especially if you're trying to share a special moment with someone. But don't worry, there are several ways to fix this issue and get your photos shared in no time!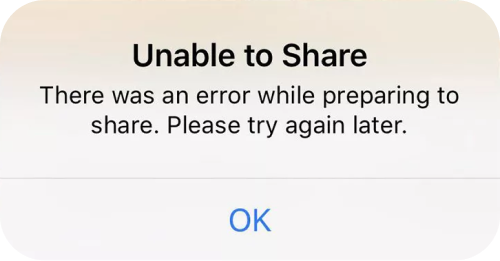 Why won't my iPhone let me share pictures
Sharing iPhone photos requires establishing a solid connection between devices. Also, the data you want to share has to be accessible for the device. Obvious? Not that much. Sometimes, the photos aren't actually present on your iPhone because our iCloud Photos option is on. In other situations, your iPhone can't reach the device where you want to send your photos to, and there might be several reasons. Go through the steps below to fix unable to share photos on iPhone problem.
How do I fix my iPhone photo sharing?
Fix 1: Restart Your iPhone
Restarting your iPhone is always the first solution that appears in your mind when you have any issues with iOS. It is a simple and efficient fix for many minor problems, as well as the "Unable to share photos" error. Please follow the detailed guide on how to force restart iPhone that explains hw to do it for each iPhone model.
Fix 2: Disable Low Power Mode
One of the reasons why you can't share iPhone photos may be a Low Power Mode. Why? Because this feature helps to save the battery and that's why it turns off some of the iPhone functions, such as Siri and the iPhone sharing photo function.
To turn off this mode, please go to Settings > Battery > Turn off the Low Power Mode.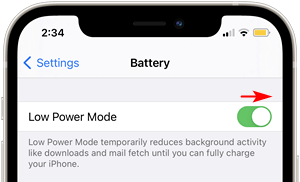 Fix 3: Check Your Internet Connection
Another reason why you might be unable to share photos is due to a problem with your internet connection. Make sure that you're connected to a stable Wi-Fi network or cellular data, and try again.
If you are still unable to share photos, you may need to reset your iPhone's network settings. Keep in mind that this will erase all Wi-Fi networks and passwords, so be sure to have them written down or saved somewhere beforehand.
To do this, go to Settings > General > Reset > Reset Network Settings.
❗More information about iPhone reset is in the guide: "What happens if I reset my iPhone".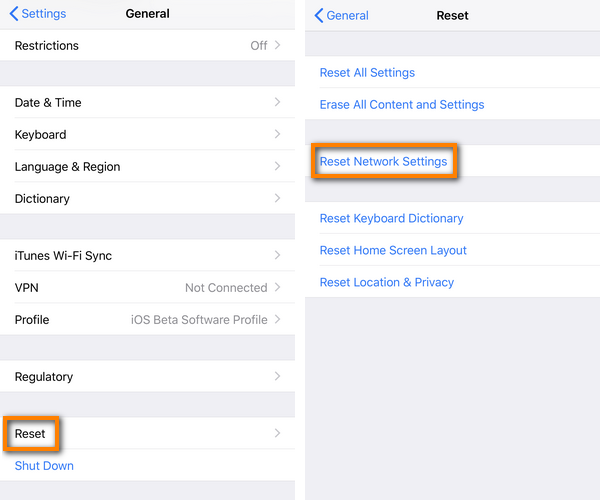 Fix 4: Log Back into Your iCloud Account
One more case of the error "Unable to share photos" is when occurs the problem with syncing iCloud and iPhone. If you're experiencing an issue with sharing photos from your iCloud Photo Library, logging back into your iCloud account can help. This will help sync your photos and enable you to share them easily.
To log back go to Settings > Your name > Scroll down and click on Sign Out > Log in to your iCloud.
Fix 5: Reboot the iCloud Photos Library
Another difficulty with iCloud Library includes storage issues and problems with optimizing iCloud storage. If your iCloud storage is full, you won't be able to upload any new photos. To fix this, you can either purchase more iCloud storage or free up some space by deleting old photos or other files. Check this article to find out how to free up iCloud space without paying for it.
It is also easy to reboot the iCloud Photos Library. What you have to do is to turn the iCloud Photo Library off and then back on in a few seconds.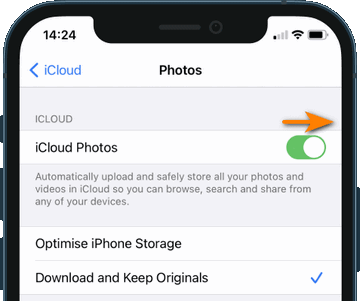 Fix 6: Share photos with CopyTrans Photo
If you're still having trouble sharing photos, consider using third-party software like CopyTrans Photo. With CopyTrans Photo, you can easily transfer and share your iPhone photos to your computer or other devices without the need for iCloud or iTunes. This means you can avoid the storage limit issue and share your photos directly from your computer.
A new way to manage your iPhone photos
CopyTrans Photo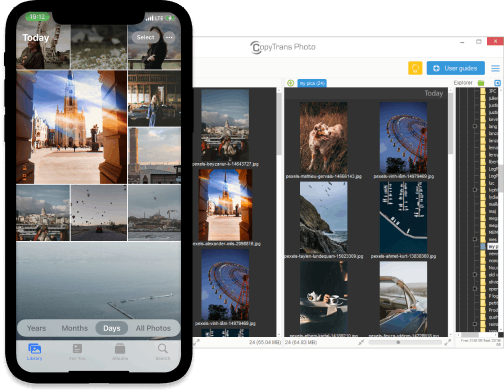 Intuitive interface: drag-and-drop transfer
Support the formats HEIC and ProRAW
Transfer photos and videos between PC and iPhone
Backup all your iPhone photos to PC at once with the Full Backup feature
Save photos without duplicates
Compatible with all iOS devices, including iPhone 14
Download CopyTrans Photo and install it.

iPhone or iPad photos will be displayed on the left-hand side of the main program window. Your PC folders will appear on the right.

Now you can just drag-and-drop photos between iPhone and PC. Please find our detailed guide on how to transfer photos from iPhone to PC and from PC to iPhone.

BONUS: if your photos are HEIC, then use CopyTrans HEIC to convert photos or view them on your PC. Here is a guide on how to open HEIC photos on your computer with our free software.