"And suddenly all my iPhone contacts are gone".
Various configurations of one and the same phrase persistently appear in online discussions and this raises a few eyebrows. What causes countless iPhone users to lose contacts so suddenly and so unexpectedly? The answer may not be that simple. This article will guide you through the ways in which to prepare, prevent and ultimately tackle the problem with iPhone contacts missing from the device. Read on as we try to set the issue straight, or just choose one of the sections below:
iPhone contacts lost: possible reasons
The loss of device's contacts can be caused by one or a combination of the factors below.
Software upgrade. After updating to a new iOS, you will be asked whether you'd like to use iCloud and sync iPhone data such as contacts, notes, calendars, etc. Users who previously never synced iPhone contacts to iCloud but willingly or not accepted Apple's prompt, might find iPhone contacts momentarily missing from the phone's address book.
iPhone Jailbreak. Although not a direct cause, jailbreaking your iPhone could lead to situations in which iPhone contacts are lost. Jailbreak allows iPhone users to modify and tweak their iOS devices. It goes without saying that while some tweaks are fun and useful, others could have an unexpected effect on the iPhone and its data. If you own a Jailbroken phone, it is wise to back up contacts or your entire device.
Cold start. Force-restarting an iPhone should be practiced as a last resort only when the iPhone is frozen or unresponsive. It is possible that a reset causes iPhone contacts to be lost.
Spontaneous iPhone restart. This is called a random restarts problem. A random restart, in its turn, may lead to loss of iPhone contacts and other phone data.
Unknown reason. For better or for worse, sometimes the cause of iPhone address book sudden disappearance remains a mystery.
Quick ways to salvage part of iPhone contacts
It may very well be that several contacts missing from your iPhone can be restored quickly and with little effort. You may also choose to read on for more full-scale and complex solutions.
Re-sync your contacts to iCloud
Simply turn iCloud contact sync off and then bring it back on. To do so on the iPhone, navigate to Settings > iCloud and toggle the Contacts switch from ON to OFF and then back to ON.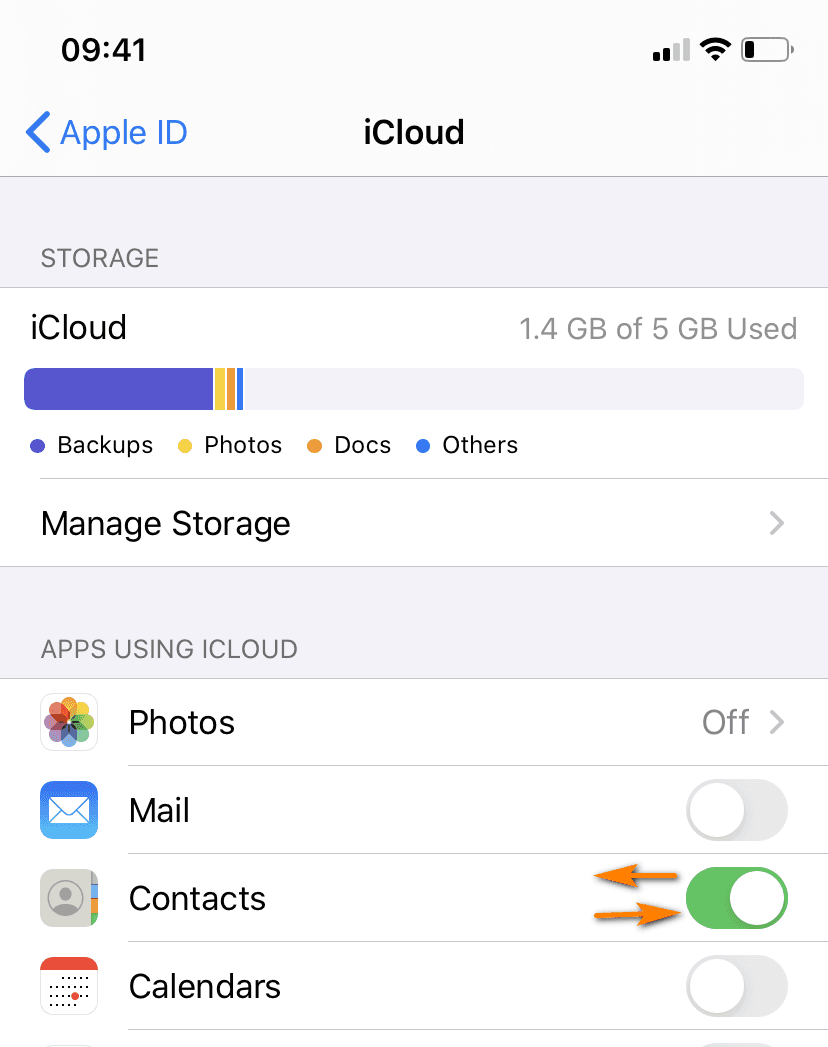 If you lost contacts after upgrading the iPhone's iOS and if you are lucky enough, the following quick solution will bring back the iPhone contacts.
Salvage contacts using iMessages or other messenger apps
Few know about this trick which can help you recover at least some of the iPhone contacts. This will work if you remember what the contact was called and you received at least one message from them. Here is how to:
Run the iPhone Messages app and start typing the name of the contact.
If you previously sent or received a message from this this person, the conversation will pop up. The trick here is that iPhone manages Contacts and Messages separately, and what is gone from Contacts may very well stay in the Messages.

Now click on the contact icon and then on the audio symbol. The phone number will appear right in front of you!

Use the above method to recover the names and phone numbers of the people you recently contacted. Auto-suggestion records are separate from the iPhone contacts database and should still be available even if the contacts are long gone. You can similarly recover contacts from WhatsApp, Viber and more!
These methods can be used as a quick fix if you need some contact urgently. Of course, if you need to recover a missing address book in full, you will need to perform a full-scale rescue operation. Read the next section for more ways to restore your address book!
Recover all missing iPhone contacts
If you want to bring back all of your contacts, you need a more fundamental solution.
Restore iPhone contacts from iTunes or iCloud backup
If you are not sure which service may have a backup of your contacts or indeed if you have any, let us help. If your contacts have been backed up to iTunes or iCloud at least once, there is still a chance to save them! And we have developed two great programs to help: CopyTrans Backup Extractor and CopyTrans Contacts.
CopyTrans Backup Extractor will automatically find your iTunes and iCloud backups and help you extract the data to your PC. From there, you can import contacts to your iPhone, making sure no other data gets overwritten.
Here is how to proceed:
Download and install CopyTrans Backup Extractor. For installation instructions, follow the installation guide.

Launch the program and wait for the backup hunt to be complete. It will take a few seconds. You will then see the list of all the backups available, including iTunes backups. If you want to see iCloud backups on the list as well, log in to iCloud with CopyTrans Backup Extractor.

If you're in luck, then you will see a recent backup on the list, containing the contacts you need. Choose it and enter the backup password if the backup is encrypted.

From the list of items to restore, choose "Contacts".

Select the folder on your PC where you want the contacts to be extracted and start the process. Voila! The contacts are waiting for you in the folder you specified. They are now ready to be imported to your iPhone.

Now, let's start importing! For that, we will need CopyTrans Contacts.
Launch CopyTrans Contacts and connect your iPhone. Give the program time to read the device's info, then click on the name of your device and select "Import Contacts" in the top-left corner of the app, then choose to import from a file.


Choose the folder where you previously extracted your photos and select all or part of contacts for import.

Enjoy your newly imported list of contacts! And do not forget to back up your device from time to time.
For the solutions we offer to keep your Contacts safe in the future, see the section below.
How to avoid losing iPhone contacts in the future
To avoid losing iPhone contacts again, make sure to regularly back them up. There are numerous methods for doing so. You can back up your entire iPhone or choose to back up contacts only.
Restore iPhone from iTunes backup
iTunes backs up your iPhone every time you sync your device to it, or when you use iTunes to upgrade to the latest iOS version. Among other settings and data, iTunes saves yor Contacts, Call history, Text messages as well as local Calendars and events. You can use iTunes to bring all this data back to your iPhone.
NOTE: if you choose to restore the iPhone via iTunes, the restore will overwrite all the data on your iPhone, not just Contacts. If you'd like to restore just contacts from a backup, use CopyTrans Shelbee Custom restore option.

If you want to proceed with a full restore via iTunes, here are the steps:
Run iTunes and connect the iPhone to your computer.
Once the iPhone appears in iTunes, right click on it from the left-hand side pane and select "Restore from Backup…".
That's it! The backup has been fully uploaded to your device, bringing back Contacts along with all other data.
Restore iPhone from iCloud backup
If you didn't find any backups in iTunes, do not lose heart: there is a great change the iPhone had been backed up to iCloud. You can recover your Contacts from an iCloud backup anytime.
If you want to attempt a complete restore from an iCloud backup, here are the steps:
On your iPhone, go to Settings -> General -> Reset.
Choose "Erase Content and Settings" and confirm your choice by pressing "Erase now".

Your iPhone will restart and then offer you a number of setup options. The one you need is "Restore from iCloud backup". Choose the backup file wisely!

Your whole iPhone has been restored from the backup. And the contacts have returned!
Back up iPhone contacts using CopyTrans Contacts
CopyTrans Contacts is an application developed by CopyTrans to help users manage their Contacts, Messages, Calendars and Notes. The app will allow you to you edit, delete, move between accounts, or back up iPhone contacts to the computer. After you first launch CopyTrans Contacts, you can access the backed up contacts at any time on the PC. You can also edit and import any selection of contacts from the computer back to the iPhone.
Contacts backed up with CopyTrans Contacts are housed offline on the PC, are not uploaded to any servers and are, therefore, kept away from prying eyes.
See CopyTrans Contacts in action: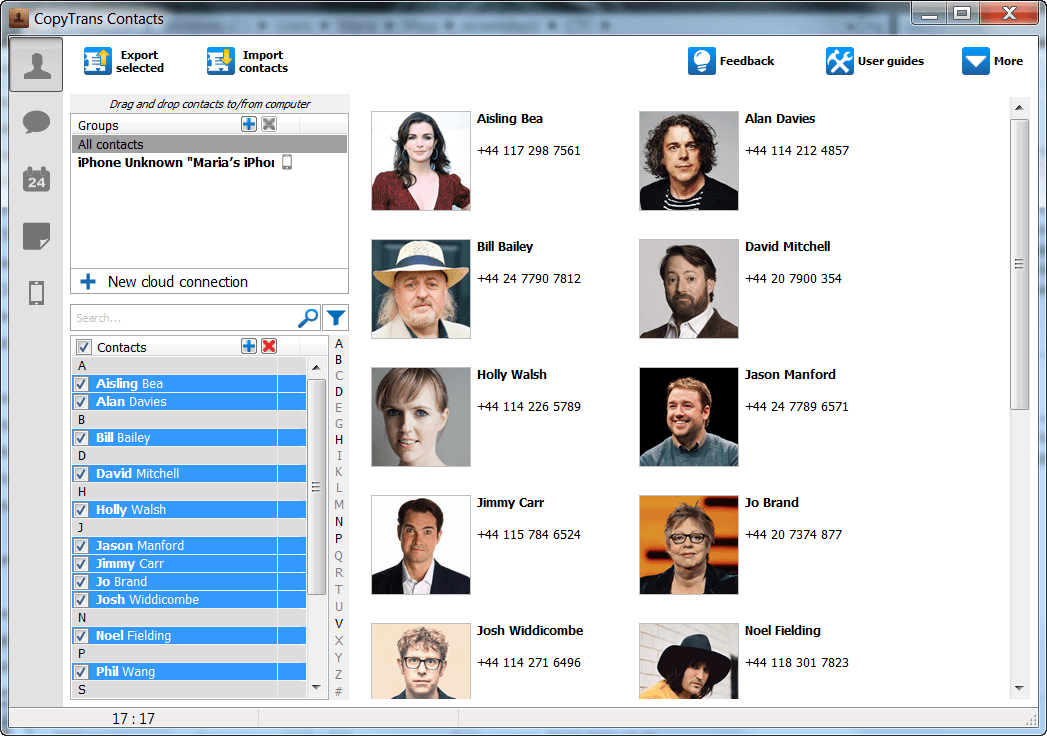 The verdict: Saving yourself the headache of missing iPhone contacts comes with preventive actions. Backing up your iPhone contacts and other personal data is an important matter which should be taken seriously. We hope that you have now successfully restored your lost iPhone address book.