In today's digital age, capturing and preserving memories through photos has become an integral part of our lives. Apple's iCloud Photos offers a convenient way to sync and access our memories across multiple devices seamlessly. However, users sometimes encounter synchronization issues that can disrupt the smooth flow of their iCloud Photos experience. The danger is that we may not know that some photos were not synchronized with iCloud and lose important data without even noticing it.
Find most common reasons why iCloud Photos may not sync and follow our step-by-step troubleshooting guide to resolve these issues or use an alternative solution.
---
iCloud not syncing photos: 4 reasons why
iCloud Photos automatically save every photo and video you take in iCloud (if iCloud photos option is turned on). It surely gives you an excellent opportunity to manage your photo library from any device. Sometimes this automatic synchronization doesn't work and here are the reasons:
Network and Connectivity:

Your iPhone requires a stable network to access iCloud servers. If you are not connected to Wi-Fi, or the connection is not stable, then there is little chance that iCloud Photo would work properly.

Software Updates and Compatibility:

It is very important to always keep your soft updated. Think of doing regular iOS updates and don't forget about iCloud for Windows if you are using it. Apple constantly fixes some issues with the new versions and in order to not have compatibility problems, it's good to be up to date .

Storage Limitations:

If your iCloud Storage is full, then there is no way the new photos and videos will be saved in iCloud. To check free space, take your iPhone, select Settings, then tap on your Apple ID and select iCloud. To gain some space, you can buy a bigger storage plan or save some data on your PC or hard drive.

Device-Specific Factors:

This happens if iCloud Photo option is off or your device uses multiple iCloud ID.
💡 If you are trying to manually upload photos to iCloud and it doesn't work, check this article.
---
Photos not syncing to iCloud
6 ways to fix the issue
As we understand what may cause a problem, we are ready to fix the issue. Choose the option from the list below:
Fix 1: Check iCloud Status
First of all, make sure that the problem arises not because of Apple and all the servers are working well. Here is an Apple system status page for real-time updates. If the problem is not on your site, just wait until Apple fixes the issue, if the issue is on your site, just keep reading.
Fix 2: Verify iCloud Settings
Check that iCloud Photos is activated on your device. Go to Settings -> Apple ID -> iCloud -> Photos -> Activate iCloud Photos. If it is activated, then turn it Off and then On again.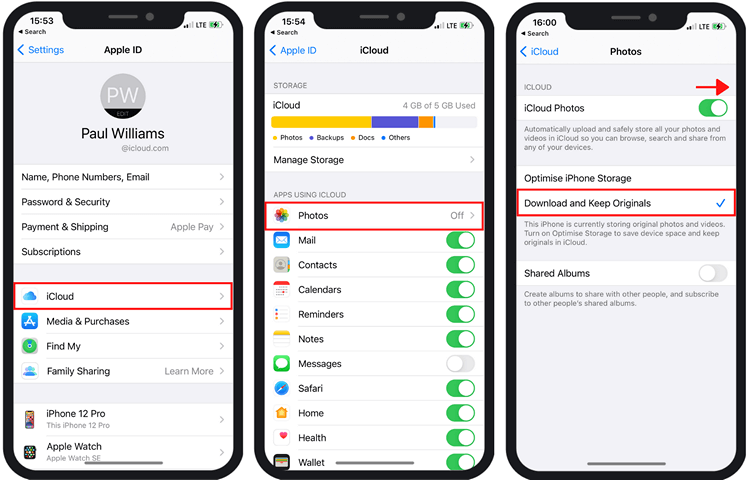 Fix 3: Restart Devices
The easiest way to resolve little issues is to restart your iPhone. Here is how to do it: press and hold the Sleep/Wake button until the slider appears saying "Slide to power off". Here is a full guide on how to restart any Apple device.
Fix 4: Optimize Storage
The space in iCloud is not infinite and can run out unexpectedly. As a result, iCloud Photos can't be synced. There are two ways to resolve this problem:
Fix 5: Updated device
Are you still having trouble with photos not syncing to iCloud? One potential solution is to ensure that your iOS system is up to date. An outdated version can lead to various problems in your device, but updating it could resolve the issue.
To update your iPhone's iOS, navigate to Settings -> General -> Software Update -> check for any available updates. Installing the latest software will not only improve your phone's performance but also eliminate any bugs causing the syncing problem.
Fix 6: Check internet connection
To guarantee the successful syncing of your iCloud Photos, it's crucial to have a stable internet connection. If you're struggling to sync your photos due to connection issues, you can troubleshoot by checking if other applications can connect or try visiting a new web address. Another solution is resetting your router.
Additionally, if you want to use mobile data for iCloud Photos syncing, ensure that this feature has been enabled on your device. Without enabling this option, your photo library will not be visible on your iPhone. Go to Settings -> Photos -> Wireless Data -> WLAN and Cellular Data. This allows photo syncing via cellular or Wi-Fi connections automatically if an internet source is unavailable.
---
How to sync iCloud photos
If you keep having the iPhone photos not syncing to iCloud issue, then we suggest you another way of managing your photos. There are two ways to resolve the issue with CopyTrans Programs.
Save photos on your PC with CopyTrans Photo
Upload photos to iCloud with CopyTrans Cloudly
Save photos on your PC with CopyTrans Photo
The easiest way is to back up the whole Photo Library on your PC with a few clicks. Here is how to do it:
Download and install CopyTrans Photo.

Click on the button "Full backup". Choose the folder to save the photos and wait till all the photos are transferred to your PC.

Check out our full guides on how to transfer photos from iPhone to PC and from PC to iPhone.
A new way to manage your iPhone photos
CopyTrans Photo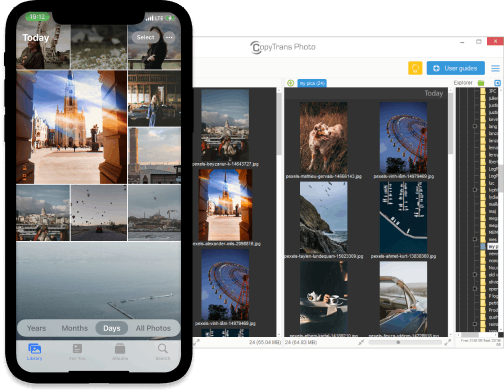 Intuitive interface: drag-and-drop transfer
Support the formats HEIC and ProRAW
Transfer photos and videos between PC and iPhone
Backup all your iPhone photos to PC at once with the Full Backup feature
Save photos without duplicates
Compatible with all iOS devices, including iPhone 14
Upload photos to iCloud with CopyTrans Cloudly
An alternative way to save all photos in iCloud and then manage them on all your Apple devices is to add all the photos you need with CopyTrans Cloudly. Just follow these easy steps:
Download and install CopyTrans Cloudly.

Now choose the option Upload and follow the steps to save photos in iCloud

Please look into our detailed guide on how to upload photos and videos to iCloud.
Advantages of CopyTrans Cloudly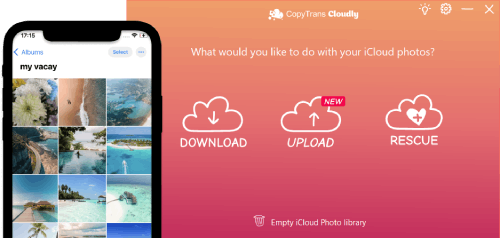 If you want to check your uploaded photos, access iCloud from your PC.
---
iCloud not syncing
Conclusion
Syncing issues with iCloud Photos can be frustrating, but with the right troubleshooting steps, you can restore the seamless experience of accessing your photos across devices. By following the comprehensive guide provided in this article, you'll be equipped with the knowledge to identify and resolve common sync issues effectively. Remember to implement preventive measures and maintain good syncing practices to minimize future disruptions. Embrace the power of iCloud Photos and preserve your memories without the hassle of syncing complications.
Check our troubleshooting guide for Contacts not syncing to iCloud.