Is your iCloud giving you attitude? Does it act like you're complete strangers and make uploading photos a pain? We've been there. To ease your suffering, we've compiled a guide for people whose photos are not uploading to iCloud no matter what.
If your iCloud is not uploading photos, see what we've got below!
Photos not uploading to iCloud: troubleshooting tips
If you are not in a hurry, try a couple of steps to make your iCloud alive and well again. Here is what you can do to potentially improve your iCloud's well-being:
1. Check the internet connection
If your network connection is unreliable or experiencing issues, iCloud might refuse to play with you. Make sure that your Wi-Fi is up and running and you have stable access to the internet. Reconnect to your WiFi just in case.
On iPhone: See the quality of connection in the upper part of your screen. Or, swipe down the right side of the screen to bring up the control panel: it will show you whether you have WiFi connection and Mobile Data enabled.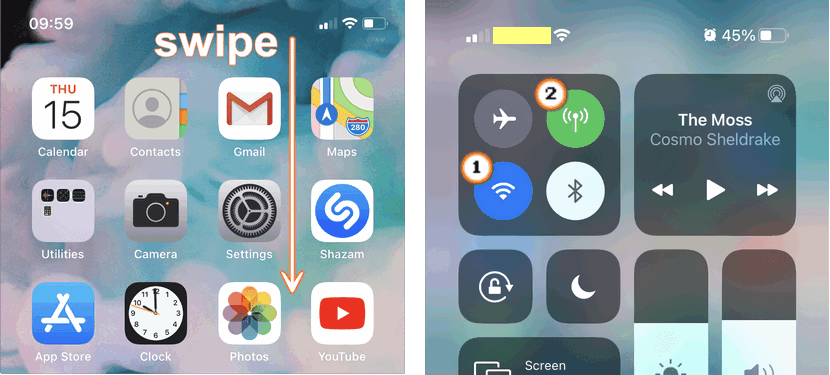 On Windows: Click on the WiFi icon in the lower right corner of the screen. You will see the status of your WiFi connection.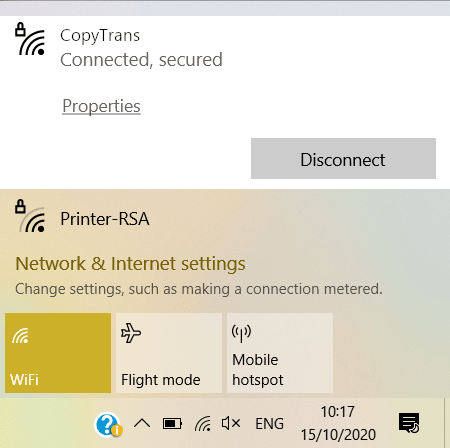 2. Make sure your Apple ID is correct
Maybe iCloud is not at fault, after all… Check that your credentials (Apple ID and password) have been entered correctly. If not, it might be worth the effort reentering them.
On iPhone: open Settings -> Apple ID -> Check the email address displayed under your name.

On Windows: Launch iCloud for Windows. Once signed in, you will see your name and email address under the iCloud logo.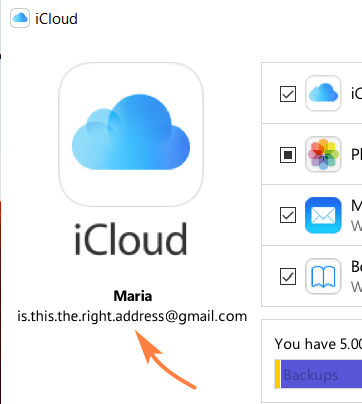 In the same window, you can make sure iCloud Photos is enabled on your PC.
3. Reconnect to iCloud
Sometimes the syncing glitches are just plain mood swings: iCloud is feeling grumpy and taking it out on you. Try turning it off and on to see if it improves the service's disposition.
On iPhone: Go to Settings -> your Apple ID -> iCloud -> Photos -> Toggle the switch next to iCloud Photos off and on again.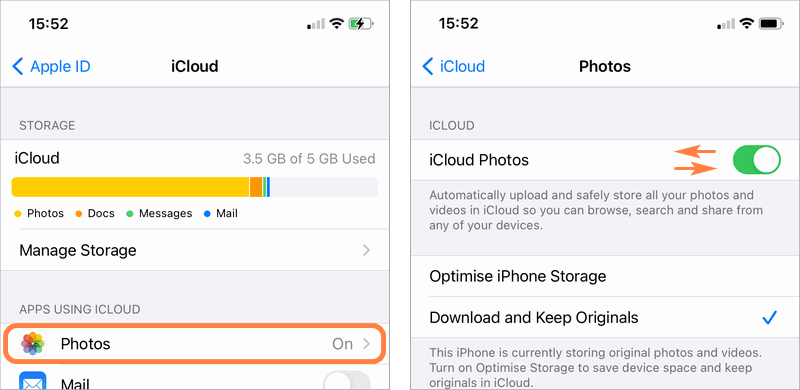 On Windows: open iCloud for Windows. In the lower left part of the screen, you will see the button "Sign out". Once you've clicked it, you will be taken to the sign-in screen again. This is a bit of a merry-go-round, but it may help.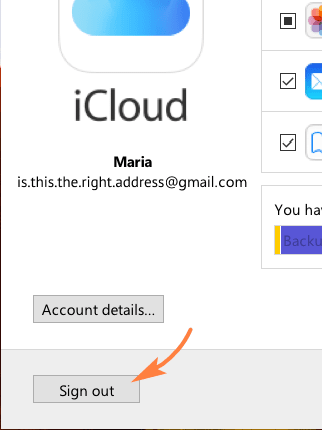 4. See how much iCloud storage you have
It could be that iCloud just can't handle the pressure you're putting on it, i.e. doesn't have enough storage. If this is the case, clearing some contents may get you back in iCloud's good graces.
On iPhone: Go to Settings -> your Apple ID -> iCloud -> Manage Storage. You will how much free space you have and what takes up most of your space. If you're lacking storage, see our tips on how to free up iCloud space.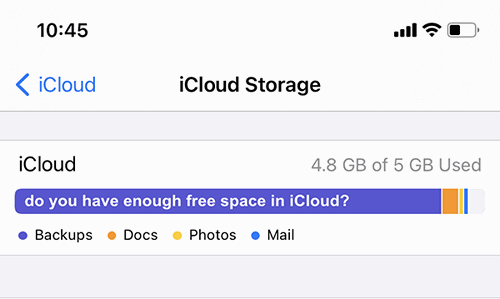 On Windows: In iCloud for Windows, sign in to your profile to see a report on how you're doing storage-wise. From this screen, you may opt to delete part of the data (Click "Storage" to see all data types available for cleanup).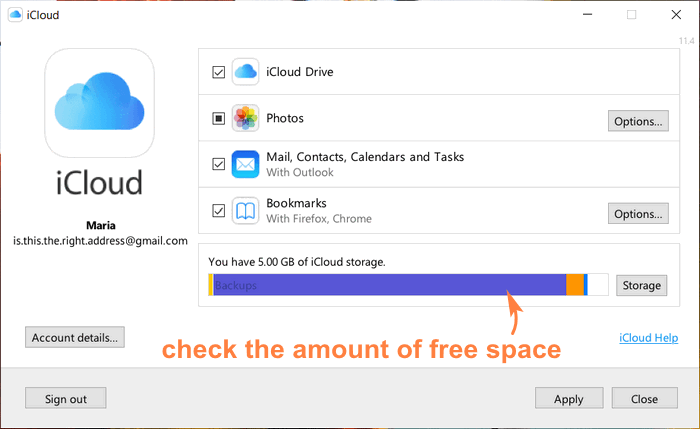 5. Update your iOS version
This tip is for iPhone users. On your iPhone, go to Settings -> General -> Software Update -> see if you have any updates available.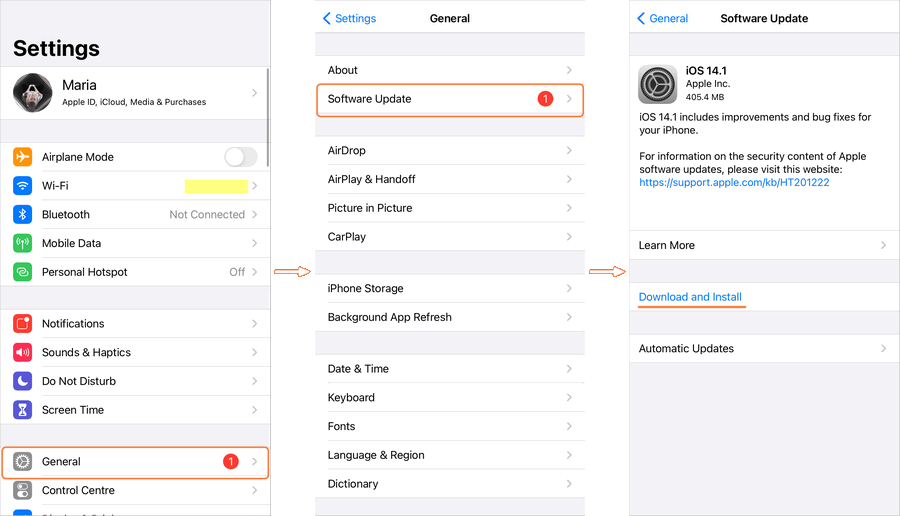 If you're a real diehard, you can also restore your device from a previous backup to try and get back past the point where it all went wrong.
My iCloud photos are still not syncing: what do I do?
If troubleshooting got you nowhere and you are still unable to upload photos to iCloud, you may consider other means to achieve your goal. We have a couple of tricks up our sleeve. If you are willing to give it a try, choose your scenario:

Upload photos to iCloud using CopyTrans Cloudly
If you already have photos on your PC, combating syncing issues is a child's play. We developed an instrument called CopyTrans Cloudly that will help you upload your photos in a few simple steps. You will be guided by the app's user-friendly interface: CopyTrans Cloudly is always glad to see you and does not want you to get confused!
What do I gain by using CopyTrans Cloudly?
Retain the "date taken" stamp and other image metadata.

Upload HEIC, JPEG, PNG images to iCloud in great numbers.

Upload MOV, MP4, M4V videos to iCloud.

After you've uploaded your files to iCloud, you can move or delete them from the PC folder: they will still be available in iCloud.
CopyTrans Cloudly also can:
Rescue your permanently deleted photos from Apple servers.

Download all iCloud photos to PC in one go.

Delete all iCloud photos if necessary.
Here is what to do:
Download, install and run CopyTrans Cloudly. If you need help, refer to the installation guide.

Download CopyTrans Cloudly

Sign in with your Apple ID. We use SSL connection to protect your data, so you're safe!

On the welcome screen, choose "Upload".

Select the files you want to upload to iCloud.
Once you're ready, press "Upload!"

Wait until the program carefully delivers your photos to your iCloud account… There they are.

Your photos sit tightly in your iCloud. If your device is synced to iCloud, the photos will appear on it as well. Thank you for using CopyTrans Cloudly!
If you're using a trial version of the app, you can upload the first 100 photos for free and see how it works out for you. No automatic charges! We allow trial actions so that you can get acquainted with Cloudly's style and benefits.
Try CopyTrans Cloudly for free!
---

Back up photos to your PC using CopyTrans Photo
It is quite possible that you checked your iPhone one day and your photos just won't upload to iCloud. If that's how things stand, we can help you upload your photos both to PC and to iCloud. For this, we developed two tools, called CopyTrans Photo and CopyTrans Cloudly.
Here is what we suggest:
First, back up your photos to PC. To begin, you will need CopyTrans Photo:
Download CopyTrans Photo

Download, install and run the program. If confused, see the installation guide.

On your iPhone, go to Settings -> iCloud -> Photos and select Download and Keep Originals. Then, turn off iCloud photos.

After that, connect your device to PC. You will see a window with two panes: the device pane on the left and the PC pane on the right. The leftmost and rightmost sections are navigation panels.

Select the device photos you want to transfer and drag-and-drop them to the area on the right.


NOTE: If you want your entire library transferred, opt for Full backup. This will save you time selecting all your photos.


Click on "Apply changes" and wait for the photos to be transferred.

You're awesome! And to prove that, you now have all your photos on your PC hard drive.
Now you are ready for Step 2: uploading photos from PC to iCloud. Jump to the section with CopyTrans Cloudly to force iCloud to upload your photos.
Conclusion
We hope you got the most out of our troubleshooting tips and alternative solutions. If you still haven't found what you're looking for, we have an article enlisting all the ways to sync PC photos to iCloud.