Truth be told, we mostly keep our precious memories as photos on our iPhones. And it's even scary to think that they might be suddenly gone, whether by accident or by a software error. The question is how to recover deleted photos from iPhone?
In this guide, we'll show 4 ways to recover deleted iPhone photos:
How to retrieve deleted photos on iPhone
The first place to look for the deleted pictures is a Recently Deleted folder on your iPhone.
Go to Photos and choose Album view at the bottom. Scroll down to find the Recently Deleted album.

Click on the Select button (top-right corner) and choose to Recover All deleted pictures or select the ones you want to recover manually. The Recover button is always at the bottom-right.

They will be immediately transferred back to your Camera Roll!
Restore deleted iPhone photos without backup
You probably already know how important it is to make regular backups. But honestly, not so many people actually follow that advice and when the time comes, are in desperate need to recover permanently deleted photos from iPhone. This is when iCloud Photo Library comes in handy – it never forgets to make a backup of your photos. If you had it enabled, you can easily get deleted pictures back on iPhone with the help of CopyTrans Cloudly:
Download CopyTrans Cloudly English Installer | 4 MB
Run CopyTrans Cloudly. Log in to your iCloud account.

To recover deleted photos from iCloud, click on "Rescue" and choose the folder you want to save them to.

If your deleted photos and videos are still on the Apple servers, we will be able to download them back to your PC.

TIP: CopyTrans Cloudly can also back up all iCloud photos on the PC at once and erase all photos from iCloud in just one click, freeing up your storage.
Recover deleted photos from iTunes Backup
Consider yourself lucky if you've managed to find a recent backup in iTunes – it can restore most of your deleted picture to iPhone. There's one major drawback – not only the pictures, but the whole data from your old iPhone will be restored to a new one.
If you are OK with restoring iPhone from backup, you can head over to the official Apple Support website and learn how to restore your iPhone, iPad, or iPod touch from an iTunes backup.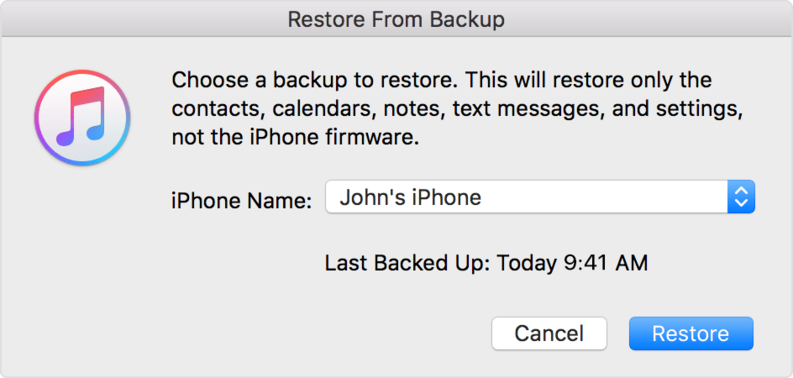 Alternatively, you can restore iPhone from backup via CopyTrans Shelbee – read our official iPhone restore tutorial. It will recover photos too, of course.
Restore deleted photos from iCloud backup
There's another solution that we can offer to retrieve deleted photos on iPhone. It requires you to have a recent backup in iCloud, that contains the pictures you've deleted. This method will preserve all the new changes that you've made as well as restore deleted pictures from iCloud. Let's go!
To preserve the most recent data on your device, you'll need to make a fresh backup with CopyTrans Shelbee.
NOTE: Some items, e.g. your music library, won't be saved in the backup

Download CopyTrans Shelbee English Installer | 4 MB

Next, verify that you have a valid iCloud backup that contains deleted photos. On your iPhone, go to Settings -> Apple ID -> iCloud -> Storage -> Manage Storage -> Backups. You'll see the device, date, and size of the last backup.

If you have the backup you want to restore, go ahead and reset your device. Yes, you'll need to erase all content, but we will get everything back! Go to Setting -> General -> Reset -> Erase All Content and Settings.

Restart your device. Go to Apps and Data and select "Restore from iCloud backup" and log in to your iCloud account.

Select the appropriate backup that contains deleted iPhone photos.

As soon as the restore is completed, head to your Camera Roll and copy all your photos and videos to your PC with CopyTrans Photo.

Download CopyTrans Photo English Installer | 4 MB

Once you have recovered deleted photos and saved them on the computer, you can restore the most recent backup that you've created with CopyTrans Shelbee at the very beginning of this tutorial.

The last step is to bring your deleted photos back to your iPhone. Use CopyTrans Photo to add photos to your device.

Hope one of these methods will help you recover the lost iPhone photos. Please make sure that you back up your device on a weekly/monthly basis to ensure that your precious memories are safe and sound.