Your iPhone unexpectedly deleted your photos, and the function "iCloud Photos" was not enabled? Anyone can have such a situation. Let's try to resolve this problem.
Can I recover my photos with iTunes?
Your iPhone photos might still be in one of your local iTunes backups. If you are fine with restoring the whole backup data (not only photos but also contacts, messages, calendars, notes, and some iPhone settings, check what's included in iTunes backup here), open iTunes, connect your iPhone, and click on "Restore backup". However, please remember that iTunes only does full restore, and you can't select what to recover. It means that all current data on your iPhone will be replaced with backup data. For example, you will recover your backup photos, but all the recent photos that were taken after your latest backup will be erased.
What can I do to recover only photos?
If it doesn't sound like a fun option to you, there are ways to get your photos back without losing your current data. Here, we will explain how to recover photos from a local backup on PC directly to iPhone (made with iTunes or any other 3rd party software). For this, we will use CopyTrans Shelbee – a reliable software developed by CopyTrans and very simple to use for backups and restores. With this tool, you can choose what to recover (for example, recover deleted photos, or get back some apps, iPhone call history, and messages).
To restore deleted photos to iPhone with CopyTrans Shelbee follow these steps:
Download and install CopyTrans Shelbee.
Download CopyTrans Shelbee

Then click on Custom restore.

Click on the green pencil icon to select which backup you want to restore your data from, and then click Next.

Now you can select the data you want to restore. In this case, we choose Photo.

While restoring, CopyTrans Shelbee may ask you to enter an iOS backup password to decrypt the data in the backup. What is an iOS backup password?

Please note that the data you selected will be overwritten: the device photos will be replaced with the ones from the backup. Now click Next.
CopyTrans Shelbee will ask you to choose where you want to save the backup of your device in case something goes wrong during Custom restore. Select the destination and click Start.

Wait until the restore process finishe, and that's it! Your device will now restart.
Advantages of CopyTrans Shelbee: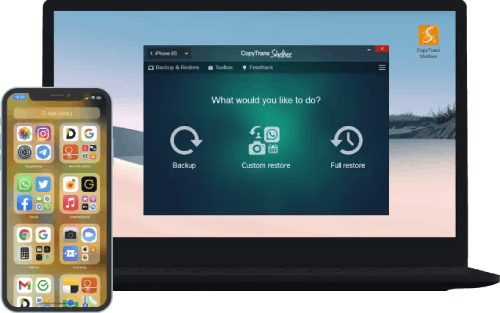 Restores only photos and videos from the backup to the device in a few clicks;
Restores full iPhone backup or just some selected data
Compatible with iTunes backup;
Support encrypted iPhone backup