Starting with iOS 9 and further, Apple has restricted what iPhone and iPad users can do with their apps. Back in April 2015, we saw the backup of app preferences and game scores being scrapped. Today you are no longer able to back up iPhone and iPad apps to your PC at all.
This means that we had to disable the backup of apps in CopyTrans Apps, CopyTrans Shelbee and CopyTrans. With these changes in mind, the CopyTrans programs continue to lead the crowd providing a sound alternative to iTunes and a ticket out from Apple's ecosystem. So here's what's changed…
App backup with CopyTrans Apps
CopyTrans Apps helps you manage app documents for iOS apps that support file sharing. Until iOS 9, the program also allowed the largely unrestrained backup of iPhone apps. Here's what you can still do with the program and what you no longer can if you are on iOS 9, 10, or iOS 11:
CopyTrans Apps conserves the ability to add and transfer PDF and Microsoft Office documents as well as high-definition movies to iPhone and iPad apps. Here are a few examples of what you can do even if you are running iOS 9, 10, or iOS 11: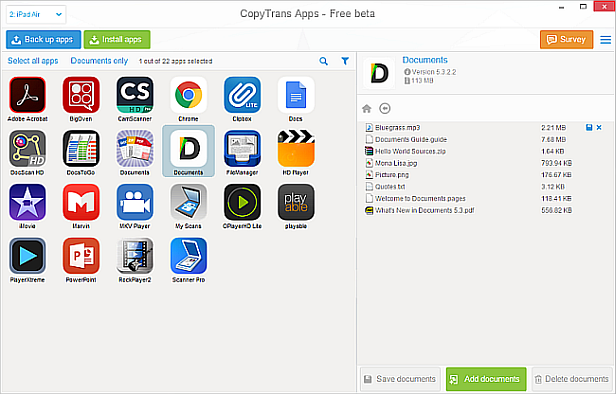 App backup in CopyTrans Shelbee
CopyTrans Shelbee remains a user-friendly solution for iPhone backup and restore without iTunes. For iOS 9 users, we had to disable the extra-feature of iPhone app backup.
For devices running iOS 9, 10, and iOS 11, CopyTrans Shelbee:


backs up iPhone app data, contacts, messages, calendars, iOS settings, photos and videos in the Camera Roll


can no longer back up iPhone apps.


Related:
What does a CopyTrans Shelbee backup include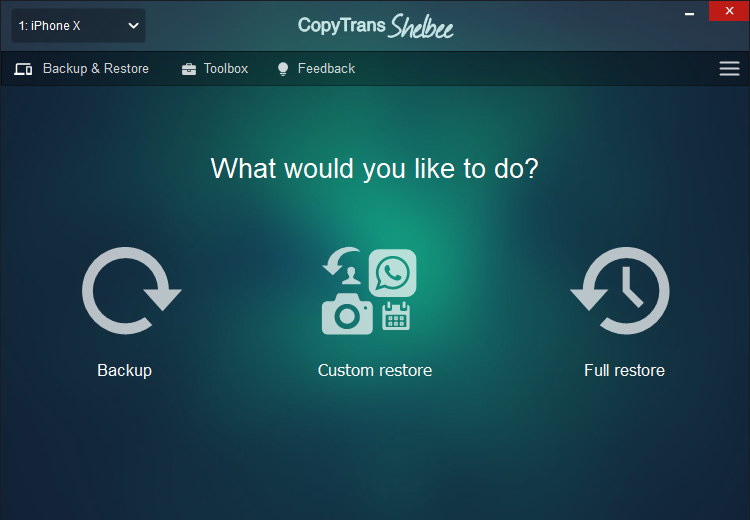 App backup with CopyTrans
Since 2004, CopyTrans continues to help hundreds upon thousands of users to copy iPhone music and playlists to PC. CopyTrans was the first of our programs where we introduced iPhone app backup as an accessory feature due to numerous user requests.
While, CopyTrans remains the tool of choice for copying iPhone and iPod songs, video and playlists to PC, we disabled app backup in CopyTrans for iOS 9 and iOS 10 users.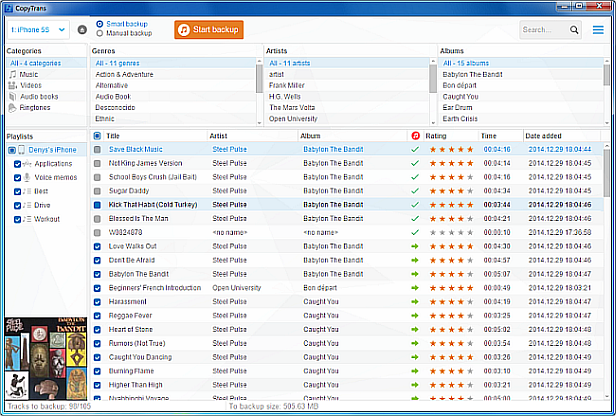 Why did Apple scrap app backup as of iOS 9?
We can only guess. This could be a logical step toward increased security and toward ensuring that iPhone users run the latest app versions downloaded from the App Store. On the other hand, the limitation is another step backwards toward decreased flexibility and less freedom for iPhone end users.
Your take
iOS 11 is deemed to be the most advanced iOS version to date. Yet the little control iOS users had over apps installed on their very own devices has dwindled. Share your thoughts with us; what do you think about the new iOS limitations? Tell us in the comments section below.