Starting from 1 December 2020, CopyTrans Apps will no longer be available for download and will not receive any further updates. It will also disappear from CopyTrans Control Center, where it will be replaced by our next‑generation product, CopyTrans Filey.
We encourage you to embrace the change and check out CopyTrans Filey!
For more info, read the article about end of support for CopyTrans Apps.
This is a quick step-by-step guide on how to delete iOS apps and app data from your iPhone, iPad, or iPod Touch.
There are a number of methods to remove iPhone apps.
Uninstall iPhone apps and app data via CopyTrans Apps
If you'd like to delete multiple iPhone apps all at once, and instantly free up space on the iPhone, use CopyTrans Apps which is a free PC utility.
Download CopyTrans Apps from the page below
Uninstall iPhone apps and delete app data

Install the program. If you need help installing CopyTrans Apps, please refer to this article

Start CopyTrans Apps and plug in the iPhone or iPad via the USB cable. The iPhone apps appear listed on the left-hand side of the main program window

Select all the apps you wish to uninstall. To select multiple apps at the same time press CTRL on your keyboard and select each app. To select all apps, click on the "Select all apps" button on the top left

The selected apps appear listed on the right-hand side. Click on the "Uninstall apps" button to delete all selected apps and their app data at once

Confirm deletion upon the popup prompt by clicking "OK"
This is how to quickly uninstall multiple iPhone apps and app data at once.
Remove apps directly from within the iPhone
To delete an app from the iPhone, begin by simply long-tapping on the app icon from the Home Screen

Once you see the app icons shaking, tap on the round X icon which now appears on the left of the app

Deleting an app in this way will also delete all of its data. Confirm the deletion
Trying to free up some space on the iPhone? You can alternatively delete apps and app data by navigating to the iPhone Settings > General > Usage and select the app you wish to delete from the list. In this way, you can see how much space each app and its documents and data occupy on the iPhone before choosing to delete.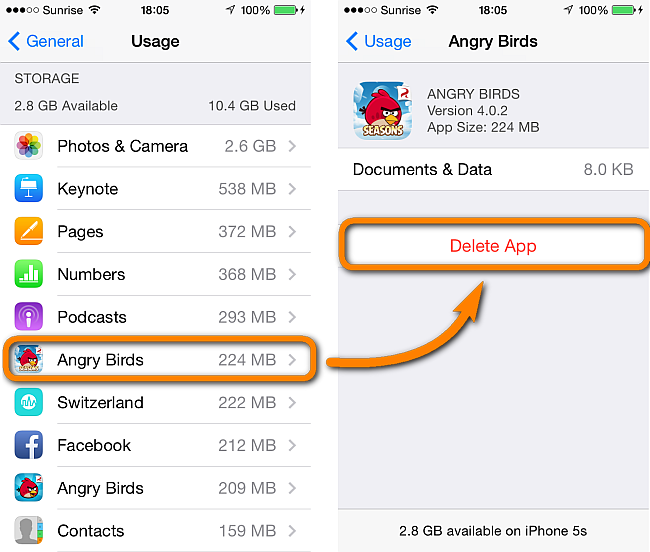 This is how to delete apps from iPhone, iPad, or iPod Touch.