There are actually several ways to uninstall apps from iPhone: if you want to simply clean your iPhone Home screen, use an option of hiding apps. If you want to optimize iPhone performance, permanently delete an app with all its data. It can improve the efficiency of usage by allowing one to quickly access content without having to scroll through numerous applications. Additionally, uninstalling unused apps helps improve device storage capacity as well as overall system performance.
There are several ways to delete apps on iPhone. We will examine all of them, so you are able to free up space on your device!
How to delete app from iPhone
Deleting apps is a quick and simple process. There are 3 ways how to remove apps from iPhone. Choose the option you need and follow a few steps to uninstall apps.
Delete one app by one from the Home Screen
Delete an app in Setting
Remove apps by editing the Home Screen
Note: before deleting the apps from your iPhone, we recommend you save them with all their data in case you would like to restore them back on your PC. Find our guide on how to back up apps on your computer.
---
Delete one app from Home Screen
To remove an app from the iPhone, begin by simply long-tapping on the app icon from the Home Screen.

The drop-down menu will appear. Select "Remove App".

Now confirm the deletion by clicking on "Delete App". Please note that deleting an app in this way will also delete all of its data.
How to delete apps on iPhone that are hidden
How to delete apps on iPhone that are hidden? You can alternatively delete apps and app data by navigating to the iPhone Settings > General > iPhone Storage and selecting the app you wish to delete from the list. In this way, you can see how much space each app and its documents and data occupy on the iPhone before choosing to delete it.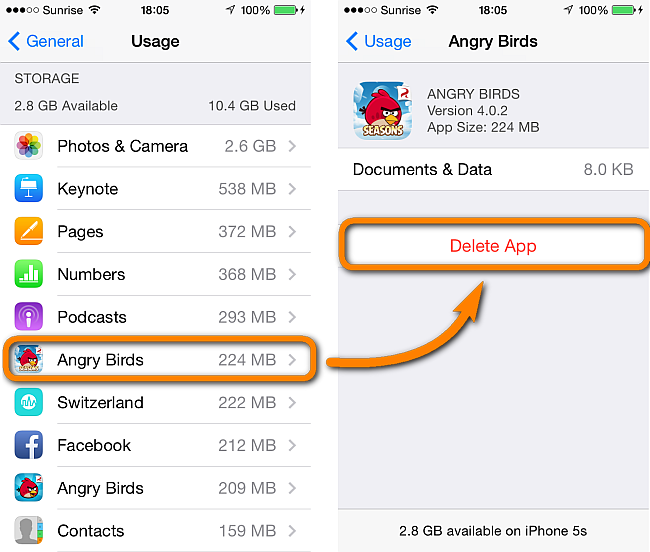 How to delete multiple apps on iPhone
Long-tap the screen and you will see all the icons shaking. Now there is a "minus" sign in the upper left corner of each icon.

Click on this minus and confirm the deletion. And that's how to delete apps.
---
How to hide apps on iPhone Home Screen
Here is how to hide apps on iPhone. Long-tap on the app icon.

In the drop-down menu, select "Remove App".

Now choose the option "Remove from Home Screen" and the app will disappear from the Main Screen, but you will find them in the App Library.
---
How to get app back on Home Screen
How to find hidden apps on iPhone? In the App Library (swipe all the screens left to open it) you can find any app you need.

Long-press the icon and just drag-and-drop it on the screen of your choice. Or in the drop-down menu choose "Add to home screen".

That's it. Fast and easy way to add an app back to Home Screen.
---
How to restore deleted apps on iPhone Home Screen
If you have deleted apps on your iPhone but then decided you want them back with all the information inside the app, then there is an easy solution for you. Use CopyTrans Shelbee and get the apps back on your iPhone in a few clicks.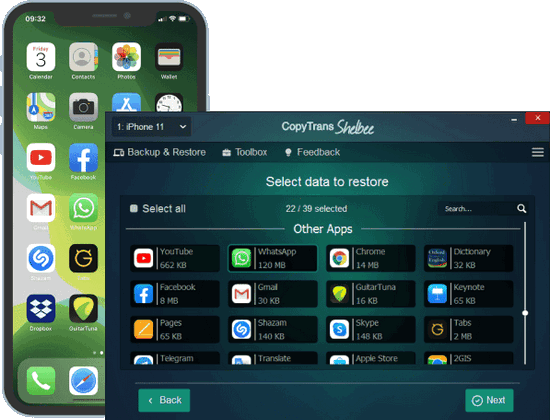 Unlike iTunes, CopyTrans Shelbee will:
✔️ allow you to save your apps;
✔️ restore full iPhone backup or just some selected data, for example, some of the apps;
✔️ do full or incremental backup;
✔️ allow to choose the folder to save backup;
✔️ validate backup made;
✔️ compatible with iTunes backup;
✔️ support encrypted iPhone backup;
If you regularly back up your iPhone, then you have a backup saved somewhere on your PC and you have a chance to restore deleted apps on your iPhone. Follow the steps above:
Download and install CopyTrans Shelbee. And click on Custom Resotre on the main window.

Now you can choose the app you want to restore. Then click on "Next".

Please find a detailed guide on how to restore deleted apps.