The following guide demonstrates how to transfer iPhone apps to new iphone along with app preferences and documents from one iPhone to any other iPhone (or iPad, iPod Touch). The process involves the use of CopyTrans Apps or CopyTrans Shelbee.
Let's go! Transferring apps to new iPhone is very easy 🙂
How to transfer apps from iPhone to iPhone (iOS 12, 11, 10, and 9)
Alternatively, you can restore apps with CopyTrans Shelbee as well. Connect the iPhone you want to restore the apps to and perform Custom restore. Here are detailed instructions on how to restore the apps with CopyTrans Shelbee.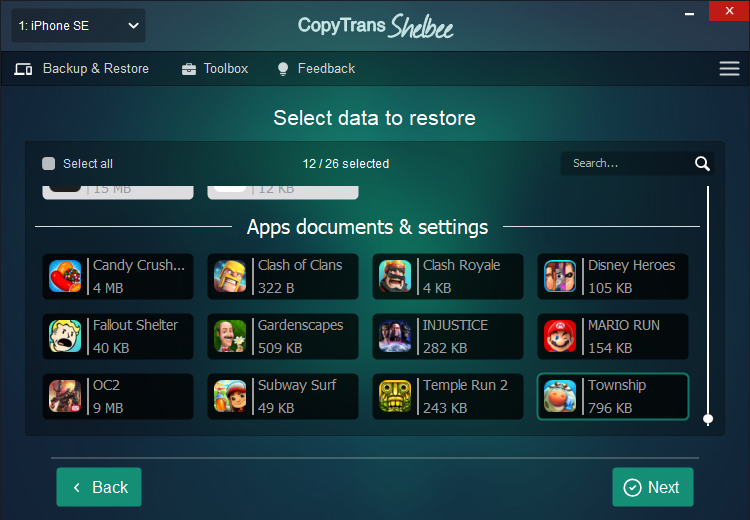 iOS 8 and earlier: transfer apps and app documents from iPhone to iPad or another device
First, backup iPhone apps and app settings to PC
Download CopyTrans Apps from the following page:
Download CopyTrans Apps

Install the program. If you need help installing CopyTrans Apps, please refer to this article.

Start CopyTrans Apps and connect the original iPhone to the PC. The iPhone apps list on the left of the main program window.

Select the apps you wish to transfer. To select multiple apps at the same time, press on the CTRL button and click on each app. To select all apps at once, press CTRL + A.

Click "Back up apps" on top.

Browse to the PC location where to back up the iPhone apps. Then click "OK".

From the popup, click "OK".

NOTE: clicking on "Options" allows you to select what components of each app to back up such as app documents or only the application file.

The iPhone apps along with app documents are backed up in separate IPA files at the PC location of your choice.

NOTE: Each IPA file generated by CopyTrans Apps contains the application file along with the app settings and documents.
Next, transfer the apps to another iPhone or iPad
Once you have the apps from the first iPhone saved on the PC, you can restore them to the other iOS device. To do so, with the CopyTrans Apps window open, eject the iPhone and connect the other iPhone or iPad.
After the apps get listed, click "Install apps".

From the newly-opened window, navigate to the PC location where the IPA files are located. Select all the apps you wish to transfer to the new iDevice and click "Open".

TIP: In addition to transferring apps via the previously backed-up IPA files, you can also add apps saved in your iTunes "Mobile Applications folder". This folder contains only IPA app files without app documents.

Click "OK" from the popup.

The apps are now transferred to the new device.
This is how to transfer iOS apps and app documents from one iPhone to another iPhone, iPad or iPod Touch.
See what more CopyTrans Apps can help you achieve