After a fruitful 5 years, we are finally announcing that we have discontinued support for one of our products, CopyTrans Apps. On 1 December 2020, we cut maintenance and technical support for the product.
This is not the end, but rather a new beginning. We invested a lot of effort into development and are proud to say that this new product comes with numerous improvements. These include a completely redesigned interface and a revised set of functions, which takes user experience to a whole new level.
In other words, meet CopyTrans Filey!
Copy Trans Filey
CopyTrans Filey is our new product for management and transfer of documents to and from your iPhone. It allows you to work with documents stored in third-party apps on your iPhone. All the best features of CopyTrans Apps have been completed by new design and additional functions.
Download CopyTrans Filey (BETA):
Download CopyTrans Filey
What can I achieve using CopyTrans Filey?
Add the presentation you just created to your iPhone using WiFi – leave cables in the past!
Save all the documents or files you need from iPhone to PC
Free up space on your iPhone by deleting big files
Manage your pdf documents between iPhone and PC
Take your favorite movies, cartoons and books with you for holidays
Have all your important documents within easy reach on your iPhone or iPad whenever you need them
All these are just examples! There are many more opportunities to discover…
What are the features of CopyTrans Filey?
Drag and drop your files from iPhone to PC and back (to third-party iOS apps)
Connect to your iPhone using WiFi – no more fiddling with cables!
Send files to your iPhone any time you want: if your device is not around at the time, files will be transferred the next time it connects to the same WiFi network
Choose between several devices and manage documents on all of them – it only takes one click!
Browse documents from all third-party apps on your iPhone using one application – no limit!
See the size of each document and delete the biggest ones to free up space on the device
Search for documents on your iPhone
Delete your files on iPhone from PC
Use your device as a USB drive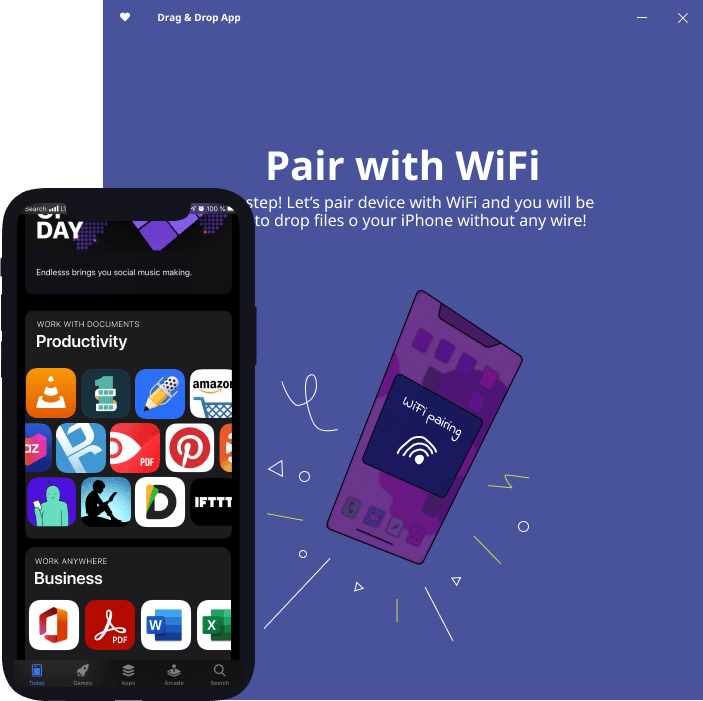 What formats are supported?
CopyTrans Filey supports all the PC file formats provided that they are supported by the app itself. The most popular are:
pdf
doc
excel
ppt
epub
txt
video (avi, mov)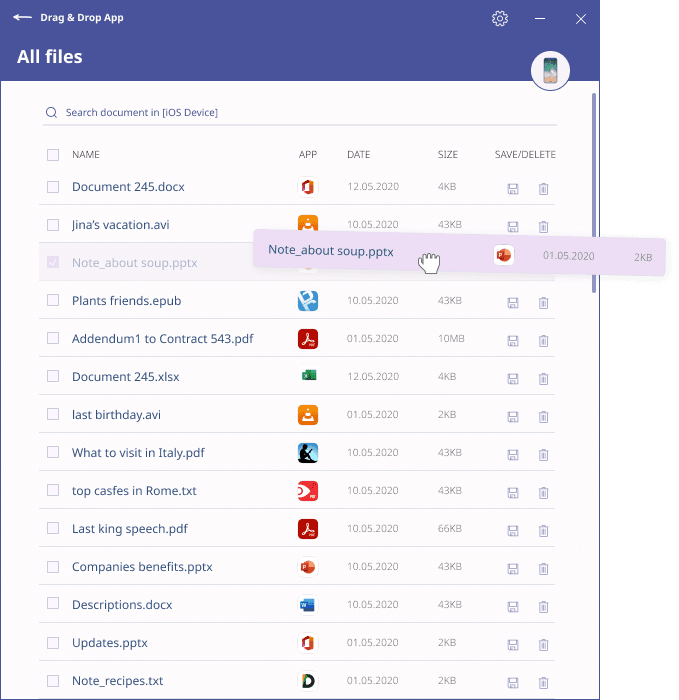 What do I need to do?
We do not limit you in using CopyTrans Apps, but advise strongly that you move on to CopyTrans Filey, which is guaranteed to be up-to-date and receive maintenance and support from our side.
Download CopyTrans Filey (BETA):
Download CopyTrans Filey
What´s next?
We are proud to have you by our side as we move on to apps with better quality and usability. We feel confident that the new app is more impressive in terms of design, concept and functionality.
Soon CopyTrans Filey will take the place of CopyTrans Apps in the Control Center. Just make sure to click on "Install" when it appears!
If you have any questions or comments, be sure to share them with us below!