Did you accidentally delete precious videos from your iPhone? Don't worry, there's still a chance to recover them! In this comprehensive guide, we'll walk you through different methods to recover deleted videos from your iPhone. Whether you prefer using the built-in features or third-party software, we've got you covered.
However, while retrieving deleted videos on iPhone, you can get more and more questions:
– Are deleted videos really deleted?
– How to recover permanently deleted videos after 30 days?
– Can I recover permanently deleted photos from my iPhone without backup?
If your iPhone or iPad ever gets lost or broken, or restoring iPhone is suddenly impossible, you can instantly retrieve deleted video iPhone from backups on your PC or iCloud backup.
Keep control of your personal data with CopyTrans programs and manage them when it becomes necessary. We offer different solutions:
---
How to retrieve deleted videos on iPhone
By default, your deleted videos go to the Recently Deleted folder in your Photos app. So, first of all, here is how to find a deleted video on iPhone:
Go to Photos -> Albums -> Scroll down to find the Recently Deleted section.

Click Select in the top-right corner -> choose the video to restore -> press Recover.
If our advice on how to retrieve deleted video on iPhone didn't help you, then please follow one of the methods below.
---
How do I recover permanently deleted videos
If you have iCloud Photos activated, then you can try to go through the process of deleted video recovery from your iCloud with CopyTrans Cloudly. What will CopyTrans Cloudly do?
Go to iCloud servers;
Search for all your videos Apple hasn't deleted yet;
Recover deleted videos to your computer.
Advantages of CopyTrans Cloudly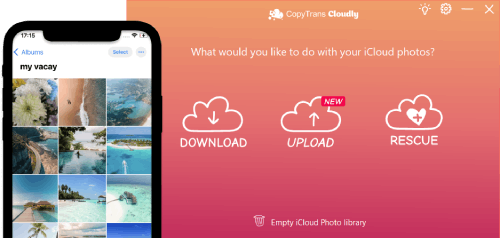 Restore permanently deleted videos and photos from iCloud on PC
Download all iCloud photos in a few clicks
Save your iCloud photos to an external hard drive
Upload all your photos and videos in one click
Add photos in JPG, HEIC, or PNG format to iCloud
Keep your album structure
Still wondering how to recover deleted videos from iPhone? Follow these steps to find the answer!
Download and install CopyTrans Cloudly.

Run CopyTrans Cloudly. Sign in with your Apple ID. We use an SSL connection to protect your data, so you're safe!

To restore deleted videos from iCloud, click Rescue and choose the folder you want to save them to.

NOTE: CopyTrans Cloudly recovers not only deleted videos, but also deleted photos.

If your deleted photos and videos are still on the Apple servers, CopyTrans Cloudly will download them back to your PC.

Finally, how to find deleted videos iPhone on your PC? Just open the folder you've chosen before.

Now you can retrieve deleted videos on iPhone with CopyTrans Photo.
CopyTrans Cloudly will show you the number of photos available and download the first 100 photos at once: you will be able to see if they are the ones you need.
NOTE: We recommend that you rescue all the photos and videos on the same day, as Apple may swiftly delete the photos and videos after we access them.
It might be that iCloud servers detect some suspicious activity and speed up the "irreversible deletion" process. Please make haste!
⚡ If you don't want to pay for extra iCloud storage and try to find a way to save all your memories on a PC, then CopyTrans Cloudly will solve this problem for you too. Just follow these two simple steps:
Download all photos from iCloud
Delete them all to free up space in your iCloud
Get CopyTrans Cloudly
---
How to get back a deleted video
from an iPhone backup
How to get deleted videos back? If you regularly do backups of your iPhone, then you can get them back from your local backup or from your iCloud backup.
CopyTrans Backup Extractor will restore videos directly to your PC without using your device. There's no need to restore the whole backup on an iOS device anymore.
⚡ This method will be of use in the following situations:
– iPhone can't restore from a backup because it's corrupt or incompatible;
– your iPhone is broken or lost;
– you want to recover deleted videos on iPhone without overwriting the old ones;
– you accidentally deleted a video on iPhone.
Download and install CopyTrans Backup Extractor:

✔️ find all the backups automatically;

✔️ save all the backup data on your PC

✔️ compatible with different backups: iCloud, iTunes, CopyTrans Shelbee, or other programs;

Start the program and click on Find Backups.

☁️To see iCloud backups, click iCloud Backups and log in to your iCloud account first.

From the list of all available backups choose the one that contains your videos. If you are restoring from iTunes backup, you may be asked for a backup password. What password?

iCloud backups are never password-protected.

Select Videos, then click Extract. Then select the destination folder and confirm.

Now you can click on Go to folder and you will see all the videos saved there. You can transfer now the deleted videos back to your iPhone.
Please note that there is also a way to restore permanently deleted videos and photos from a local backup on your PC to your iPhone.
Deleted videos
Conclusion
If you still have a question: How to recover deleted video from iPhone? We want to believe this guide has proven useful to you and answered your question. Also, notice that these methods help to recover permanently deleted videos. Do not forget to back up your videos and photos from time to time to make sure you never get into this sort of situation! Remember, the chances of recovering deleted videos decrease over time. So, it's crucial to act promptly and choose the most appropriate method based on your situation. Preserve your cherished memories and enjoy reliving those special moments on your iPhone!