Hey, Team! I'm still using iTunes to add music to my iPod, but lately, I have had problems with the Apple program. iTunes won't sync songs to my device! Could you please help me to resolve this problem? I will really appreciate it.

Thanks,
Emma
This troubleshooting article explains how to fix the issue of iTunes not syncing songs back to your iPhone or iPod. In most cases, the problem is caused by misconfigured iTunes sync settings for your iPhone or iPod. The guide works with all iPhone models including iPhone 6s and all versions of iTunes, including iTunes 12.
Before you continue, read this carefully:
Never run iTunes with your iPhone, iPod, or iPad connected unless you are sure that your iTunes library contains all the tracks that you need.
iTunes will delete any songs from your iDevice which are not already present in the library.
Prior to following the below tutorial, effectuate a Smart backup of your iDevice with CopyTrans to copy all the necessary tracks and playlists to iTunes on your PC:
iTunes not syncing songs to iPhone, iPod, or iPad
Run iTunes and connect your iPhone, iPod, or iPad to your PC. Once the iDevice appears in iTunes, click on it

Next, click "Music" on the left

If iTunes says "iCloud Music Library is On", turn it off. To do so, from the iPhone screen, navigate to Settings > Music and place the "iCloud Music Library" switch to the Off position, next reconnect the iPhone with iTunes

Back to iTunes, make sure that the box next to "Sync Music" is checked. Also ensure that the option "Entire music library" is selected and click on the "Apply" button
iTunes should now transfer all the music present in your library to your iPhone, iPod, or iPad.
How to avoid the 'Erase and Sync' message?
If you get the "Remove and Sync" prompt, this means that you didn't yet sync the iPhone with the iTunes library on this PC. iTunes will therefore, remove any songs or playlists from your iPhone that are not already in the library on the PC.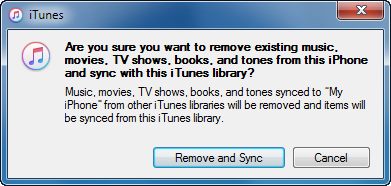 In this case, to avoid iTunes deleting songs from the iPhone, we recommend using CopyTrans Manager instead of iTunes. CopyTrans Manager is the iTunes alternative that helps you add songs to your iPhone or iPod without iTunes. Add music to iPhone without iTunes