CopyTrans "Smart Backup" automatically transfers all tracks, track information, artworks and playlists from your Apple device to iTunes. CopyTrans knows and decides what needs to be transferred and never creates duplicates.
This article explains what exactly Smart Backup does and what is included in the transfer. If you want to use it right away, follow transfer music from iPhone to iTunes guide.
CopyTrans Smart backup YouTube tutorial
3 steps to transfer iPhone music to iTunes
Download and start CopyTrans.

Connect your iPhone to the computer.

Click the iTunes button.

All tracks that need to be transferred or updated in iTunes are automatically selected. If you want to take full control and customize every step of the backup process, switch to the Classic mode.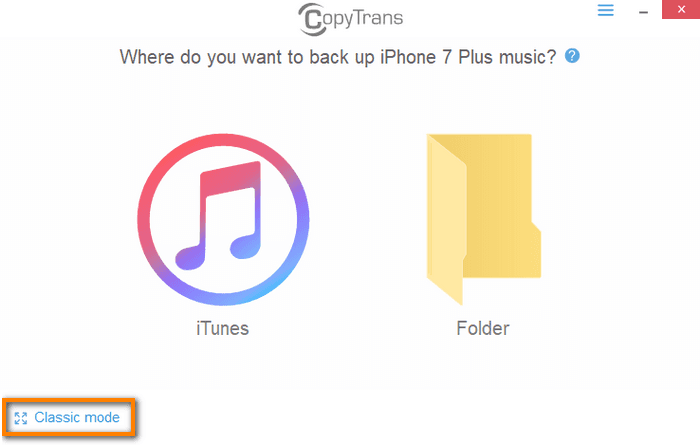 Everything's back in iTunes!
After the transfer, all your contents are in iTunes, exactly as on your iPhone:
music,
videos,
TV-Shows,
podcasts,
audio-books,
voice memos*,
ringtones,
playlists, smart playlists
tag information: ratings, play counts, album artwork, date added and so forth
Starting from iOS 15, Apple has introduced restrictions that block access to local voice memos. It is no longer possible to transfer voice memos to PC via iTunes.
This also impacts some features of CopyTrans programs.
We have worked out a few great solutions for you to transfer voice memos to PC depending on the iOS version of your device.
Classic mode iTunes track status
To show the detailed status of a track, simply hover your mouse over it.


This track is not in iTunes. It should be transferred.

This track is in iTunes but not up-to-date. It should be updated.

This track is in iTunes and up-to-date. It should be skipped.

Explore iPhone content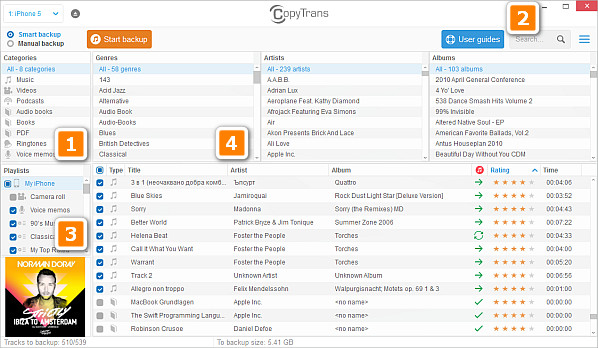 Use the Categories, Genres, Artists and Albums menus to easily browse your iPhone.

You can search for specific tracks by using the search box.

Click on an iPhone playlist to display its tracks.

Sort tracks in the main list view by clicking on any column name.

Right click a column name to show and hide additional columns.
To get into more advanced backups, refer to the "Manual Backup" guide
[button color="blue" size="large" url="https://www.copytrans.net/support/manual-backup/"]Go to Manual Backup →[/button]